Under veckas lektion går vi igenom mottagandet av de tio budorden. Texterna hittar du i Andra mosebok 19:1-20, Andra mosebok 24:1-18 och Andra mosebok 31:18.
Veckans fokus ligger vid:
Gud ger oss regler för att skydda och hjälpa oss.
Lagar lär oss rätt från fel.
Gud är helig.
Genom de tio budorden, ger Gud oss vägledning för: 1. Samspel med honom själv. 2. Samspel med andra människor.
Lektionsguide – Tio Guds bud
Gud gav Israeliternas budord för att de skulle veta hur de skulle leva. Poängtera att Gud ger oss hans lagar för att skydda och hjälpa oss också. Därför att han vill det bästa för oss. Han vill inte bara ge dem för att ge oss restriktioner, utan för att han vill det bästa för sitt folk.
Prata om lagar och regler som vi har idag. Vilka regler tycker dina barn är bra? Vilka regler skulle de göra?
Fråga dina barn i fall de har brutit en regel och ångrat det. Spela ett spel med dina barn. Tre i rad är ett bra exempel. Första spelet, följ reglerna. Andra omgången låt ditt barn hitta på regler. Tredje omgången, hittar du på reglerna och gör då flera drag i rad så att du vinner. Fråga dina barn om det blev roligare eller tråkigare att följa reglerna?
Ni kan leka med bilar och visa några vanliga trafikregler. Visa dina barn vad som händer om någon av bilarna struntar i rödljuset. Poängtera att människor kan bli skadade om de inte följer lagar. Använd detta för att illustrera att vi behöver följa Guds lagar annars kan vi skadas eller bli sårade. Förklara att vi aldrig kan bli perfekta, men Gud sände Jesus som är perfekt åt oss. Förklara att Israeliterna behövde tvätta sina kläder, men Jesus tvättade våra hjärtan. Fira att vi kan bli perfekta när vi sätter vår tillit till Jesus. Välj ut en lag från bibelställena som dina barn kanske har svårt att lyda. Be med dina barn och be Jesus att hjälpa dem att följa Guds lagar.
Tio Guds bud – Berättelse
Arbetsblad
Tio Guds bud – Målarbok
Tio Guds bud
Tio budord Trafikskylts pyssel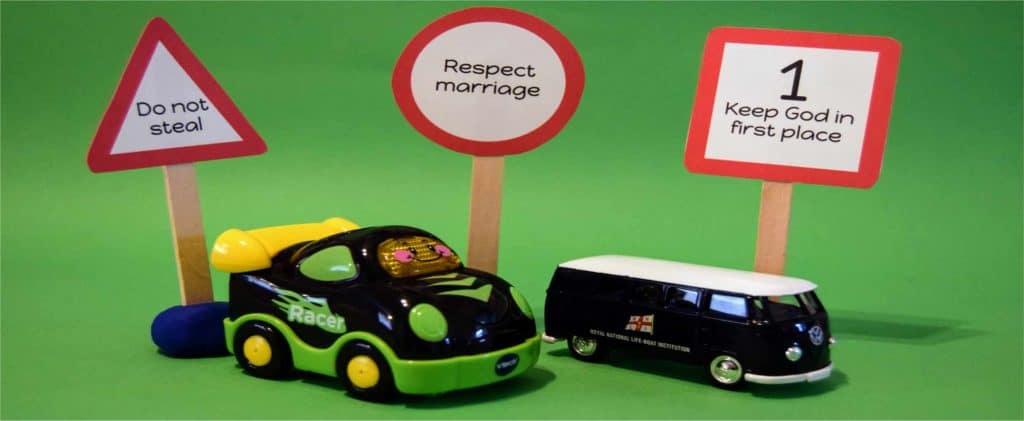 Du behöver:
Skylt mallar
10 glasspinnar
Lim
Sax
Leklera eller lufttorkande lera
Tio Guds bud
Gratis nedladdning