Hierdie week se les sal die Tien Gebooie dek. Die gedeeltes word gevind in Eksodus 19:1-20; Eksodus 24:1-24; en Eksodus 31:18. Ons fokuspunte is-
God gee vir ons reëls om ons te beskerm en te help.
Wette leer ons van reg en verkeerd.
God is heilig.
Deur die Tien Gebooie het God riglyne verskaf:

1. Vir interaksie met Homself;
2. Vir interaksie met ander mense.
Lesgids – Die Tien Gebooie
God het bevele aan die volk van Israel gegee sodat hulle weet hoe om te lewe. Wys daarop dat God vir ons Sy wette gee om ons ook te beskerm en te help, omdat Hy die beste vir ons wil hê. Hy gee nie wette net om beperkings op ons te plaas nie, maar omdat God die beste vir Sy mense wil hê .
Praat van wette of reëls wat ons vandag het. Watter reëls dink jou kind is goed? Watter reëls sou hulle maak?
Vra jou kind of hulle al ooit 'n reël gebreek het en spyt was daaroor. Speel 'n speletjie saam met jou kind. Kruisies en Kringetjies sal 'n goeie een wees. Vir die eerste speletjie, volg die reëls. Vir die tweede speletjie, laat jou kind toe om sy/haar eie reëls op te maak. Vir die derde speletjie maak jy die reëls op en neem verskeie beurte in 'n ry om te wen. Vra jou kind of die volgende reëls die spel meer pret of minder pret gemaak het.
Jy kan 'n speletjie met karretjies speel om 'n paar algemene padwette uit te wys. Wys jou kind wat gebeur as die karre die rooi ligte ignoreer. Wys daarop dat mense seerkry wanneer hulle nie die wet gehoorsaam nie. Gebruik dit om te illustreer dat ons God se wet moet gehoorsaam, of ons sal seergemaak word. Verduidelik dat ons nooit volmaak kan wees nie, maar God het Jesus gestuur om volmaak te wees om ons onthalwe. Wys daarop dat die Israeliete hulle klere moes was, maar Jesus kan ons harte was. Vier dat ons volmaak kan word wanneer ons ons vertroue in Jesus plaas. Kies 'n wet uit die Skrif uit wat jou kind kan sukkel om te gehoorsaam. Bid saam met jou kind om Jesus te vra om hulle te help om God se wette te gehoorsaam.
Die Tien Gebooie – Storie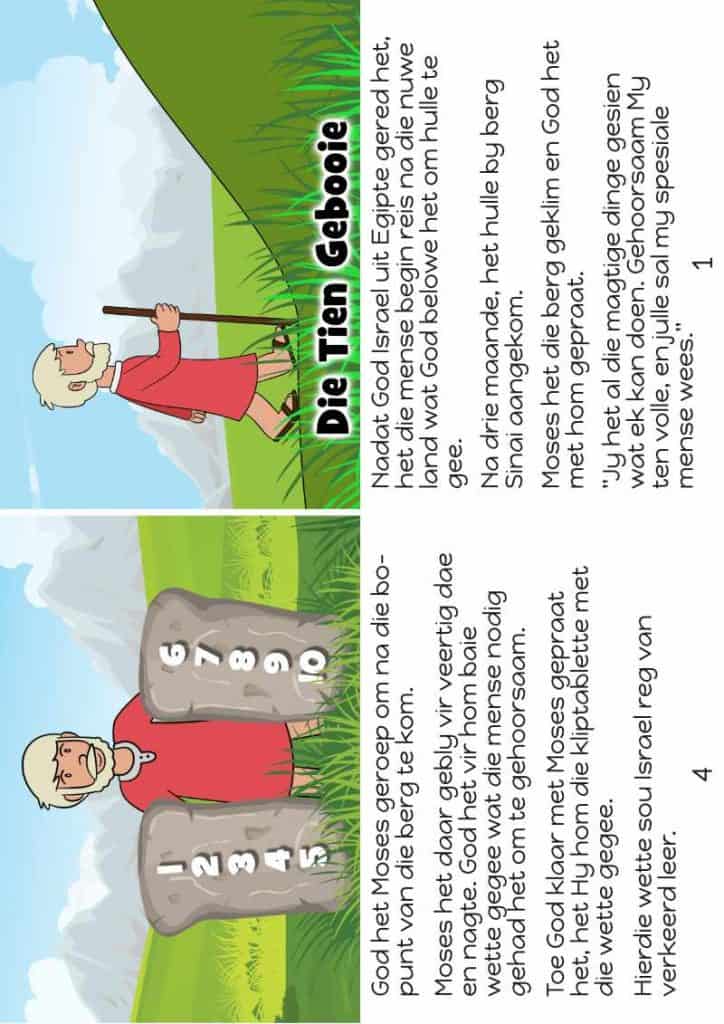 Werkkaarte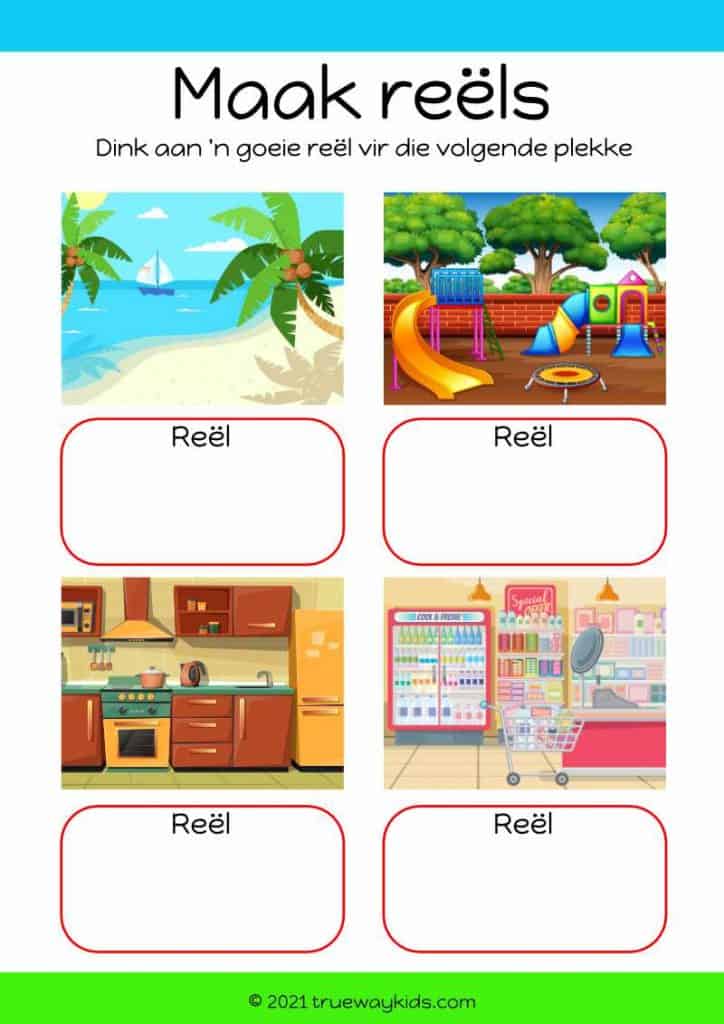 Die Tien Gebooie – Inkleurbladsy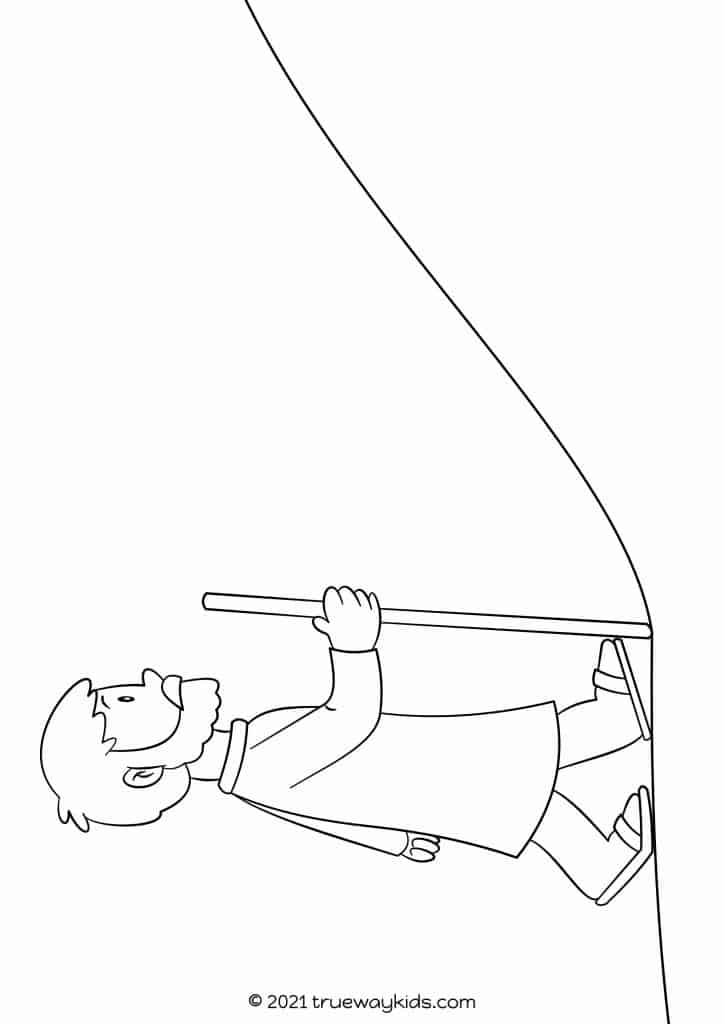 Kunswerk – Die Tien Gebooie
Tien gebooie Padtekens kunswerk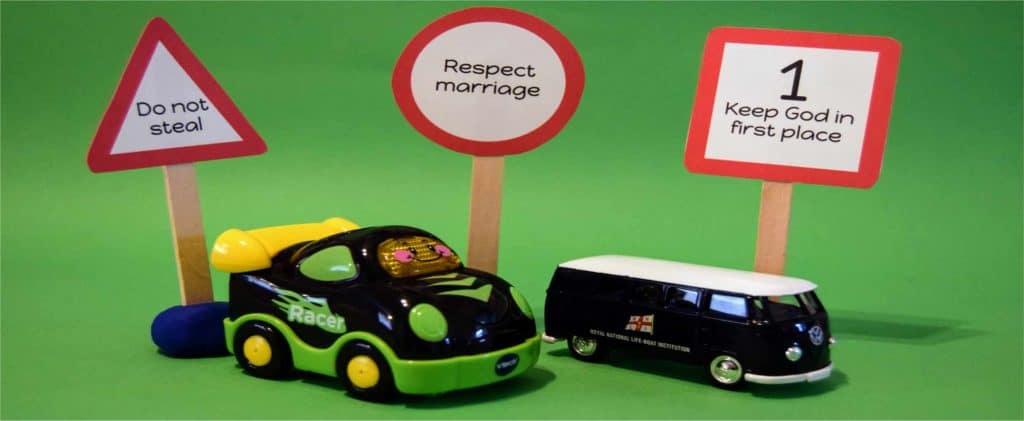 Wat jy nodig het:
Teken templaat
10 roomys stokkies
Gom
Skêr
Speeldeeg of lugdroë klei
Die Tien Gebooie
Gratis aflaai