Ons les hierdie week kyk na die storie van baba Moses. Die gedeelte word gevind in Eksodus 2. Oorweeg om die storie by 'n plaaslike rivier te vertel om jou kind te help om die toneel beter te visualiseer. Sommige van die belangrikste punte wat ons vandag sal ondersoek, is:
Gesinne wat vir mekaar omgee.
God waak oor ons en beskerm ons.
Ons kan God vertrou.
Lesgids: Baba Moses
Herinner jou kind aan die vorige week se les oor Josef. Verduidelik dat die kinders van Israel sy familie was wat in Egipte kom woon het, maar byna vierhonderd jaar het al verby gegaan.
Vra jou kind of hulle al ooit iets weggesteek het om dit veilig te hou. Wys maniere uit hoe jy dinge veilig hou soos om jou huis of motor te sluit.
So kan jy verduidelik hoe Moses se Ma hom in 'n waterdigte mandjie geplaas het, om te demonstreer, kan jy 'n bietjie eksperimenteer. Jy benodig klippe of ander sinkbare voorwerpe, foelie en dierekoekies.
Vul 'n bak met water (of gebruik die vlak water aan die rand van die rivier). Neem 'n dierkoekie en los dit in die water. Wys hoe dit nie teen die water beskerm word nie. Sit 'n dierekoekie op 'n klip. Vra jou kind of dit veilig lyk. Laat val die klippie in die water en wys die kind dat die dierekoekie nie veilig was nie.
Skep 'n eenvoudige boot uit die foelie (of vou 'n papierboot). Wys dan vir jou kind dat die dierekoekies veilig is in die boot wat op die water dryf.
Vra jou kind om te dink aan 'n paar maniere waarop jy hulle veilig hou. Herinner hulle dat mens 'n jas of 'n baadjie kan dra om ons te beskerm teen koue. Wys daarop dat hulle kar stoeltjie 'n manier is om hulle veilig te hou op die pad in 'n motor. Vertel aan jou kind dat jy hulle probeer veilig hou omdat jy lief is vir hulle, en vir hulle wil sorg.
Wys sommige van die maniere uit waarop God vir ons sorg. Die son, die reën, ens. Wys uit hoe God hulle (jou kinders) beskerm deur hulle aan jou te gee om voor te sorg.
Baba Moses – Storie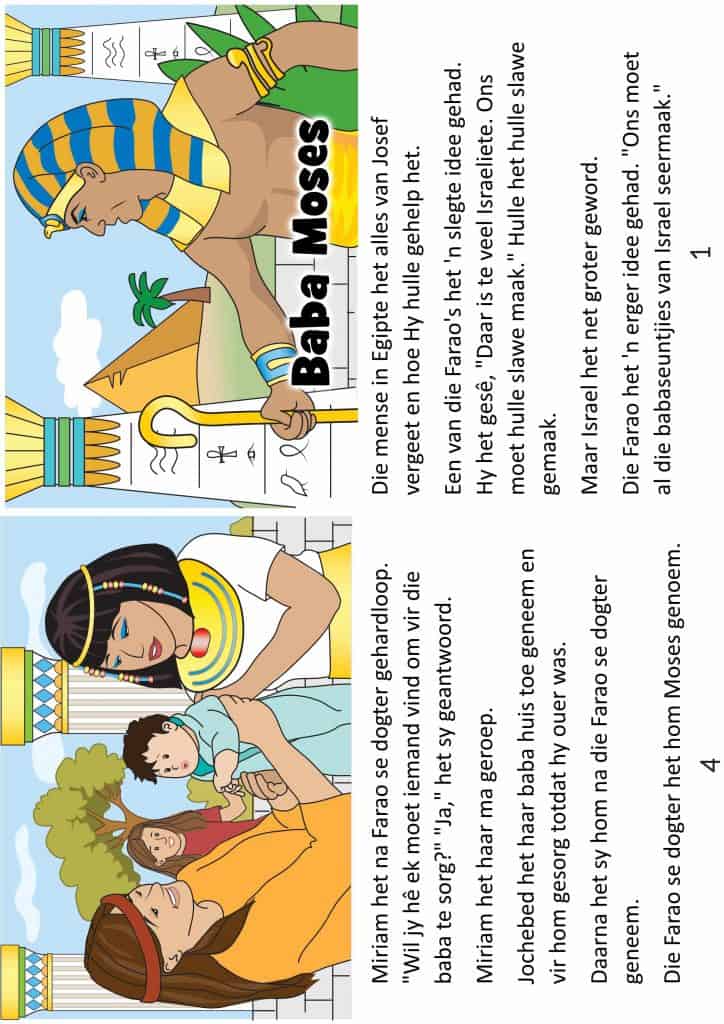 Werkkaarte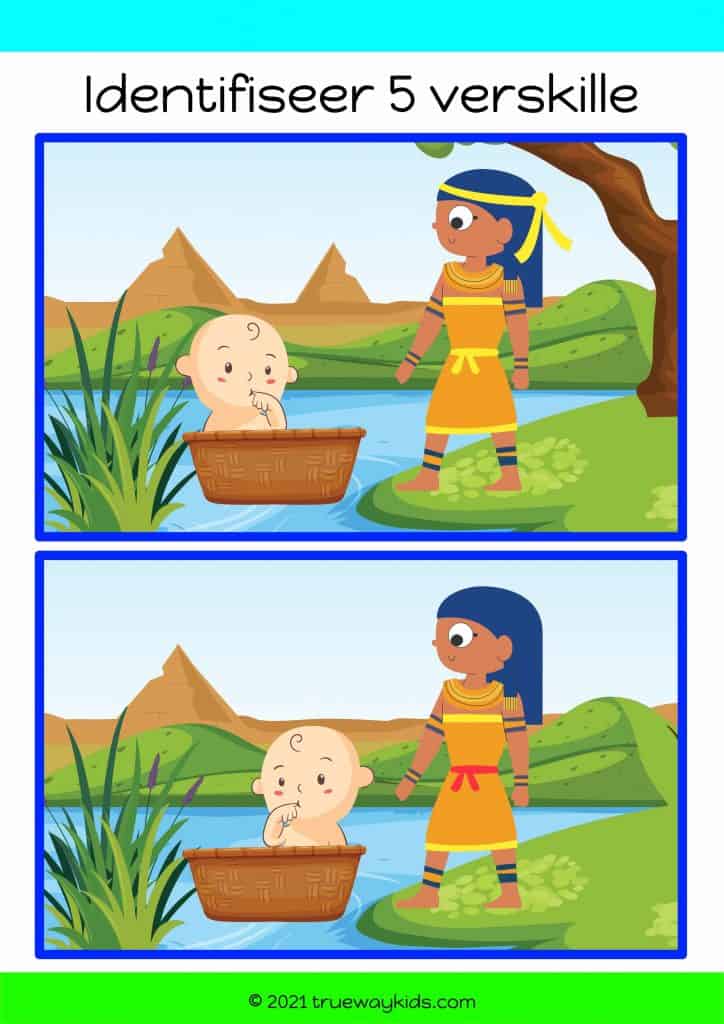 Baba Moses – Inkleurbladsy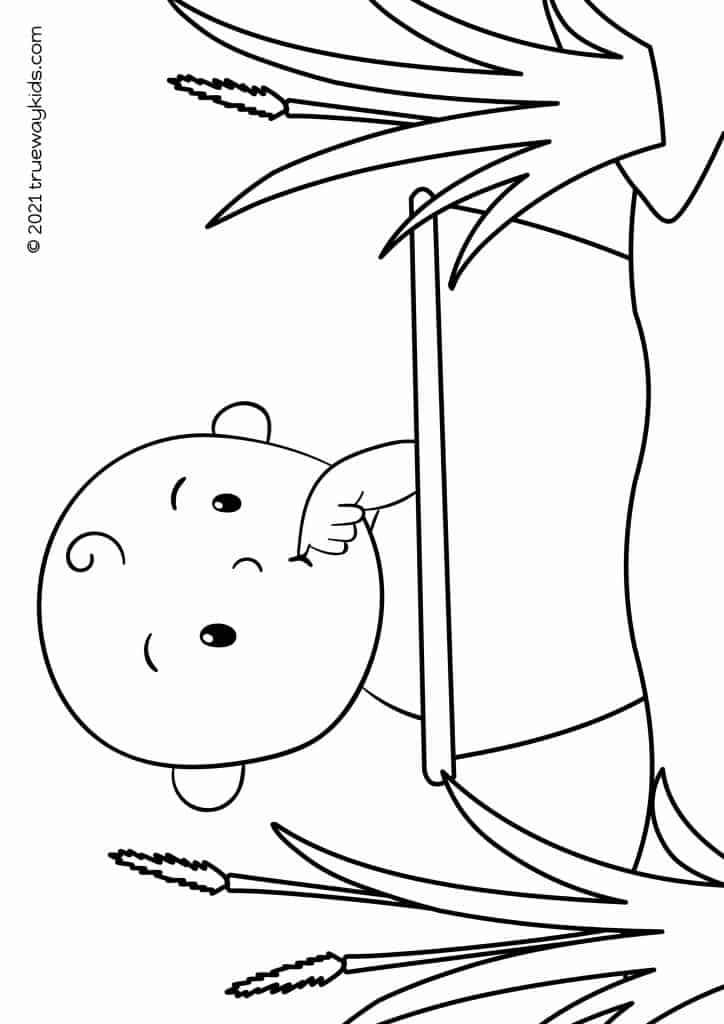 Moses mandjie kunswerk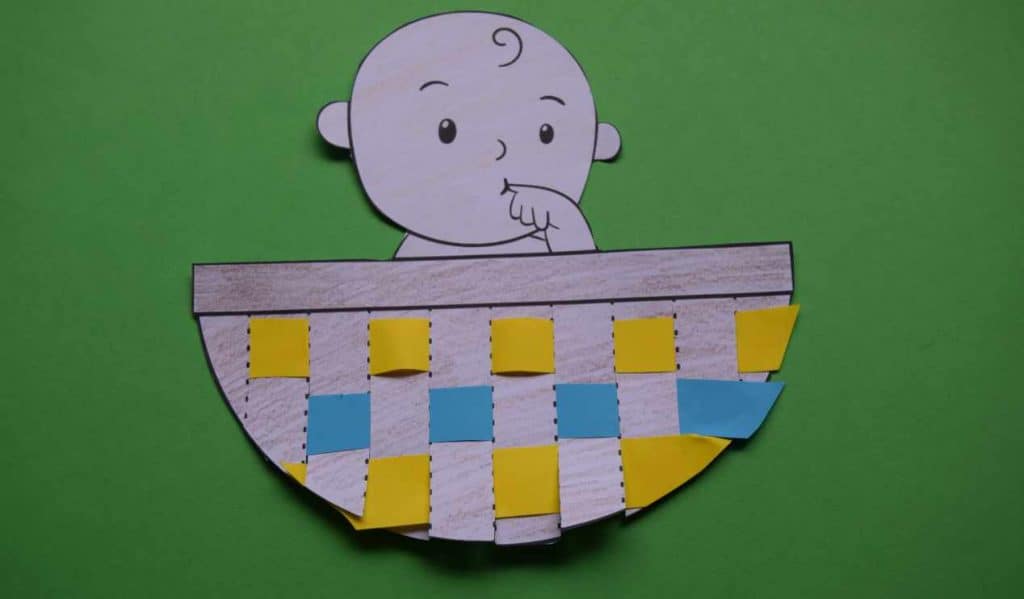 Wat jy nodig het:
Templaat bladsy
Wit papier
Skêr
Gom
Kleurpapier
Inkleur potlode
Gratis aflaai