In Luke 14:15-24, Jesus tells the parable of the great banquet and reminds us that God invites us to join Him for a special celebration.
Key Points:
God invites us to come to His feast.
People will either accept or reject this invitation.
We should not make excuses to God.

Lesson Guide – The Parable of the Great Feast
If possible, set up a mini party area with balloons, a tablecloth, and some snacks. Tell your child, today we are going to read a story Jesus told about a man and a special party. Read Luke 14:15-24.
Have you ever thrown a party? What would you eat, drink, play, or use as decorations? Put together a party for your child's toys. They can invite dolls, toy cars, or pets. Make a simple snack and a few decorations. Create some invitations. As you walk around the house to "invite" the guests, make up excuses. The cat can't come since she needs to take a nap. The toy truck wants to dig in the mud. The doll is going to play.
Discuss the way that the child feels when everyone refuses the invitation to their party. Do they feel good or bad? How would they feel if, instead of a simple party, this had been the grandest party ever?
Explain that Jesus died on the cross so that people could go to heaven and spend eternity with God. Just as the people had many excuses not to come to the Grand Feast, people make many excuses not to come to God. We might not choose an ox over Jesus, but would we want something else? We might not choose a field, but would we choose money? Would we choose other people over Jesus?
Talk about a time your child made an excuse not to do the right thing.
Using cards borrowed from this lesson or simple ones you create, play a game called "More Important." The object is to get as many cards as possible. The cards should represent things like church, God, sports, pets, family, foods, etc. Each person plays a card, and the most important card takes all the cards. As you play, have fun debating why cats are more important than dogs or cake is more important than fruit. You may also play by dealing each person cards and having them lay them out from top to bottom by the most important things in their opinion. As you play, talk about how God should always come first.
Open your Bible and talk about how it is an invitation too. God is inviting people to repent, believe in Jesus, and spend eternity with Him. Some people will reject this invitation, but others will be drawn by God to accept it.
Read some of the invitations we read in the Bible. For example, Matthew 11:28, Mark 1:17, John 7:37. Thank Jesus for providing a way to accept God's invitation. Pray and ask Him to help you never make excuses to Him.
Free Printable Bible Story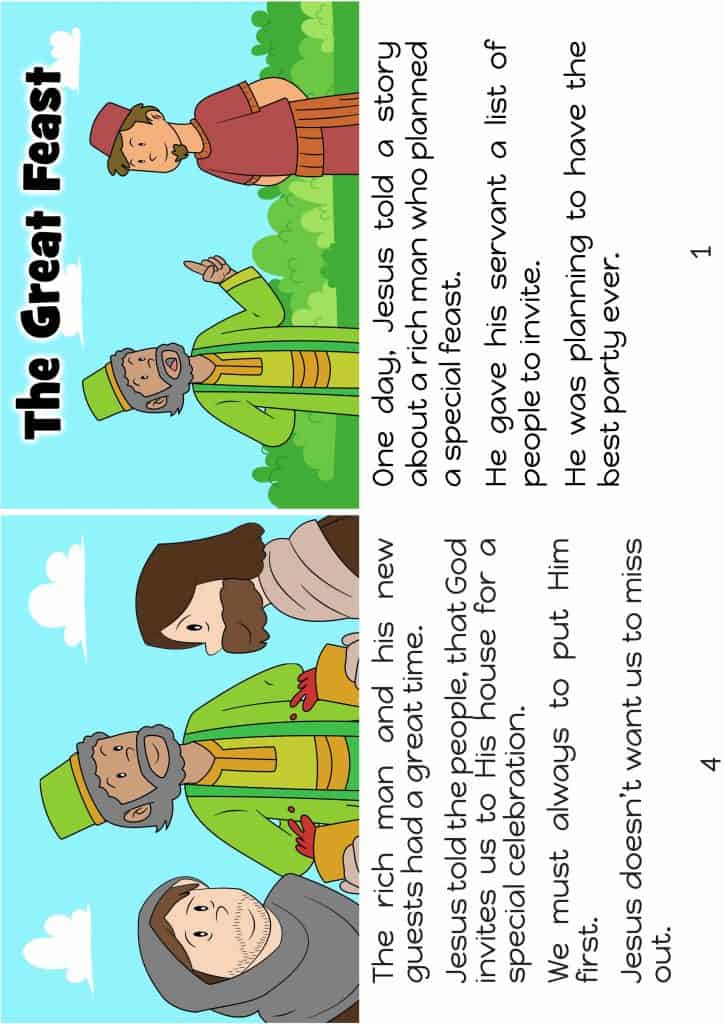 Games and Activities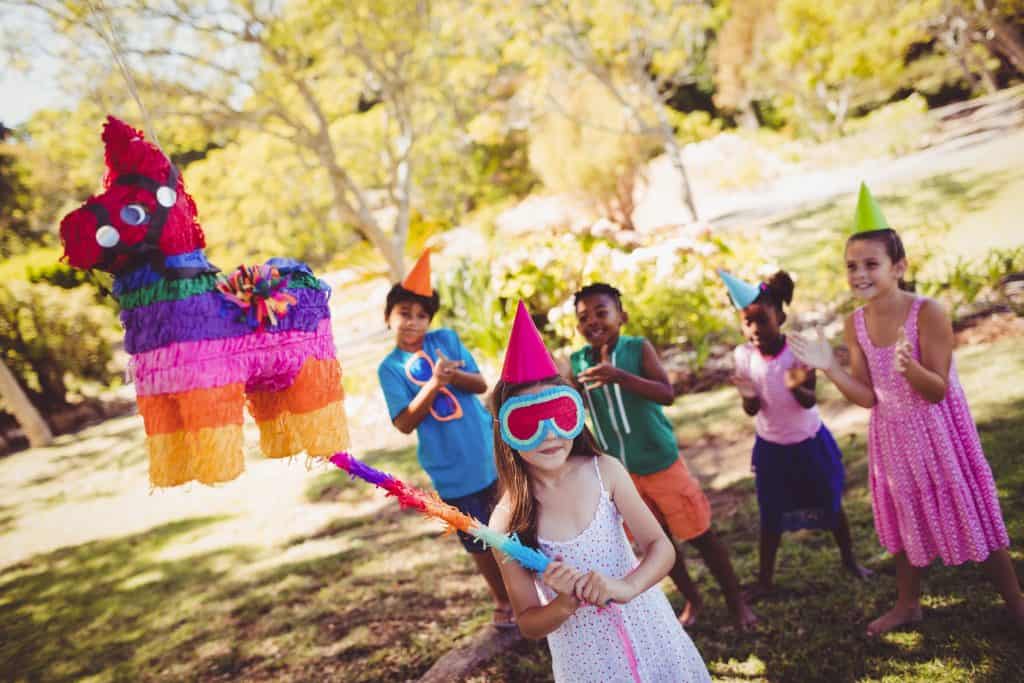 Party Games
Any kind of party game will work well with this lesson. Just pick some family favorites such as pass the parcel, musical statues, or hitting a Piñata. (translation note, change to local examples) Talk to your child about what games they would play in their perfect party.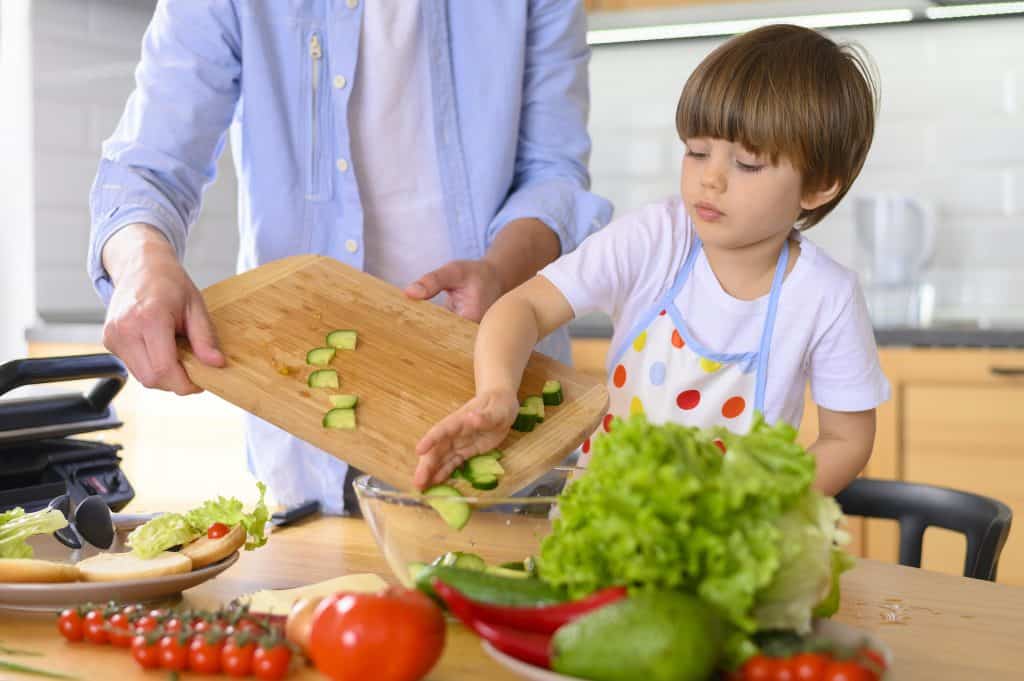 Get cooking
Spend some time cooking or preparing a meal with your child. Naturally introduce basic math skills by counting, measuring, and weighing ingredients. Help your child to follow step by step instructions by reading a recipe. Try to focus on the preparation that needs to take place for a feast to happen. Ask your child how they would feel if they prepared a great feast and no one came.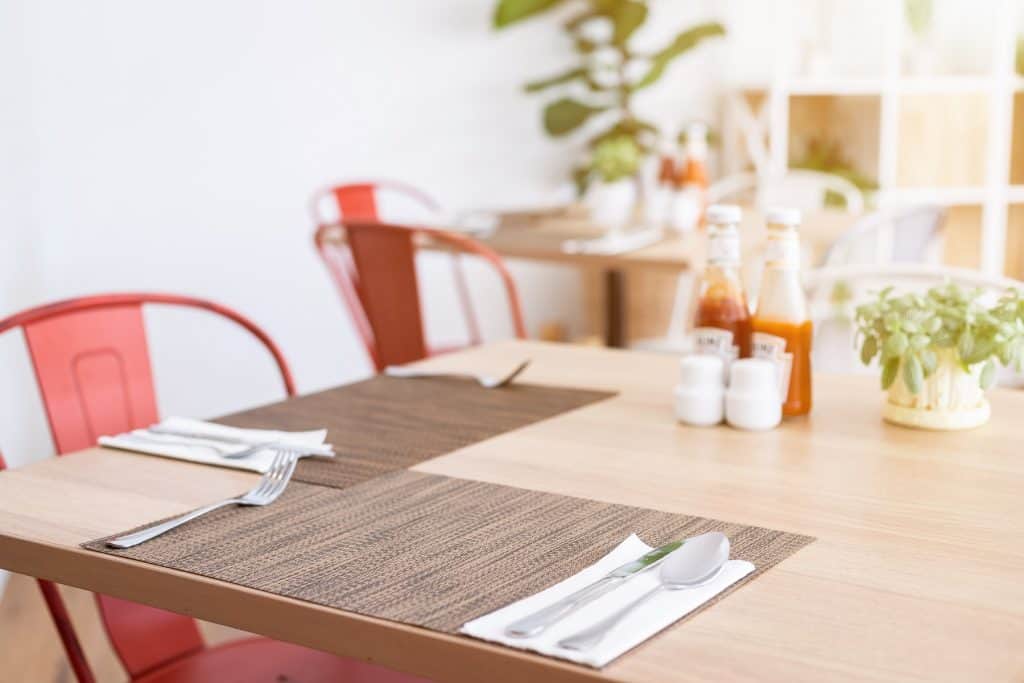 What is missing from the table?
Set your table up with plates, knives, forks, spoons, cups, etc. Have everyone turn around while you remove one item from the table. Your children should then try to figure out what item is missing from the table. Take turns to remove things.
Worksheets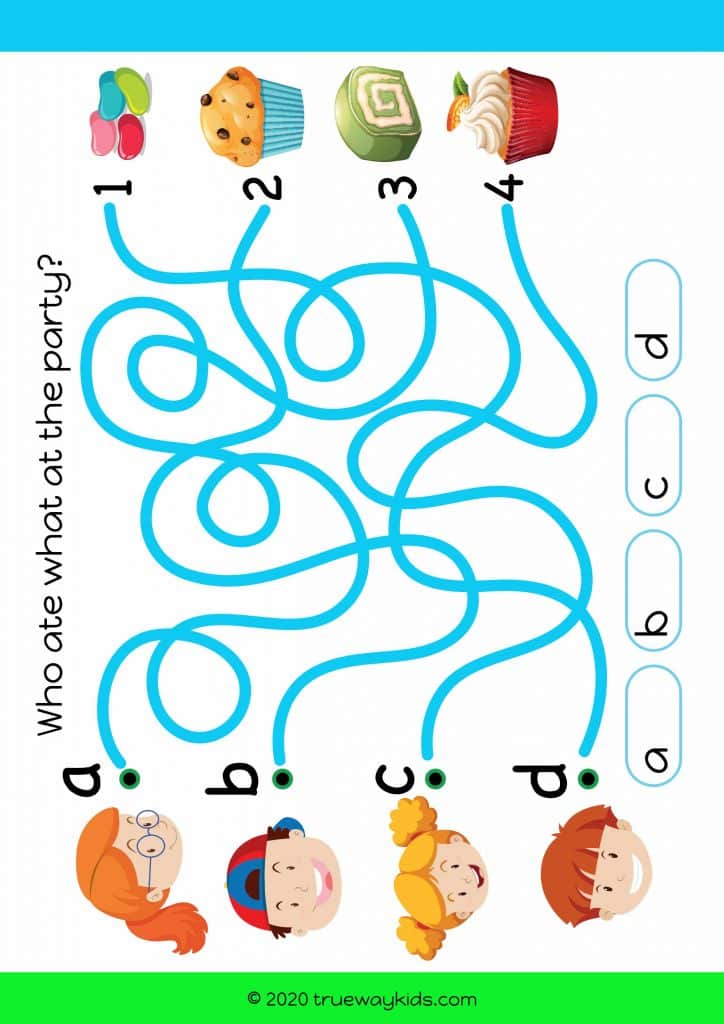 Free Bible Coloring Pages – The Parable of the Great Feast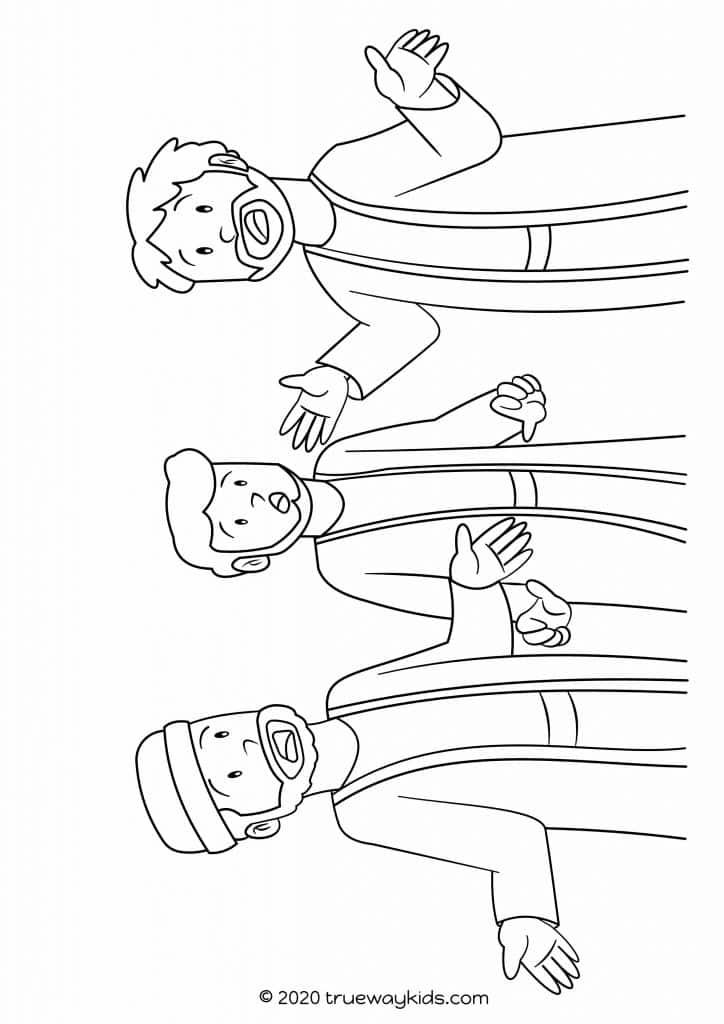 Craft – Placemat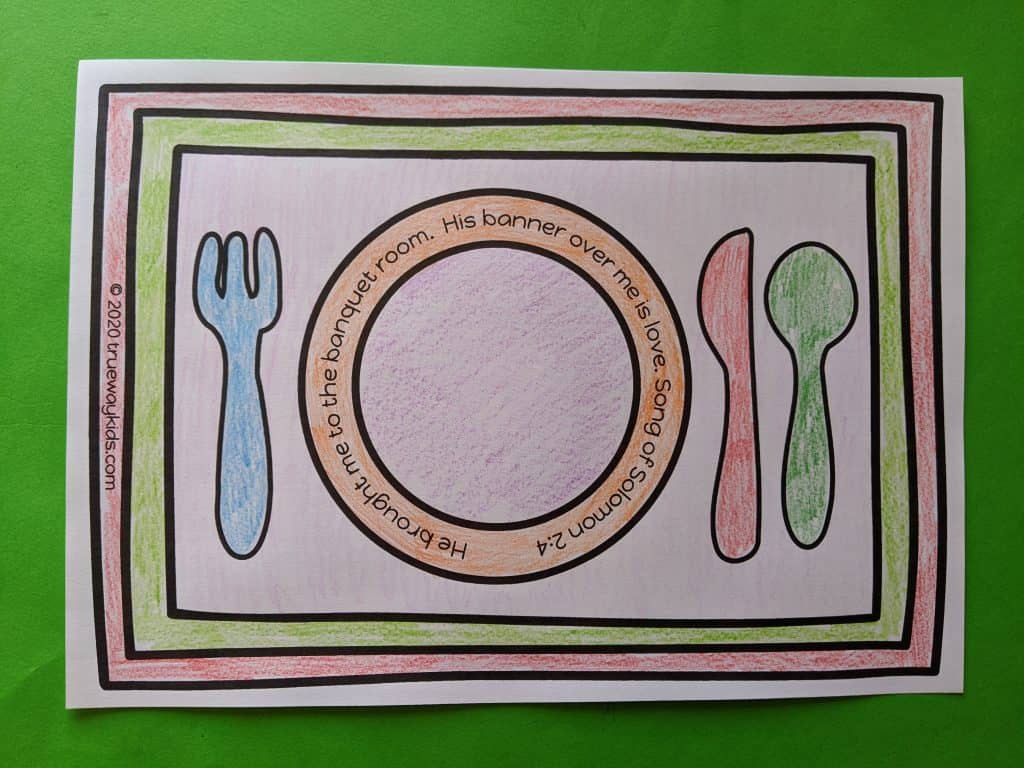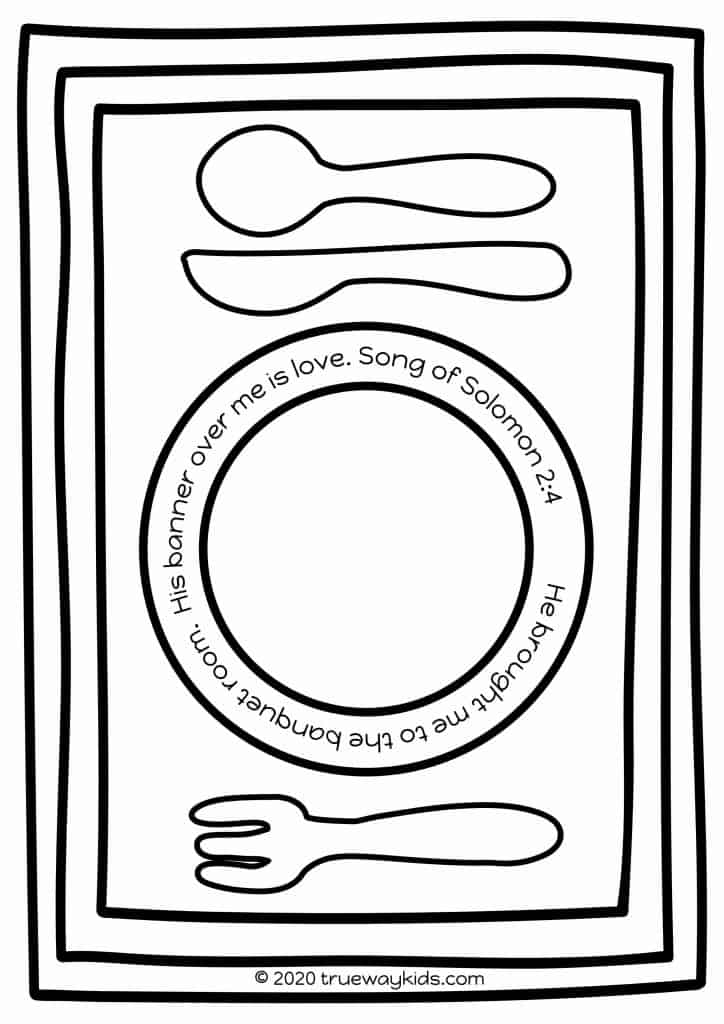 What you need:
Template page,
coloring pencils,
Laminating pouch and laminator or plastic sleeve and tape.
What to do:
Color in the page
Laminate the page to protect
or store in a plastic sleeve.
Download the lesson for FREE

Translations