This week we will study the story of Daniel, Shadrach, Meshach, and Abednego. It is found in Daniel chapters 1-3. Some of the key points we will explore are–
We should stand for God.
God will help us through difficult situations
God is with us in difficult situations

Shadrach, Meshach, and Abednego Lesson Guide
Talk about how Daniel, Shadrach, Meshach, and Abednego were young men when they were taken from their homes. Explain that they were taken to another land and made to serve the king there. Talk about how the people in this foreign land did not know, love or obey God.
Explain there are still many people who do not know or obey God. Some live-in foreign lands, and others live in our own home countries. Remind the child that no matter where we are, we should stand for God. You may select someone you know or have heard of who stands for God and help the child say a prayer for them. This can be anyone from a missionary to a pastor to a relative or friend.
Think about ways that we can stand for God. Talk about how Daniel and his friends refused to eat the food God told them not to eat. (The focus should not be the type of food, but the obedience.) Talk about how Shadrach, Meshach, and Abednego refused to bow down to the golden idol. Talk about ways we can stand for God. Sit your child in a chair. Explain that you are going to read some actions. If they think it is an action God would like, they should stand up. If it is an action God would hate, they should stay seated. Begin listing different items like, praying, stealing, lying, helping others, etc. If your child is old enough, you may let them take a turn listing items. Read I Corinthians 10:31. Talk about how everything we do should be for God's glory.
Talk about some challenging situations you might have experienced. Explain that God can help us through difficult situations. We might still experience things that are hard, but God will be there with us.
Remind the child that Shadrach, Meshach, and Abednego were probably afraid when the king ordered them into the furnace. Point out that they still did the right thing, and God was with them.
Set up a simple obstacle course in or outside of your house. For indoors, you may use stacks of pillows, Legos, chairs with string etc. Outdoors, puddles, pots, etc. Some of the obstacles should be insurmountable. When the child realizes that they can't succeed on their own, pick them up or help them through each obstacle. Explain that God helps us through each obstacle, just as you helped them. He is always with us as we walk the path, He lays out for us. You also have the option of creating an obstacle course with your child for a doll or small toy. Talk about how your child assists the toy in completing the course.
Pray with your child and thank God for always being with us. Praise God that He can help us overcome obstacles.
Printable Bible Story
Games and Activities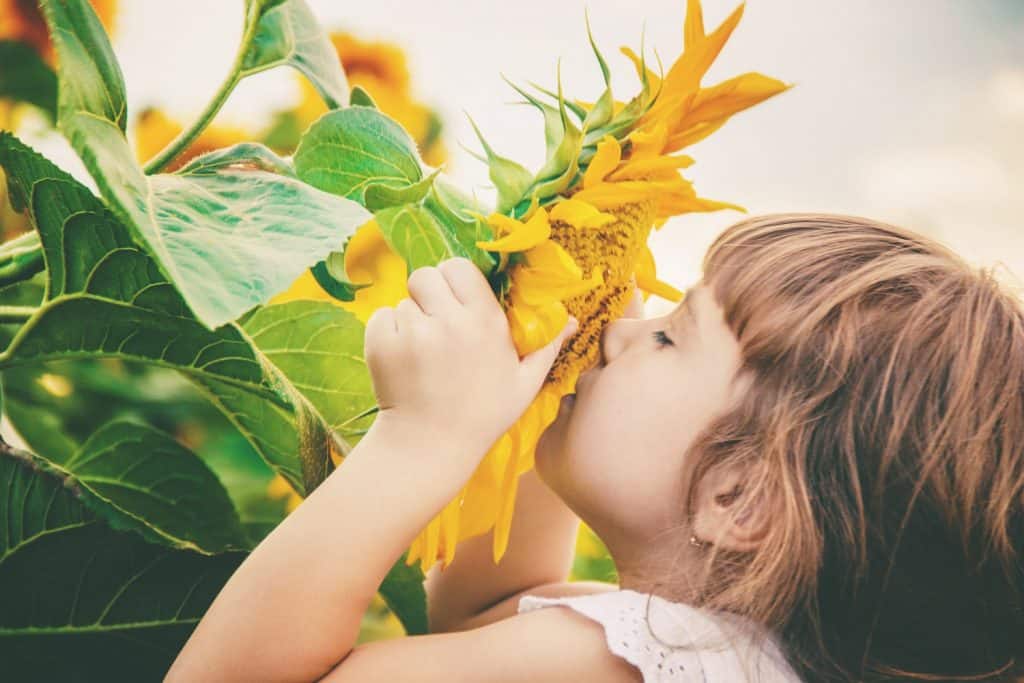 Guess the smell
When Shadrach, Meshach, and Abednego left the fire, the Bible says that their clothes didn't even smell of smoke. To help your child apply this, you can play a guess the smell game.
Either blindfold your child or place objects in a cup and cover with kitchen paper with a small hole. The idea is simple, the child must smell the hidden object and guess what it is.You could use an old match or a burnt piece of paper as one of the objects for a smoke smell. Other easy to make smells with household objects could be oranges, toothpaste, shampoo, vanilla, and chocolate. (Warning: Check for allergies)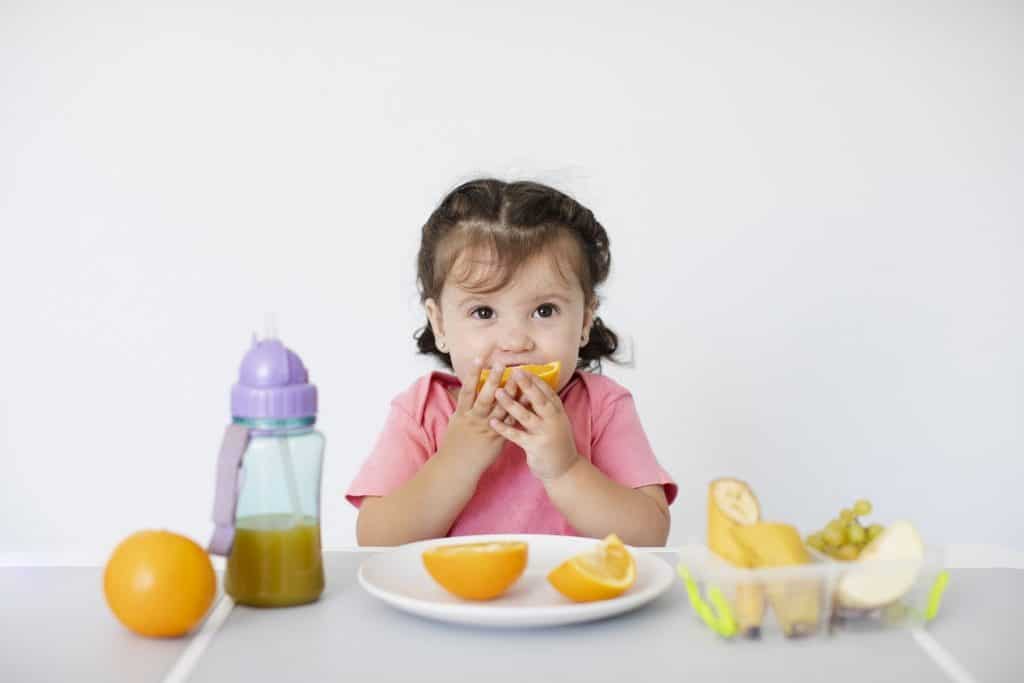 Make a Fruit Salad
Make a fruit salad with your children. You could even have it as a snack while reading the story.
Allow your child to peel the fruit (bananas and oranges etc), depending on their age, you could help them with apples, etc.
Ask them why they think fruit has a peel. Speak about how it protects the fruit and how God protects us.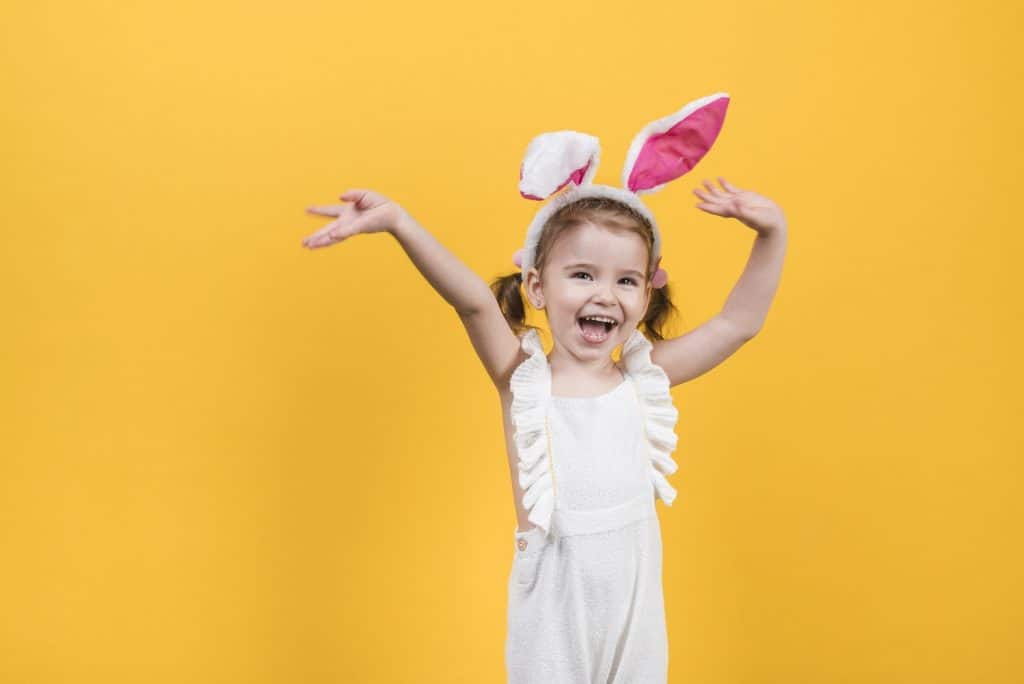 Musical Statues
A classic children's game. Children must dance around, but when the music stops, they must freeze and not move.
To make it more interesting, you could give them things to do when the music is playing, for example, dance, hop, act like a chicken and so on.
Remind the children how the king ordered everyone to worship the idol when the music played, but Shadrach, Meshach, and Abednego refused as they would only worship God.
Bible Worksheets
Shadrach, Meshach, and Abednego Coloring Pages
Fiery Furnace Craft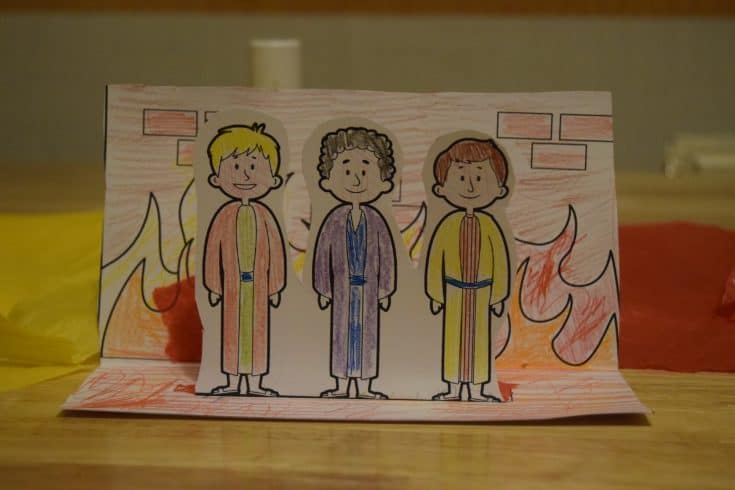 Yield:

1
Fiery Furnace Bible craft
Easy Bible craft based on Daniel 3, Shadrach, Meshach, and Abednego and the Fiery Furnace. Free printable template in lesson.
Materials
Template on white card,
Red, yellow and orange tissue paper.
Tools
Coloring pencils or crayons.
Scissor,
Glue,
Instructions
Color in the template pages. Fold along middle.
Cut around Shadrach, Meshach, and Abednego and glue in place
Glue on red, yellow, and orange tissue paper to create flames. Allow to dry.
Download the lesson

Translations