In Shadrach, Meshach, and Abednego, we find real-life examples of people standing firm in their faith, even when facing incredible challenges.
BIBLE READING: Daniel 3
KEY VERSE: "But even if He does not, let it be known to you, O king, that we will not serve your gods or worship the golden statue you have set up." Daniel 3:18
DOWNLOAD THE FREE PRINTABLE LESSON
BIBLE STUDY NOTES FOR TEENS
BACKGROUND TO THE STUDY:
Shadrach, Meshach, and Abednego were three young men taken captive in Babylon, along with Daniel and many others. They were appointed by King Nebuchadnezzar to serve in his court.
In Daniel 3, King Nebuchadnezzar set up a giant image of gold, about 90 feet (27 meters) in height and 9 feet (2.7 meters) in width, on the plain of Dura in the province of Babylon.
He then proclaimed that all people must bow down and worship the image or face immediate punishment by being thrown into a blazing furnace. Everyone obeyed, except for Shadrach, Meshach and Abednego, who chose to obey God and not worship any idol.
Furious with rage, Nebuchadnezzar summoned Shadrach, Meshach and Abednego and warned them that if they refused to bow down and worship his image, they would be thrown into a blazing furnace.
Despite the king's anger, they refused to worship his image of gold. The king ordered them to be thrown into the furnace. God miraculously saved and protected them from the flames, showing Nebuchadnezzar and the entire kingdom that He alone was God and worthy of worship.
KEY POINTS:
1. STAND FIRM IN THE FAITH – DANIEL 3:17-18
2. TRUST IN GOD'S PROTECTION – DANIEL 3:16-18
3. GOD IS WITH US IN OUR TROUBLE – DANIEL 3:25
4. THE POWER OF TESTIMONY THROUGH SUFFERING – DANIEL 3:28
Read full notes in the pdf lesson
YOUTH GAMES AND ACTIVITIES – Shadrach, Meshach, and Abednego
FIRE BALL
Materials needed: A soft ball (wrapped or decorated to resemble fire), music player.
Instructions:
Participants stand or sit in a circle.
Play music and have participants gently throw the fire ball to each other.
When the music stops, the person holding the fire ball shares a way they can stand firm in their faith during difficult times.
Discuss the significance of trusting God and supporting each other in times of trouble.
Play several rounds, allowing multiple participants to share and engage in the discussion.
FIERY SITUATIONS: GROUP RESPONSE CHALLENGE
Materials needed: Paper, pens, printed situations or scenarios.
Instructions:
Split the youth into small groups.
Hand out a challenging situation to each group, for example: "Your school says you're not allowed to pray."
Each group discusses how to respond to the situation in a way that shows respect, maintains integrity, and honours God.
After a set amount of time, ask each group to share their situation and the response they came up with.
After each presentation, open the floor for friendly feedback, allowing members from other teams to discuss the quality and practicality of the proposed response.
Conclude by reinforcing the lesson that we can handle life's fiery trials respectfully and faithfully, staying true to our beliefs like Shadrach, Meshach, and Abednego.
BOW OR STAND
Materials needed: Music, a coin.
Instructions:
Play music and have everyone move or dance around the space.
Stop the music at random intervals. When it stops, players must quickly decide whether to remain standing or bow to the ground.
The leader then flips a coin where one side represents stand and the other bow. All players with the wrong action are out.
Relate the game to real-life scenarios where we must decide to stand firm in faith or bow to pressure.
Example Worksheets in the lesson pack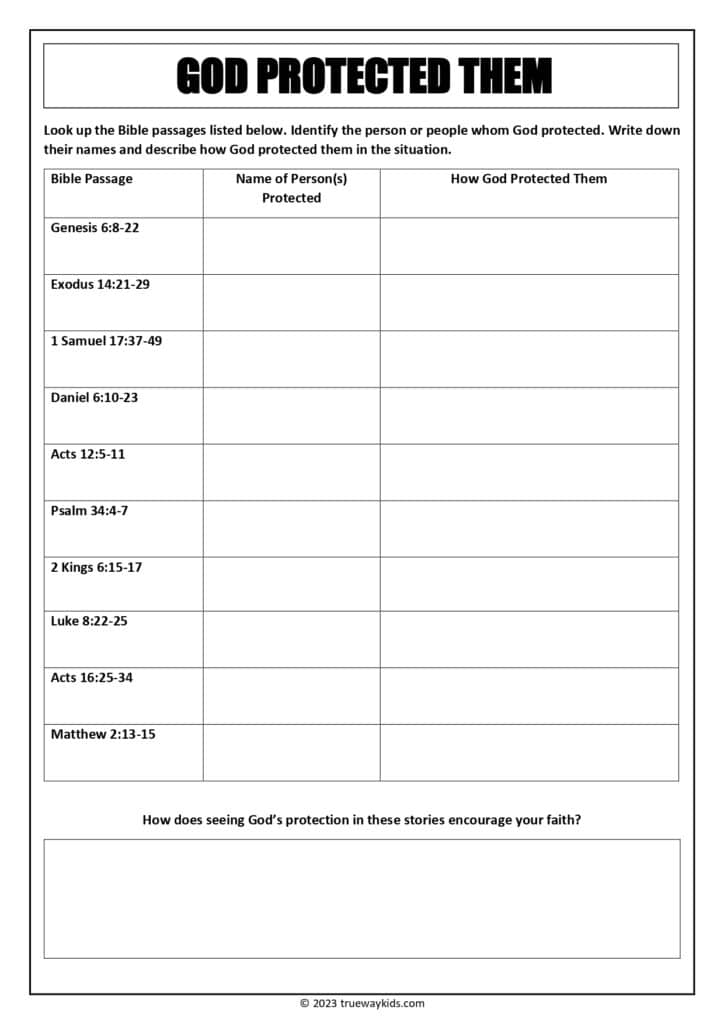 DOWNLOAD THE FREE PRINTABLE LESSON
View lesson for other age groups
Translations