The life of David is filled with climactic highs and lows between his anointing by Samuel to become the king of Israel. In between these pivotal moments are stories of perseverance, commitment and faith in God as David patiently waits for his promise to be fulfilled. These events span from 1 Samuel 16 to 2 Samuel 5. Other books such as 1 Chronicles and Psalms, allowing us to learn more from this time.
BIBLE READING: 1 Samuel 16 to 2 Samuel 5
KEY VERSE: "And David realized that the Lord had established him as king over Israel, and that He had exalted his kingdom for the sake of His people Israel" – 2 Samuel 5:12
DOWNLOAD THE FREE PRINTABLE LESSON
BIBLE STUDY NOTES FOR TEENS
OVERVIEW OF DAVID'S WAIT TO BE KING
David is anointed as king by the prophet Samuel (1 Samuel 16)
David is brought to the palace to play the harp for King Saul, who is suffering from an evil spirit (1 Samuel 16:23)
David becomes a victorious warrior and defeats Goliath (1 Samuel 17)
King Saul becomes jealous of David's success and tries to kill him (1 Samuel 18-20)
David flees from Saul and becomes a fugitive, living in the wilderness with a band of men (1 Samuel 21-25)
David had the opportunity to kill Saul but spared his life when Saul entered a cave where David was hiding (1 Samuel 24:3-7)
David had the opportunity to kill Saul again but spared his life when Saul was on his pursuit (1 Samuel 26:1-25)
Saul and his sons are killed in battle against the Philistines, and David is acknowledged as king by the elders of Judah (2 Samuel 2)
David conquers Jerusalem and makes it his capital city (2 Samuel 5)
David defeats the Philistines and rules over Israel (2 Samuel 5)
KEY POINTS
1. TRUST IN GOD'S TIMING – PSALM 37:3-7
2. DON'T REPAY EVIL WITH EVIL – 1 SAMUEL 24 & 26
3. WAITING TIME IS NOT WASTED TIME – 2 SAMUEL 2
4. GOD ALWAYS KEEPS HIS PROMISES – 2 SAMUEL 5
Read full notes in the pdf lesson
YOUTH GAMES AND ACTIVITIES – David waits to be King
DAVID'S HARP CHALLENGE
Materials needed: a selection of different musical instruments, blindfolds.
Instructions:
Blindfold one participant. Give the other players a musical instrument. (Or make your own).
Point to one player to play a tune.
The blindfolded participant must then attempt to guess who is playing a tune.
Discuss how David used music to soothe Saul's troubled spirit and how music can bring us peace and joy too.
STEALTHY APPROACH
Materials needed: one oversized coat, sticky notes, blindfold.
Instructions:
Select one participant to be King Saul. They put on an oversized coat which has multiple sticky notes stuck to it and then they are blindfolded.
Position 'King Saul' to face a wall in a quiet part of the room.
The other participants aim is to stealthily approach King Saul and take a sticky note from the coat without being heard.
If King Saul hears a sound, they point in the direction of the sound. If a player is pointed out, they must return to the start line and try again.
Discuss how David had opportunities to take Saul's life but chose not to. This can lead into a discussion about mercy, the value of life, and the importance of making choices that align with God's will.
ROYAL WAIT SCAVENGER HUNT
Materials needed: Various items symbolizing key aspects of David's life (a small stone, a picture of a sheep, a toy crown, a small harp, a piece of fabric representing Saul's robe, a note with the word 'Promise' written on it), clues leading to these items, and a map of the area (optional).
Instructions:
Before the meeting, hide the items in various locations.
Divide the group into teams.
Provide each team with the first clue.
The aim of the game is to find all the items as quickly as possible.
When the teams have found all items, discuss the significance of each item in David's life and journey to kingship.
Example Worksheets in the lesson pack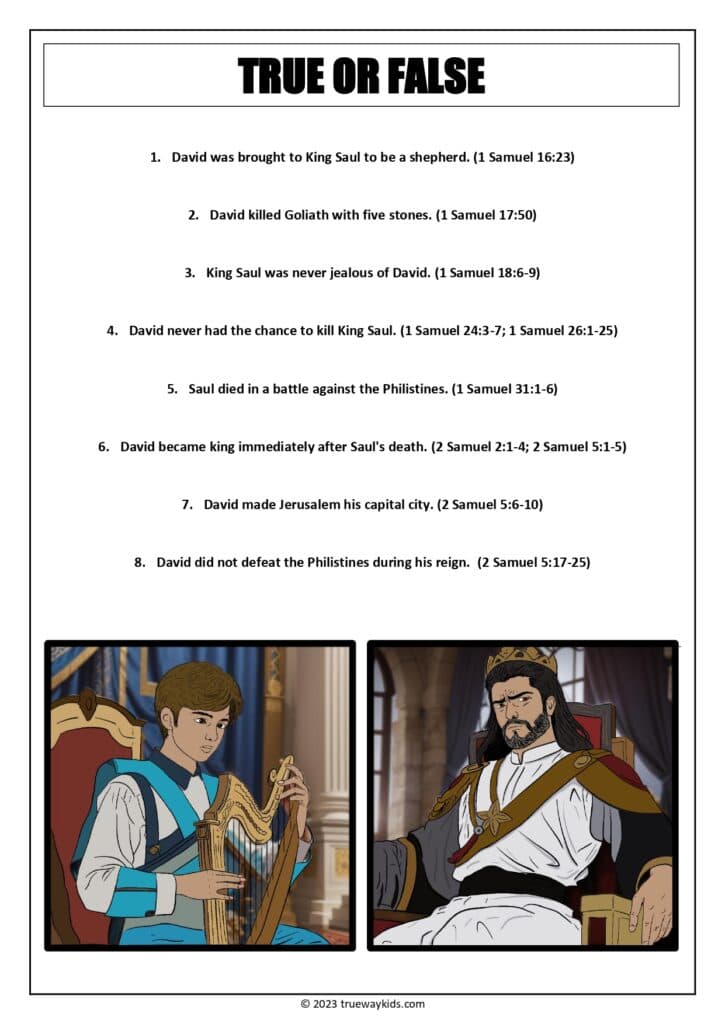 DOWNLOAD THE FREE PRINTABLE LESSON
View lesson for other age groups
Translations