Elisha was a prophet of the God of Israel during the divided kingdom period. He was a student and successor of Elijah and even performed twice as many miracles as Elijah did (2 Kings 2:15).
BIBLE READING: 1 Kings 19 to 2 Kings 13
KEY VERSE: "So Elisha turned back from him, took his pair of oxen, and slaughtered them. With the oxen's equipment, he cooked the meat and gave it to the people, and they ate. Then he set out to follow and serve Elijah." – 1 Kings 19:21
DOWNLOAD THE FREE PRINTABLE LESSON
BIBLE STUDY NOTES FOR TEENS
This study will focus on three moments from Elisha's life and the lessons we can learn from them.
Part 1: Elisha Leaves Everything to Follow Elijah (1 Kings 19:19-21)
Upon hearing Elijah's call, Elisha decides to leave everything. Here, we see another Biblical example of someone leaving their old life behind to follow God.
Part 2: Elijah and Elisha (2 Kings 2)
Elijah passes his mantle onto Elisha. This moment speaks volumes regarding mentorship. Both parties benefit from each other's encouragement and dedication when done well.
Part 3: Elisha and the Widow's Oil (2 Kings 4:1-7)
This passage shares a powerful testimony about how one willing act of kindness can be used by God for something greater than anticipated. It shows us how, with faith, anything is possible with God.
KEY POINTS:
1. LEAVE AND FOLLOW GOD – 1 KINGS 19:19-21
2. GODLY MENTORS – 2 KINGS 2
3. OUR OBEDIENCE AFFECTS OTHERS – 2 KINGS 4:1-7
4. GOD CAN MULTIPLY OUR LITTLE – 2 KINGS 4:5-7
Read full notes in the pdf lesson
YOUTH GAMES AND ACTIVITIES – Elisha
ELISHA'S PLOUGH
Materials needed: Blindfolds, tape or chalk (to mark a straight line on the floor).
Instructions:
Mark a straight line on the floor using tape or chalk.
Divide participants into individual players.
One by one, blindfold each participant at the start of the line.
Participants must try to walk along the line as straight as possible while blindfolded.
The participant who walks the closest to the line throughout the length of the room wins.
Discuss the importance of staying true to God's path, even when we can't see the way clearly.
PASS THE MANTLE
Materials needed: A Mantle
Instructions:
Have everyone sit in a circle.
Pass the mantle around while music plays.
When the music stops, the person holding the mantle shares a way they can mentor someone else or be a good disciple.
Discuss the significance of mentorship.
OIL JAR RELAY
Materials needed: Cups (as many as you want to hide), large container of water.
Instructions:
Hide the cups throughout the room or designated area.
Divide participants into teams.
On the signal "Go", the first player from each team searches for a cup.
Once they find a cup, they bring it back to their station and fill it with water from the large container.
After filling their cup, the next player from the team can begin their search.
Continue until a set amount of time has passed or all cups have been found.
The team with the most water-filled cups at the end wins.
Discuss the story of Elisha and the widow's oil, emphasizing how God provides abundantly in times of need.
Example Worksheets in the lesson pack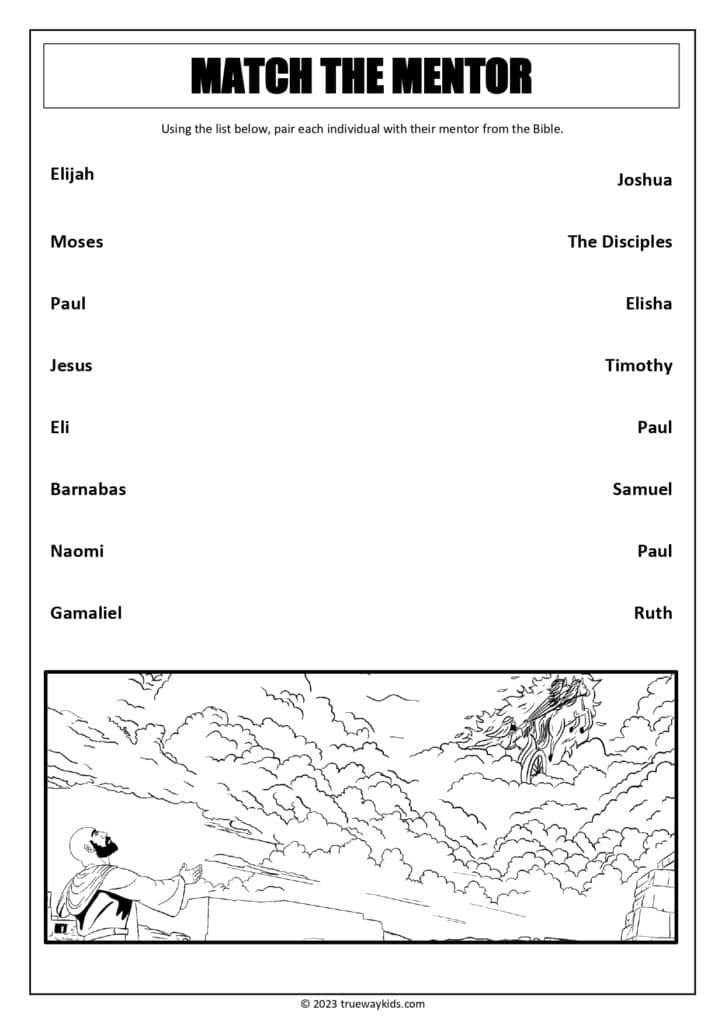 DOWNLOAD THE FREE PRINTABLE LESSON
View lesson for other age groups
Translations