The book of Esther shows how God used Esther, a young Jewish woman, to save her people from Haman's plan to destroy them. Though God is not mentioned, His providence is evident.
BIBLE READING: Esther
KEY VERSE: "For if you remain silent at this time, relief and deliverance for the Jews will arise from another place, but you and your father's house will perish. And who knows if perhaps you have come to the kingdom for such a time as this?" – Esther 4:14
DOWNLOAD THE FREE PRINTABLE LESSON
BIBLE STUDY NOTES FOR TEENS
Set in the Persian Empire, the book focuses on four Key Characters:
Esther: A Jewish orphan is chosen as queen of Persia due to her beauty and wisdom (Esther 2:17).
Mordecai: Esther's cousin and guardian, who incurs the wrath of Haman (Esther 2:5-7).
King Xerxes: The Persian monarch who unknowingly approves the plan to exterminate the Jews (Esther 3:1-15).
Haman: The king's advisor with a vendetta against Mordecai and the Jews (Esther 3:5-6).
Key Plot Points:
King's Feast & Vashti's Refusal: King Xerxes was hosting a feast. When he commands Queen Vashti to display her beauty to attendees, she declines, leading to her dismissal (Esther 1:10-19).
Esther's Queenship: Esther is chosen as the new queen but hides her Jewish identity (Esther 2:17).
Mordecai & Haman Conflict: Mordecai's refusal to bow angers Haman, leading to a plot against all Jews (Esther 3:5-6).
Esther's Intervention: Esther bravely approaches Xerxes to expose Haman's plan (Esther 4:11 – 5:2).
Haman's Downfall: At a banquet, Esther reveals her identity and Haman's treachery, resulting in Haman's execution (Esther 7:1-10).
Jews' Defence & Purim: The Jews are granted the right to defend themselves, leading to a victory commemorated by the festival of Purim (Esther 8-9).
KEY POINTS:
1. GOD IS ALWAYS AT WORK – ESTHER 4:14
2. STEP UP OR MISS OUT – ESTHER 4:13
3. PAUSE AND PRAY – ESTHER 4:16
4. BEYOND OUR IMAGINATION – ESTHER 8:1-8
Read full notes in the pdf lesson
YOUTH GAMES AND ACTIVITIES – Esther
BIBLE IDENTITY CHALLENGE
Materials needed: index cards, markers, tape.
Instructions:
Write down biblical characters (e.g., David, Moses, Ruth, Jonah, Paul, Mary) on the index cards.
Without seeing the name, tape a card to each participant's back.
Players mingle and ask 'yes' or 'no' questions to figure out which biblical character they've been assigned.
The game ends when everyone has had a chance to guess their character or when everyone has figured out their identity.
Reflect on the importance of Esther revealing her identity at the right time.
ROYAL BANQUET RELAY
Materials needed: Table, plates, plastic or real food items.
Instructions:
Divide the group into two teams.
On one end of the playing area, place the items required to set a 'royal banquet' table.
On the word 'go', the first person from each team races to the other end to set a place at the royal table by placing one item.
After setting their item, they race back to tag the next team member.
The relay continues until one team has all its members seated behind their fully set places.
Reflect on Esther's brave decision to host a banquet to reveal her identity and Haman's plan.
PURIM MASK MAKING
Materials needed: Craft supplies.
Instructions:
Masks are a typical feature of Purim celebrations (often representing the hidden and revealed themes of the Esther story).
Invite each person to create their own masks using the provided materials.
Conclude by discussing the themes of identity, concealment, and revelation in the Esther story and in our own lives.
Example Worksheets in the lesson pack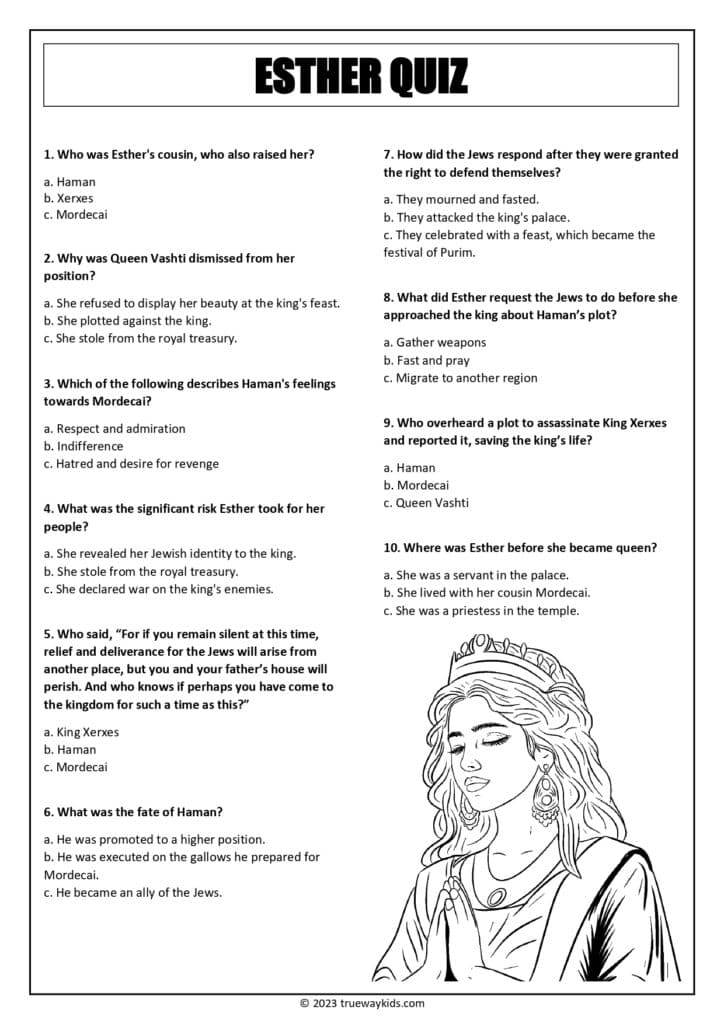 DOWNLOAD THE FREE PRINTABLE LESSON
View lesson for other age groups
Translations