In this lesson, we will learn how Simon Peter and his friends met Jesus and became Fishers of men. No one who meets Jesus stays the same. This lesson is aimed at pre-teens and teens. By the end of this study, they should have learnt about the following:
Inviting Jesus into our lives.
Trusting God even when it's not easy.
The need to follow Jesus.
BIBLE PASSAGE: Luke 5:1-11
MEMORY VERSE: Simon answered him, "Master, we worked all night, and took nothing; but at your word I will let down the net."Luke 5:5
DOWNLOAD THE FREE PRINTABLE LESSON
BIBLE STUDY NOTES FOR TEENS
BACKGROUND TO THE STORY
Simon Peter and his brother Andrew were experienced Fishermen in Israel. They were friends and possible business partners with two other brothers named James and John. Before they met Jesus, they were ordinary working-class men carrying on with their daily life and responsibilities.
One day, after an unsuccessful fishing expedition, frustrated, they began to wash their fishing nets to return home empty-handed after catching no fish the whole night.
Then, Jesus stepped in. Jesus asked Simon to use his boat as a pulpit to preach God's word to the people. When Jesus finished, He told the fishermen to go out and fish again. Simon Peter obeyed the instruction, which birthed a great miracle that brought an abundance of fish. When the fishermen thought they had seen it all, Jesus called them to follow him and become "fishers of men."
They chose to follow Jesus, and this was the beginning of a brand-new life for them all. A few years later, they became part of the Apostles who led the early church. They moved from being Fishermen to "Fishers of Men!"
KEY POINTS FROM THE PASSAGE
IT ALL BEGINS WITH INVITING JESUS. (Luke 5:3)
The miracle that happened in today's passage began when Simon Peter offered Jesus his boat to preach the gospel to people. After a disappointing outing overnight, Simon Peter could have declined to help Jesus with his boat and go back home downcast. Perhaps, if Simon Peter did not offer Jesus the boat, he would have lost the miracle that Jesus performed. Maybe, he would have also lost his opportunity to become an Apostle after Jesus died. Even the little choices we make have significant consequences.
In essence, we must learn to look past our current disappointments and do God's will. Often, we get caught up in ourselves, focus on our problems and forget about Jesus.
Simon Peter invited Jesus into his boat. We are to invite Jesus into our lives. This means, not only at the point of salvation but also in every aspect. We must invite Jesus into our classroom, workplace, relationships, hobbies, conversations …
WE SHOULD TRUST JESUS EVEN WHEN WE THINK WE KNOW BETTER (Luke 5:5)
Simon Peter was an experienced Fisherman; he didn't need a carpenter from Nazareth to teach him how to fish. He must have tried all the skills and tactics to catch fish throughout the night, all to no avail. So, it was strange, maybe even belittling, when Jesus told him to let down his fishing nets one more time.
Now it was the wrong time of day to catch fish. If they couldn't catch any fish in the night, there was no chance at day. He must have thought, "What real difference would it make to throw the net over the other side of a small boat?"
However, Simon Peter trusted Jesus and obeyed His instruction and what a glorious result it yielded! Similarly, we must never think we know it all. God might give us instructions that sometimes seem not to make sense. Nonetheless, we must always realize that He knows more than we do, and He always wants the best for us.
We must stop our ego from getting in the way of obeying Jesus. When we trust God, we will obey all His instructions, no matter how unusual they seem, because they will always bring something great in the end.
JESUS WANTS US TO FOLLOW HIM (Luke 5: 10)
Jesus performed a miracle for Simon Peter and his friends not just because He wanted to make them happy or say "thank you" for lending the boat. Jesus wanted to reveal who He was and invite them to follow Him. That was the whole idea behind the miracle from the start! When Simon Peter and his friends chose to follow Jesus, they got much more than they could ever imagine. Just like the fish in the nets. Jesus wanted to give them life and have it abundantly (John 10:10). He was teaching them He is able to do exceedingly abundantly above all that we ask or think (Ephesians 3:20).
God always blesses His children tremendously. But He wants us to follow Him despite these blessings. The biggest blessing is not the things God can give us but that God gives us Himself.
FOLLOWING JESUS MEANS LEAVING SOME THINGS BEHIND (Luke 5:11)
It is impossible to move forward and remain in the same place. It's the same with following Jesus. You can't follow Him and stay in the world at the same time. God wants us to choose one: either we follow Him or the world and its sinful ways.
Jesus' invitation is "leave and follow."
When we choose to follow Jesus, we must also decide to leave all our sinful ways and all that God does not want behind. It must have taken Simon Peter a lot to follow Jesus. He had to leave the vast number of fish he had just caught. He had to leave his family business behind. He had to leave the comfort of a familiar life and surrounding to follow Jesus. However, God rewarded him greatly.
God always rewards those who choose to follow Him. But it never comes without a cost. Jesus challenges us to have an eternal perspective (Matthew 16:25).
CONCLUSION
In conclusion, review the following points considered in the lesson and pray to round up the study:
We must invite Jesus into our lives.  
God knows best, so we should trust Him and obey His instructions to us. 
God's plan for us is more than we can imagine.
Following Jesus comes at a cost. We must leave certain things behind. 
YOUTH GAMES AND ACTIVITIES FOR FISHERS OF MEN
MY FISHER OF MEN NET
Give each person several blank fish cut-outs to colour and decorate.
On the back of each fish, have them to write a name of someone who doesn't know Jesus.
Attached the fish to a paperclip (hook). They should use the fish to remind them to pray for these people.
Take some moment to pray now.
FISHING GAME CHALLENGES
Fill a bowl with water. Place some numbered objects that float on the water. Each number will relate to a challenge so prepare before the activity begins.
For example: 1 – Sing the first verse of your favourite hymn.  2 – Stand on one leg for 30 seconds.
In turns, players can fish a number our of the bowl using a net or draining spoon. They must then complete the challenge to win a point.
DON'T LET IT SINK
The Fishermen caught so many fish their boats were going to sink
In this challenge players should build a boat from recycled objects to hold a weight.
When the boats are complete, begin to add weights to see which boat can hold the most weight without breaking, capsizing, or sinking.
HOW MANY FISH?
Cut out lots of small paper fishes from recycled paper. Place around the room.
Set a player / team x number of seconds to catch as many fish as possible. Repeat until everyone has a go.
The player / team with the most fish in x seconds wins.
Free printable Teen Worksheets in the lesson pack.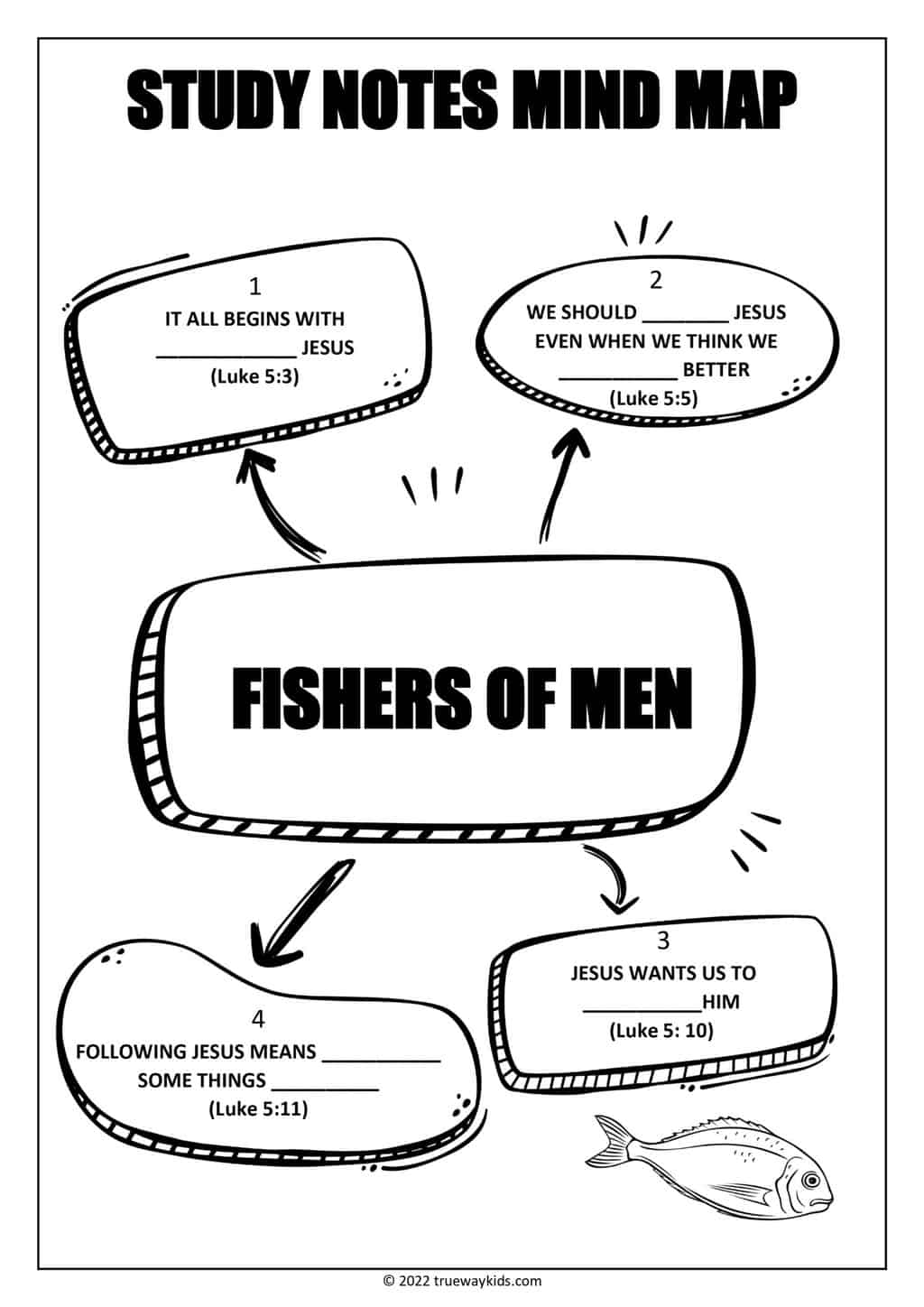 DOWNLOAD THE FREE PRINTABLE LESSON
View lesson for other age groups
Translations