In this lesson, we will study John the Baptist and learn many helpful lessons from his life. This lesson is designed for pre-teens and teens. By the end of this lesson, they should have learned about the following:
The life of John the Baptist.
How to be a forerunner of Jesus.
Living for God and not for ourselves.
Bringing many souls to God.
Calling others to repentance.
Start by briefly giving an overview about John the Baptist (if possible, read a Bible passage about him), repeat the memory verse for this lesson, discuss the key lessons from his life with them and conclude with the discussion questions.
MEMORY VERSE: "….. Prepare the way of the Lord; make his paths straight." Matthew 3:3
DOWNLOAD THE FREE PRINTABLE LESSON
BIBLE STUDY NOTES FOR TEENS
ABOUT JOHN THE BAPTIST
John the Baptist was a highly renowned prophet in the Bible. In fact, Jesus declared there was none greater than John the Baptist (Matthew 11:11).
John's story can be found in the early portions of all the gospels (Matthew 3:1-17, Mark 1:1-11, Luke 1 & 3, John 1). His father was Zechariah, and his mother was Elizabeth. They were both very old before John was born (Luke 1).
John is known as the forerunner of Jesus because he came to prepare the way for the coming of Jesus into the world, according to Isaiah 40:3. He was known for calling the whole of Israel to repentance through baptism in water.
John boldly declared the coming of Jesus as the Messiah when Jesus came into the world. He baptised Jesus in water before Jesus started public ministry.
KEY POINTS ABOUT JOHN THE BAPTIST
JOHN CAME TO PREPARE THE WAY FOR JESUS (Mark 1:3)
John the Baptist came primarily to prepare the way for the coming of Jesus into the world, and he did this so wonderfully well. A forerunner is someone who comes to prepare the ground before the arrival of a person or thing. John the Baptist was the forerunner of Jesus.
In the same way, we are also forerunning to Jesus in our world today. Jesus is coming back again, and we are to prepare the way for Him. How do we forerun Him? By shining as a light for God in this generation, by proclaiming Jesus as the Messiah among people just like John did and setting a positive example for people around us.
JOHN KNEW THAT IT WAS ABOUT GOD AND NOT ABOUT HIM (John 3:30)
As people, we are usually concerned about ourselves more than anything else. Most times, we develop a selfish mentality without even knowing it. This is shown especially when things are not going the way we want. John the Baptist was not like this. He humbled himself before God. He recognized that God must take the first place always.
We must always learn to live for God and not for ourselves. We must not become self-centred and forget God and other people. God created us for His pleasure, and we must live for Him alone. John was quick to point others to Jesus and not seek his own glory.
HE BROUGHT MANY PEOPLE TO GOD (Mark 1:6)
John the Baptist caused a national revival in Israel when he was alive. Many people came to him to repent of their sins and get baptised. How did he achieve this? By his words and his actions. He lived a godly life, spoke God's Word truthfully and wholly, and told everyone about the coming of the Messiah.
Similarly, God wants us to bring many people to Him by living a godly life and telling our friends about the saving power of Jesus Christ.
JOHN TAUGHT THAT EVERYONE SHOULD REPENT (Matthew 3:2)
John was not afraid to tell people about their wrongs and preach repentance to them. This was why he was able to bring more people to God.
When you see people doing the wrong thing, the loving thing to do is point them to Jesus. God wants us to help others get in a right relationship with Him instead of just watching or judging them. You should tell them lovingly without insulting them or fighting with them and then pray for them continuously that God will bring them to repentance.
JOHN SPOKE THE TRUTH BODLY (Luke 3:10-14)
Different groups of people came to John to ask him what to do. He was not afraid to tell them about their wrongs and rebuke them when necessary. When people thought John was the Messiah, he quickly refuted this claim boldly and told them that Jesus was the Messiah. If John was not bold, he would not have been able to forerun Jesus.
Have you ever been tempted to tell a lie because you were afraid? God wants you to speak the truth boldly in all situations. As John did, do not be scared of declaring boldly what is right and what the Bible teaches. When you do something wrong too, don't try to cover up by lying. God wants you always to be bold enough to represent Him truthfully.
Here are a few points to note as you round up this study:
We must always prioritise God's glory and not our own. We must not be self-centred.
Just like John, we are also forerunners of Jesus. We must represent Jesus and live for Him in all we do.
Our lives must bring many more people to God through our words and actions.
We should always tell people about their wrongdoings and pray for their repentance.
Pray with the pre-teen(s) on all that was taught in this lesson and as the Holy Spirit leads you.
YOUTH GAMES AND ACTIVITIES FOR THE LIFE OF JOHN THE BAPTIST
STRANGE FOOD TASTE TEST
John the Baptist had a very strange diet (At least for us in the modern western diet).
Hide a selection of food in containers.
Ask a child to come forward. Place a blindfold on the child and have them taste and try to guess the food.
If possible, include honey as one item and link back to the lesson on John.
LOCUST RACE
Create two paper locusts.
Children should race to blow or fan the locust across the room. Play as individuals or as a team relay race.
RACE BACK
Part of the idea of repentance is to turn around and run back to God. To turn from sin and to God. For this game, have children walk away from the leader as they count. Children take one step for each number.
At some point, the leader shouts – "Repent!" The children should turn around as quickly as possible tun back to the start line.
The last child to turn return is out of the game.
MOUNTAINS AND VALLEYS
Place cones or bowls around the activity area. Set up half of the bowls upside down (mountains) and half of the bowls right-side up (valleys).
Split children into 'Team Mountain' and 'Team Valley'. On "go, children should try to turn all the cones to match their team. At the end of the game, the team with the most cones wins.
Read Luke 3:5 and talk about how John prepared the way for Jesus.
MAKE IS SMOOTH
Give each child a piece of rough wood and some sandpaper.
Ask them to make the wood as smooth as possible.
Speak about how John came to prepare the way for Jesus. To make the path smooth for Him.
Free printable Teen Worksheets in the lesson pack.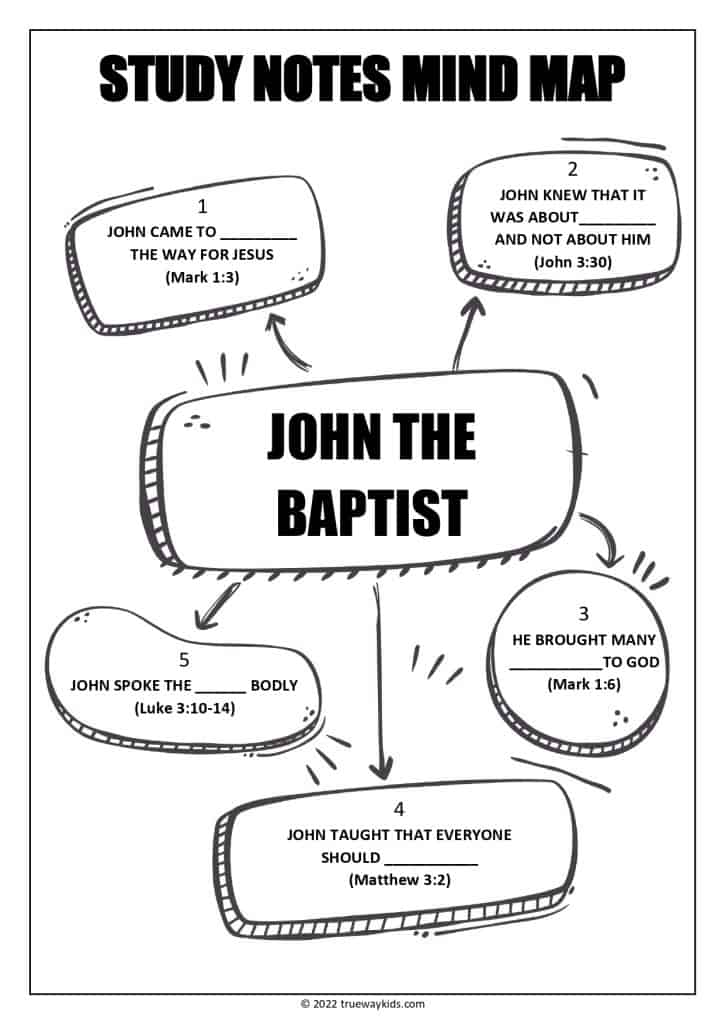 DOWNLOAD THE FREE PRINTABLE LESSON
View lesson for other age groups
Translations