Welcome to our free printable Bible lesson on the 40 Years in the Wilderness: Journey to the Promised Land, designed for children aged 5 to 10 years old. This comprehensive lesson pack includes engaging printable worksheets, a captivating story narration, an in-depth lesson guide, and a creative craft that helps reinforce the Biblical themes.
In this lesson, children will delve into the compelling narrative of the Israelites' 40-year journey in the wilderness, as documented in Exodus and Numbers in the Bible. They will explore key events such as the miraculous provision of manna from Heaven, water gushing from the rock, the Bronze snake, and more, all illustrating God's unwavering care and guidance towards His people.
Through interactive and thought-provoking activities, children will not only learn about these remarkable occurrences but also uncover the deeper meanings behind them. They will come to understand the importance of trusting in God's providence, the value of obedience, and the power of faith, even in challenging circumstances.
Whether you're a parent fostering a faith-based discussion at home or a Sunday School teacher preparing for a class, this lesson pack has material you can easily use. To give you a glimpse into what's inside, we've included samples of the captivating pages from the lesson pack below.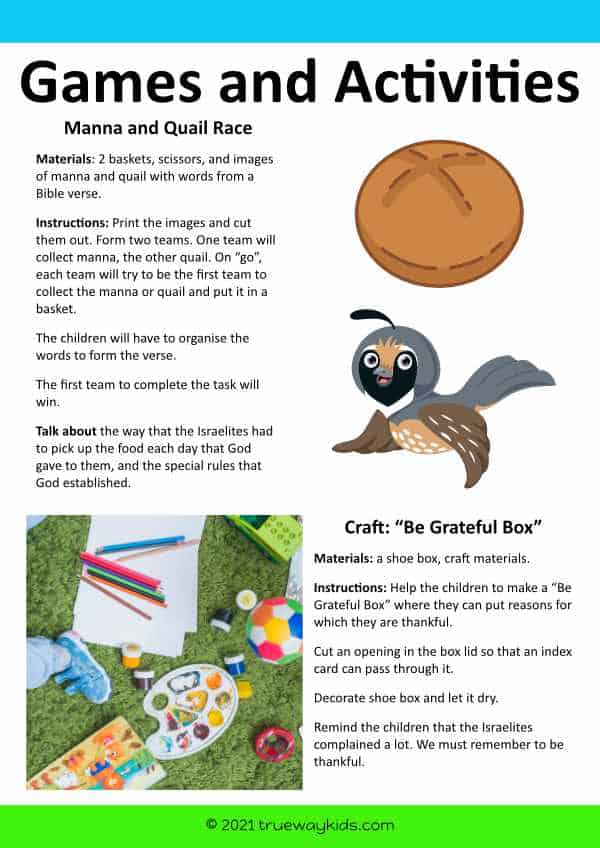 Click the link below to download your free printable Bible lesson today!
Download the FREE lesson packs