In this study, we will explore the account of The Floating Axe Head from 2 Kings 6:1-7. This miraculous event illustrates God's power and care for his people as He works through Elisha to help a man in need.
BIBLE READING: 2 Kings 6:1-7
KEY VERSE: "Cast all your anxiety on Him, because He cares for you."- 1 Peter 5:7
DOWNLOAD THE FREE PRINTABLE LESSON
BIBLE STUDY NOTES FOR TEENS
BACKGROUND TO THE PASSAGE:
Elisha was a prophet in ancient Israel and followed in the footsteps of His mentor, the prophet Elijah. Elisha performed many miracles and acts of God's power during his ministry. He was known for his relationship with God and for helping people miraculously and practically.
At this stage of the Bible, Elisha's reputation as a wise and godly man had grown significantly. Many young people, often called "prophets," were drawn to him. They wanted to learn from Elisha's teachings and understand more about God's ways. Elisha became a spiritual leader and mentor to these aspiring prophets, guiding them in their faith and helping them grow spiritually.
As their group expanded, they faced a practical challenge: the place they gathered was too small to accommodate everyone comfortably. This is where the events of 2 Kings 6:1-7 begin.
Elisha's agreed to accompany his students to the Jordan River to build a larger place. While they were working, one of the young prophets accidentally dropped the iron head of his axe into the river, causing him distress as it was borrowed and seemingly lost. However, with God's guidance, Elisha miraculously made the iron axe head float to the water's surface by casting a stick into the river.
KEY POINTS:
1. LEARN AND GROW TOGETHER IN FAITH – 2 KINGS 6:1-3
2. GOD CARES ABOUT THE SMALL THINGS – 2 KINGS 6:5-7
3. BE GOOD STEWARDS – 2 KINGS 6:5
4. WHEN THINGS GO WRONG – 2 KINGS 6:5
Read full notes in the pdf lesson
YOUTH GAMES AND ACTIVITIES – The Floating Axe Head
AXE HEAD HUNT
Materials needed: axe head cutouts.
Instructions:
Hide the foam or plastic axe heads around the room or outdoors.
Participants must find as many axe heads as they can within a set time.
The person who finds the most axe heads wins.
Reflect on the importance of seeking God and His provisions in our lives.
COMMUNITY WEB
Materials needed: A ball of string or yarn.
Instructions:
Players stand in a circle.
One player holds the end of the string and tosses the ball to someone else, sharing something they learned from the lesson or a favourite Bible verse.
This continues, creating a web, emphasizing the interconnectedness of the community.
Discuss the importance of fellowship and unity in the church.
BUILD THE PROPHET'S SCHOOL
Materials needed: Various objects in the area (e.g., blankets, chairs, cushions, cardboard boxes, ropes).
Instructions:
Split players into teams.
Using the available materials, each team must build a den or shelter.
The goal is to create a structure large enough to accommodate the whole team comfortably inside.
Set a time limit for the building phase.
Once time is up, teams will try to fit inside the structure.
Discuss the importance of teamwork, resourcefulness, and creating space for fellowship in our spiritual journey.
Example Worksheets in the lesson pack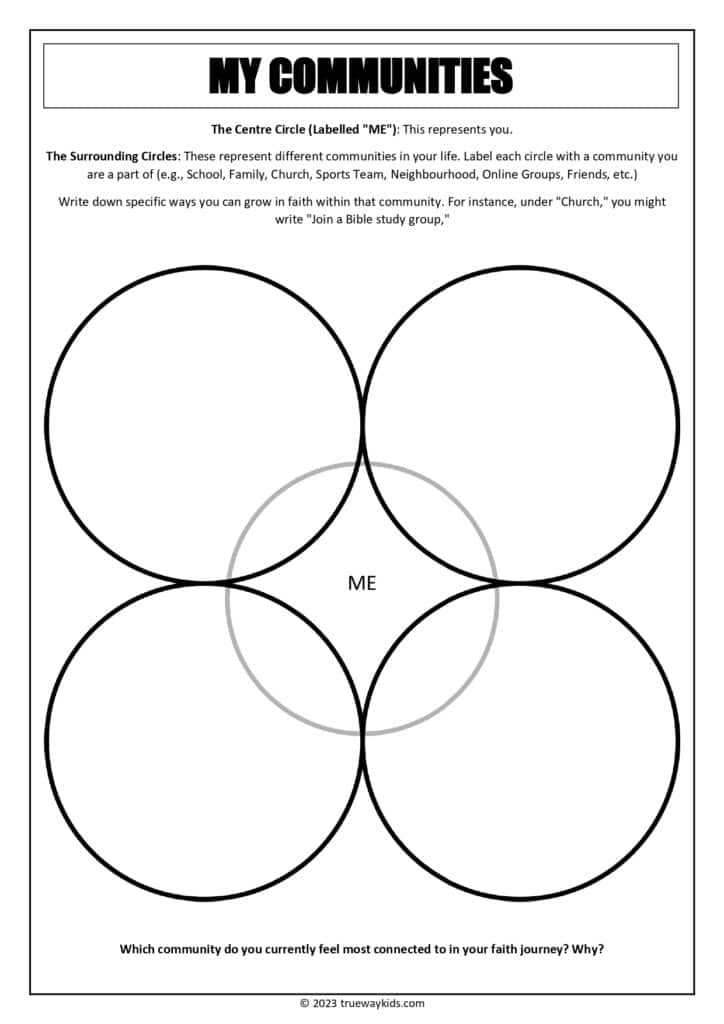 DOWNLOAD THE FREE PRINTABLE LESSON
View lesson for other age groups
Translations