Imagine being a young shepherd, the smallest of your brothers, going up against a giant insulting God and your entire nation. This is the opening to 1 Samuel 17, where God's anointed shepherd boy, David, stands up to Goliath and shows with God on our side that no challenge is too great.
BIBLE READING: 1 Samuel 17:1-58
KEY VERSE: "But David said to the Philistine, "You come against me with sword and spear and javelin, but I come against you in the name of the LORD of Hosts, the God of the armies of Israel, whom you have defied." – 1 Samuel 17:45
DOWNLOAD THE FREE PRINTABLE LESSON
BIBLE STUDY NOTES FOR TEENS
BACKGROUND TO 1 SAMUEL 17
After receiving Samuel's anointing, David continued his humble role as a shepherd boy in Bethlehem (1 Samuel 16:1-13). He was later recognized for his proficient harp playing and appointed King Saul's personal musician (1 Samuel 16:14-23).
The narrative shifts in 1 Samuel 17, where the Israelites prepare to battle the Philistines. The Philistines were led by a towering warrior named Goliath, who openly ridiculed the Israelites and dared them to put forth a champion to duel with him. Saul, Israel's king, promised great rewards to anyone who defeated Goliath.
David had been sent by his father to take food to his brothers serving in the army. Upon reaching the camp, he overheard Goliath's blasphemous defiance and was astounded that the giant dared to disrespect God.
Undeterred by Goliath's size or reputation, David volunteered to fight him. Saul initially questioned David's capability but eventually allowed the shepherd boy to battle the Philistine giant. David's weapons were simple: a sling, five smooth stones from a stream, and an unyielding faith in God.
KEY POINTS
1. TAKE INITIATIVE IN FAITH – 1 SAMUEL 17:26-32
2. GOD IS GREATER THAN ANY CHALLENGE – 1 SAMUEL 17:45-47
3. REMEMBER GOD'S FAITHFULNESS – 1 SAMUEL 17:34-37
4. WEAR YOUR OWN ARMOUR – 1 SAMUEL 17:38-40
Read full notes in the pdf lesson
YOUTH GAMES AND ACTIVITIES – David's anointing
FAITH STONE TOSS
Materials needed: five smooth stones, buckets, or hoops.
Instructions:
Set up the buckets or hoops at different distances.
Give each participant five stones.
The aim of the game is to toss the stones into the buckets or hoops.
Discuss how David only needed one stone to defeat Goliath because of his faith in God.
GOLIATH'S CHALLENGE
Materials needed: alarge piece of cardboard or paper, markers, soft balls.
Instructions:
Draw a life-size Goliath on the cardboard or paper and place it at a distance.
Give each participant a soft ball.
Each participant takes turns to throw the soft ball at Goliath, aiming for the head (where David's stone hit).
Discuss how David used his faith and skills to overcome Goliath, emphasizing the importance of faith in God when facing daunting challenges.
STONE-GATHERING RACE
Materials needed: small stones or paper balls, buckets.
Instructions:
Set up a 'stream' by scattering stones or pebbles in an area.
Divide the participants into teams. Each team is given a bucket.
On 'go,' each team rushes to the 'stream' to gather as many 'stones' as they can in a set time limit.
Discuss David's selection of five smooth stones and the importance of preparing and trusting in God when facing challenges.
REMEMBERING GOD'S FAITHFULNESS
Materials needed: paper, pens.
Instructions:
Everyone is given a piece of paper and pen.
Ask the participants to write down an instance when they experienced God's faithfulness.
Everyone takes turns sharing their experiences.
Example Worksheets in the lesson pack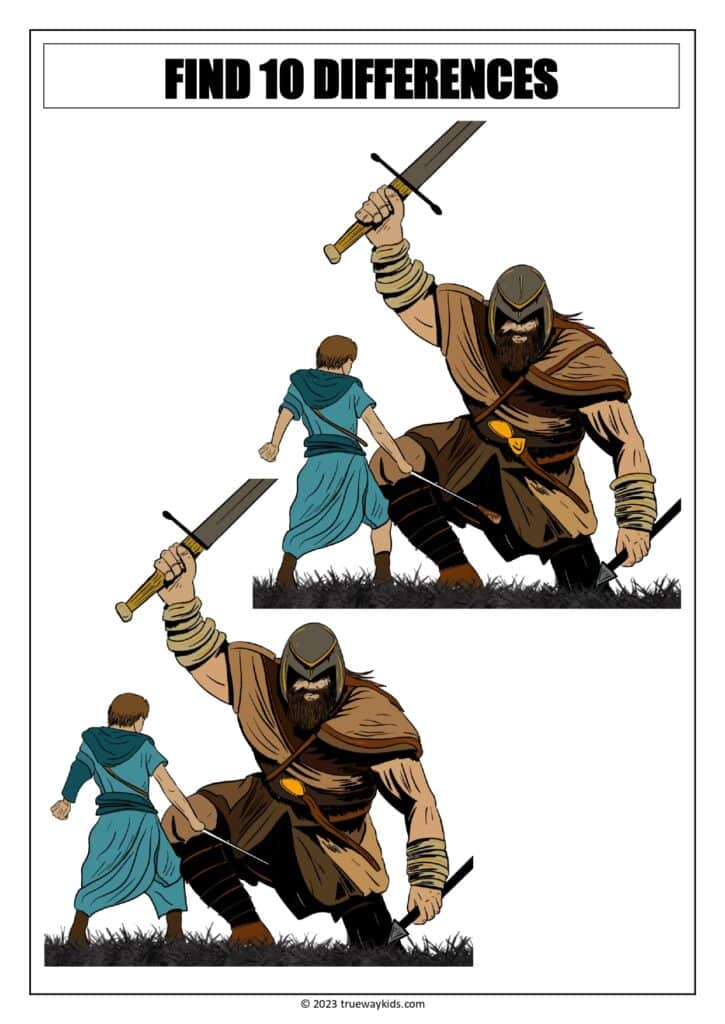 DOWNLOAD THE FREE PRINTABLE LESSON
View lesson for other age groups
Translations