Gideon's story in Judges 6 provides a relatable example of someone who struggled with doubts and fears yet was able to accomplish great things through faith in God.
BIBLE READING: Judges 6
MEMORY VERSE: "The LORD turned to him and said, 'Go in the strength you have and save Israel out of Midian's hand. Am I not sending you?'" Judges 6:14
DOWNLOAD THE FREE PRINTABLE LESSON
BIBLE STUDY NOTES FOR TEENS
BACKGROUND TO THE TEXT
During the time of Gideon, the Midianites teamed up with the Amalekites and other eastern groups to severely oppress the Israelites. For seven years, they'd invade Israel like a swarm of locusts, leaving nothing behind – no sheep, cattle, or crops. (Judges 6:1-5).
This was tough on the Israelites because they worked hard every year to plant and grow crops. But when it was time to harvest, the Midianites would show up and take everything. It was so bad that many Israelites wondered why they should even bother planting crops if the Midianites would just take them. Their oppression was so severe that many Israelites were forced to hide in mountains and caves.
In modern terms, it's like working hard all year at your job and then having someone steal your paycheck right when you were about to get it. And this happened year after year! This is why we find Gideon hiding in a winepress, threshing wheat. Typically, this is done in an open space, but Gideon was so afraid of the Midianites catching him that he did it secretly (Judges 6:11). The sad and desperate situation the Israelites found themselves in sets the stage for Gideon's story.
KEY POINTS
1. GOD SEES OUR POTENTIAL IN HIM – JUDGES 6:11-16
2. RELY ON GOD'S STRENGTH – JUDGES 6:14 
3. STAND AGAINST FALSE GODS AND IDEOLOGIES – JUDGES 6:25
4. SEEK GOD'S CONFIRMATION – JUDGES 6:36-40 
Read full notes in the pdf lesson
YOUTH GAMES AND ACTIVITIES – Gideon
HOW I SEE YOU
Materials needed: Pieces of paper, pens/pencils,
Instructions:
Ask each person to write their name at the top of the page.
Share out the pages in a random order.
Everyone should write a positive statement about the person whose name is at the top of the page.
They should then fold the paper to hide what they've written and then pass it on to someone else.
Continue until everyone has written on every paper except their own.
Everyone can then read the positive statements written about them.
Talk about how God sees our potential, even when we can't see it ourselves. Just like in the activity, where the group saw positive attributes in each other that they may not have recognized themselves.
Note: This game should be conducted in a safe and respectful environment. All participants should write thoughtful comments about their peers. Leader may need to monitor the page before handing it back.
ALTAR DESTROYERS
Materials needed: Boxes or recyclable materials to build the altar, balls, or bean bags for throwing.
Instructions:
Split players into teams. Have them write modern false gods, ideologies, or anything that can distract us from our relationship with God on boxes or recyclable materials.
Set up a makeshift "altar" using boxes or recyclable materials.
Each team gets a set of balls or bean bags.
When you say "go," teams take turns trying to knock over the altar.
Talk about the courage it took for Gideon to destroy the altar of Baal in his society.
GRAIN THIEVES
Materials needed: Bean bags (to represent the grain), markers to designate "camps."
Instructions:
Divide group into two teams. Each team has a designated "camp" marked with cones at opposite ends of the play area.
Place a pile of bean bags or balls (the "grain") in each team's camp.
When the game begins, players try to sneak into the other team's camp and steal their grain without being tagged.
If a player is tagged while in the enemy's camp, they must drop any grain they have and return to their own camp.
The game ends after a predetermined amount of time. The team with the most grain in their camp at the end wins.
Use this game as a fun way to introduce the challenges Israelites faced while harvesting their crops during the Midianite oppression.
Example Worksheets in the lesson pack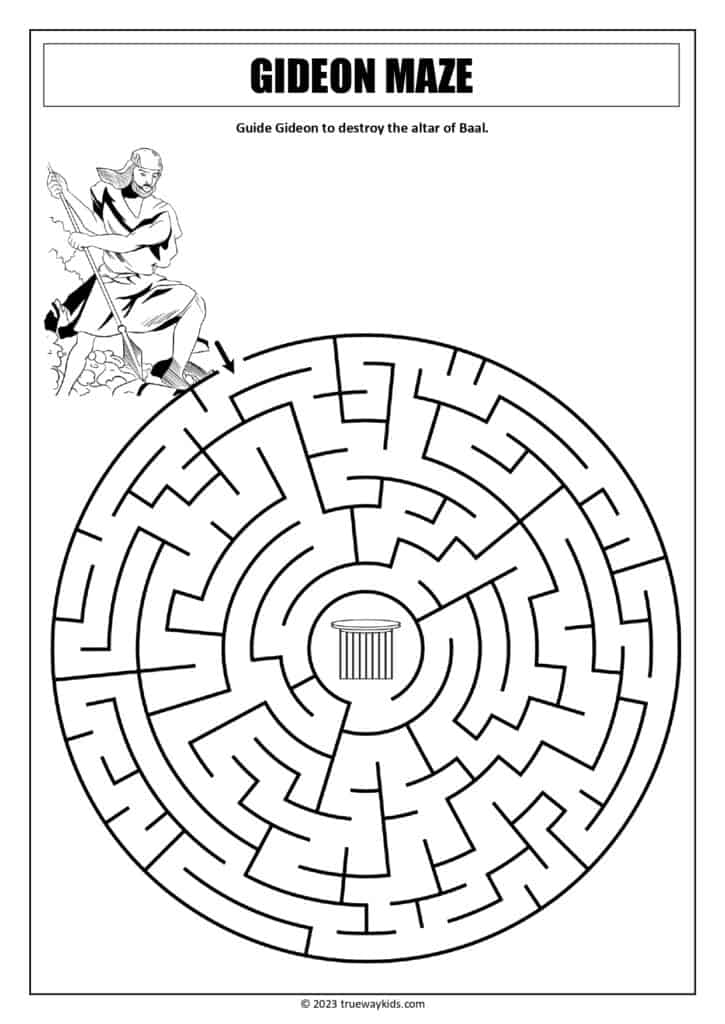 DOWNLOAD THE FREE PRINTABLE LESSON
View lesson for other age groups
Translations