Welcome to our printable Bible lesson on the Pillar of Cloud and Fire in the wilderness, designed especially for children aged 5 to 10 years old! In this lesson, we will journey with the Israelites as they experienced God's guidance and learn how the Lord leads us today.
Our comprehensive lesson pack includes printable worksheets, an exciting story, a detailed lesson guide, and a creative craft that reinforces the key concepts.
In this lesson, children will uncover the incredible account of the Pillar of Cloud and Fire that guided the Israelites during their time in the wilderness. They will discover how God led His people with a visible sign, providing them with direction, protection, and assurance.
Through engaging activities, children will learn about the significance of the Pillar of Cloud and Fire and its representation of God's presence and guidance. They will explore the ways in which God guides us today, whether through His Word, prayer, or the guidance of the Holy Spirit.
By understanding the Israelites' journey and God's faithfulness, children will grasp the importance of trust and obedience in their own lives. They will learn that just as God led the Israelites through the wilderness, He is also leading and guiding us in our daily lives.
Whether you are a parent or a Sunday School teacher, we invite you to explore this lesson pack. To give you a glimpse of what to expect, we have included a sample of some of the pages from the lesson pack below.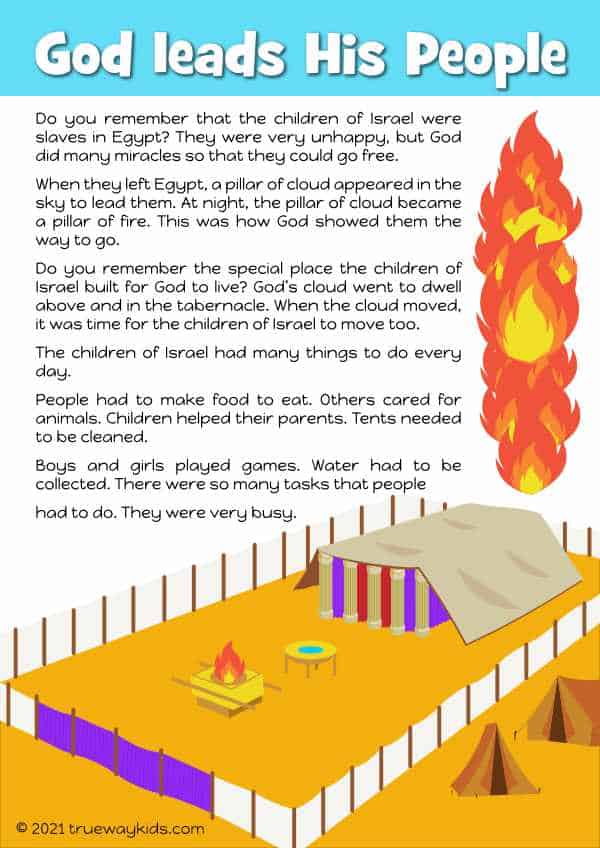 Click the link below to download your free printable Bible lesson today!
Download the FREE lesson packs