JESUS CLEANSES THE TEMPLE
In this lesson, we will learn about the house of prayer and how Jesus cleansed the Temple from Matthew 21:12-16; Mark 11:15-18; Luke 19:45-48, and John 2:12-24. This lesson relates to pre-teens and teens and by the end of this lesson, they should have learnt about the following:
The Temple of God is a house of prayer.
Our bodies are the Temple of the Holy Spirit.
Jesus healed the blind and the lame.
It is more blessed to help people than to make profits.
BIBLE PASSAGE:  Matthew 21:12-16; Mark 11:15-18; Luke 19:45-48 and John 2:12-24.
MEMORY VERSE: "And He said to them, "It is written, 'My house shall be called a house of prayer,' but you have made it a 'den of thieves." (Matthew 21:13)
DOWNLOAD THE FREE PRINTABLE LESSON
BIBLE STUDY NOTES FOR TEENS
In the old Jewish tradition, before the sacrifice of Jesus on the cross, people used the blood of animals to pay tributes (tax) and to atone for their sins. The money changers took advantage of this opportunity and created a marketplace outside at the Temple. Slowly the market moved closer and closer until it was inside the temple court.
At the time of Jesus, the religious leaders had allowed various merchants to set up stalls in the place called the court of the Gentiles to sell the animals for the Jewish sacrifice at very high prices. They took advantage of the devotion of the foreigners. Sometimes, there were so many merchants that they did not allow the outsiders to worship God in the court of the Gentiles.
There were also money changers who exchanged foreign currencies for the currencies of the Temple. They did so at high-interest rates, to obtain profits from foreigners who came to make offerings or pay the Temple tax. Think of it like a 'tourist trap' that we still experience today, but much worst.
Furthermore, the excessive profit oppressed the poor. People knew their sins needed to be atoned for, but the poor couldn't afford to follow the law. The exorbitant prices for doves, pigeons, cattle, and sheep restricted the poor in their obedience and worship. The people knew they needed to be cleansed of their sins but couldn't afford the animals. It was never in the interest of God to make atonement so costly for the poor and easy for the rich.
God had a plan already, which was fulfilled when Jesus died on the cross for the forgiveness, cleansing, and deliverance of the whole world from sin. Jesus, after His triumphant entry into Jerusalem, went straight to the Temple, and He drove out people who were buying and selling in the Temple. He overturned their tables and chairs, stating, "And He said to them, "It is written, 'My house shall be called a house of prayer,' but you have made it a 'den of thieves.'" (Matthew 21:13 NKJV).
KEY POINTS FROM THE PASSAGE
1. MY HOUSE SHALL BE CALLED A HOUSE OF PRAYER (MATTHEW 21:13)
What do you expect to see when you arrive at church?
The expectation is to see people worshipping, studying the Bible and praying to God. This is not what Jesus saw when He arrived at the Temple. They had turned the Temple into a marketplace. People were actively making money from the sales of animals to be used as sacrifices and even from the sales of doves and pigeons used for child dedication (Luke 2:24). Poor people who couldn't afford the animals were disappointed and helpless; they were taken advantage of.
Jesus' first statement in the Temple was, 'my house shall be called a house of prayer. The church should be a place where people meet with God to worship and pray and not a place for ungodly business transactions. God has given us salvation, redemption, and deliverance free of charge; people don't need to pay for these. Today, in some parts of the world, people are still made to pay for all kinds of things in the church. People are still charged for a 'special blessing'.
Jesus has brought equality to all through the Gospel. He paid the price none of us could pay, once and for all. (See Hebrews 10). We no longer need to pay our way in sacrifices; Jesus has paid for it all. Jesus has made way for all people to come to Him in prayer and worship.
2. YOU ARE GOD'S TEMPLE (1 CORINTHIANS 6:19-20)
God's plan was not to dwell in a temple of stones and bricks. His plan had always been to dwell in His people. Before Jesus, sacrifices paid the way into the Temple, but 1 Corinthians 6:19-20 remind us, 'do you not know that your body is a temple of the Holy Spirit within you, whom you have from God? You are not your own, for you were bought with a price. So, glorify God in your body.'
When we accept Jesus as Lord and Saviour, the Holy Spirit fills us so that our bodies become temples of the Holy Spirit. We become set apart for God. Much as the Temple should have been set apart for prayer and worship. It wasn't to be like every other building in Jerusalem; it was supposed to be different.
As God's temples, we are not our own but are called to be living sacrifices, holy and acceptable to God (Romans 12:1).
We must be careful not to make the same mistake as the religious leaders at Herod's Temple and allow worldliness to make its way into our lives. Our bodies should be prayer houses and not a place where we fulfil the desires of sinful nature. Prayer and worship should become our lifestyle.
Further, it reminds us that we can't 'act' holy in church. There is not one way to behave inside the church and another way to act at school, with our friends or at work. God fills our lives wherever we are.
3. RIGHTEOUS ANGER (MATTHEW 21:14)
The Bible warns us about getting angry. James 1:19-20, 'Know this, my beloved brothers: let every person be quick to hear, slow to speak, slow to anger; for the anger of man does not produce the righteousness of God.'
We don't often associate anger with righteousness or with Jesus' character, but in our text, we see Jesus displaying what is often referred to as 'Righteous Anger'. This doesn't give us an excuse to work around getting angry with people. We must exercise extreme caution: there's a massive difference between righteous and unrighteous anger.
Righteous anger results from witnessing "an offence against God or His Word." Righteous anger cares about others and God's glory.
Righteous anger doesn't insult others on social media. Righteous anger doesn't throw a tantrum because things are not the way we like them. Righteous anger upholds God's Word and, through love, desires to bring someone back to the truth. As Christians, it is appropriate getting upset over sin. When we hear others misusing God's name, abusing others, or mistreating scripture, it should trouble us.
Expressing righteous anger should be a last resort, not a first. Yes, Jesus flipped tables, but He spent much of His life teaching and living by turning the other cheek (Matthew 5:38-40). It's not an excuse to act rudely to others.
Ephesians 4:26-27 says, 'Be angry, and yet do not sin; do not let the sun go down on your anger, and do not give the devil an opportunity.'
Jesus was upset with what He saw at the temple, but it didn't stop Him from healing the blind and the lame during his visit to the temple (Matthew 21:14). The actions of those around us, should not stop us obeying God and allowing Him to work through us.
4. RESPOND THE RIGHT WAY TO GOD'S CORRECTION (MATTHEW 21:15)
The Jewish religious leaders reacted angrily to Jesus upsetting their customs. They took advantage of the market trade to increase their wealth and impose their power over the foreigners and pilgrims who came to worship at the Temple in Jerusalem. The action of Jesus "harmed" them economically and pointed out their wrongdoing.
They failed to recognize Jesus's authority, and rather than submitting to His Word and responding in repentance, they wished to kill him (Matthew 12:14 & John 11:47-53). They believed that Jesus was a threat to their interests.
How do you respond when God convicts you of a wrong action? God uses conviction to expose harmful sins in our lives and bring us closer to Him. Unfortunately, many people react like the religious leaders. They don't turn to Jesus in repentance and ask for forgiveness. Instead, they want Jesus out of the way, so they can carry on doing what they want.
CONCLUSION The fact that this account can be found in all accounts of the Gospel shows us the importance of the message it carries. Knowing that your body is God's Temple, not a physical building, you must treat it with honour and dignity. We must pay attention to what we say with your mouth, think in our thoughts and do with our body, and worship God with our whole being. We must be careful to guard our lives from things which displease God and fill them we things which glorify Him.
YOUTH GAMES AND ACTIVITIES FOR HOUSE OF PRAYER
WHAT IS MORE IMPORTANT?
In this activity, players must decide what is most important. Not all answers need to be right or wrong. Some ideas could be:

1.            Study for a test or Play online
2.            Listen to your mom or Watch TV
3.            Read the Bible or Chat online.
4.            Stay up late or Get a good night sleep.
5.            Clean your room or Go out to play.
6.            Talk to God or Talk on the phone.
7.            Practice an instrument or Play with sport
8.            Write an essay for school or Read a comic.

Have players either stand or still. You could also have them run to one side of the room to choose.
Choose some players to give a reason for their answer. Let another play say if they agree or disagree and why.
Talk about how we need to be careful to choose good things and fill our lives with things that please God.
I WAS WALKING TO THE TEMPLE …
I was walking to the temple …
In this memory, players will imagine being at the temple.
The first player begins with "I was walking to the temple, and I saw…" (name something Jesus might have seen at the temple. E.g., a sheep, money changers etc.)
The next player continues "I was walking to the temple, and I saw (a new item) and (the previous items)"
Game continues with every player adding a new item and remembering all the items before. The player who remembers the most wins.
Free printable Teen Worksheets in the lesson pack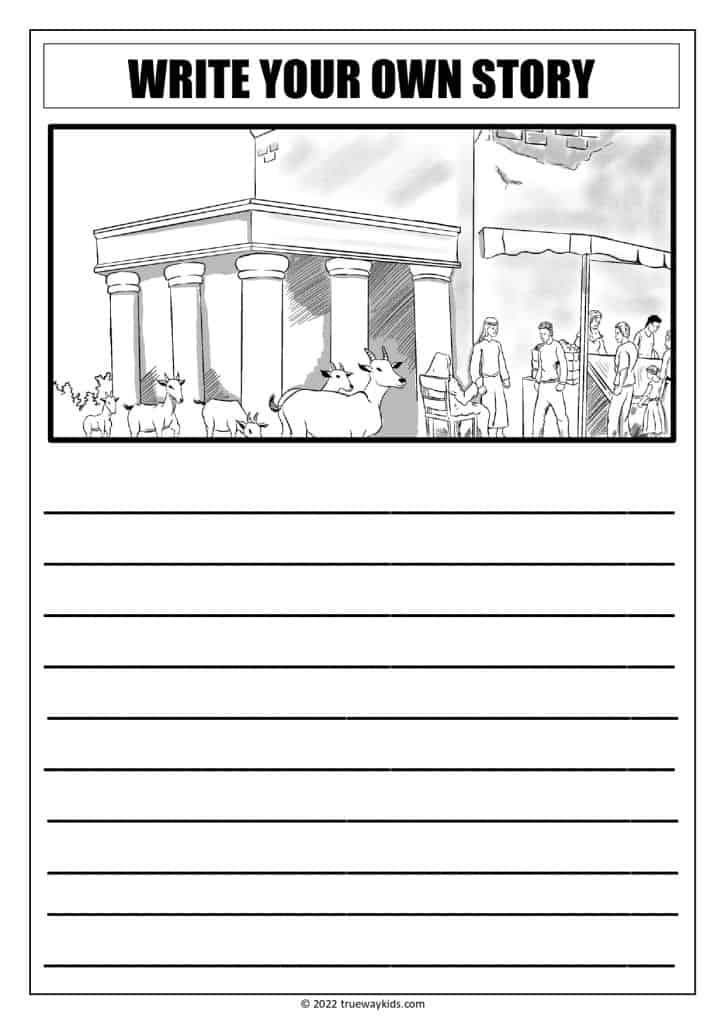 DOWNLOAD THE FREE PRINTABLE LESSON
View lesson for other age groups
Translations