In this lesson, we consider a character in the Bible called Nicodemus. This lesson should be related to pre-teens and teens. By the end of this lesson, they should have learnt about the following:
The physical and spiritual life.
Being born again.
Maintaining humility and sincerity
Start by reading the Bible passages, discussing the key points from the passage, and conclude by asking them the discussion questions and learning the memory verse.
BIBLE PASSAGE: John 3:1-21.
MEMORY VERSE: "For God so loved the world, that he gave his only Son, that whoever believes in him should not perish but have eternal life."John 3:16
DOWNLOAD THE FREE PRINTABLE LESSON
BIBLE STUDY NOTES FOR TEENS
BACKGROUND TO THE STORY
Nicodemus was a revered teacher in Israel during the lifetime of Jesus. He was a member of the Jewish ruling council and a Pharisee. Being a member of the Jewish ruling council in Israel meant that he had a prestigious place in society. He would have been the focus of respect and attention.
When Jesus started His ministry on earth, one of his major antagonists were the Pharisees. This happened because the Pharisees felt that Jesus was leading a revolution that would make them lose their reputation and revered position in Israel. For this reason, they continually refuted His teachings and tried to trap Jesus with His words and actions publicly. Many refused to admit Jesus was who He claimed to be for the sake of their personal gain.
Amid all these, although a member of the Pharisee sect, Nicodemus perceived something different and that God indeed sent Jesus. Something in his heart nudged him to find a way to speak with Jesus and learn from Him. However, his reputation as a Pharisee was at stake. Finally, Nicodemus decided to see Jesus at night to have a confidential meeting with Jesus.
During this meeting, Jesus told Nicodemus some profound things, which we will now reflect on in this lesson.
KEY POINTS FROM THE PASSAGE
WE HAVE BOTH PHYSICAL AND SPIRITUAL LIFE (John 3:6)
When Jesus met Nicodemus, Jesus made it clear to him that life is not just about the physical alone. As humans, we are not just physical beings; we are spiritual also. To live a victorious life on earth, we must understand this.
All people have a spirit, soul, and body. With our body, we interact with our physical environment (the things we see, smell and touch). In contrast, we interact with the spiritual environment with our soul and spirit. Although we can't see the spiritual environment with our physical eyes, this does not mean that the spiritual environment does not exist.
When Adam and Eve sinned in the garden, death entered the world. Yet, they didn't die physically straight away. This again demonstrates the two elements of life. They experience physical death at an old age, but spiritual death came with sin and separation from God. Without Jesus, people are physically alive but spiritually dead. Jesus came that we could have and experience life the way God planned. Life to the full (John 10:7-10).
WE MUST BE BORN AGAIN (John 3:3)
Nicodemus was a devoted teacher and doer of the law God gave the Israelites through Moses. Yet, Jesus still told him the last thing he was lacking; being born again.
This tells us that we must not just be good. How will we be good enough? When Jesus tells us that we must be born again, He reminds us that our present condition is hopelessly unresponsive. Apart from His amazing grace in our lives, we can't regain spiritual life. In our natural childbirth, it was our mothers who bore the pain of our birth. Jesus bore the pain of the cross so that we could have new life in Him.
GOD SENT JESUS TO THE WORLD BECAUSE HE LOVED US (John 3:16)
One of the most famous verses of the Bible is found in this passage, John 3:16. It depicts how God made a public display of love to the world by sending Jesus His son to die for us that we might be saved.
This shows us how much God loves us. It cost Him so much to send Jesus to the world to die for our sins. We must never forget that we are loved by God greatly. If he gave His only son for us to be saved, will he not freely give us all things? (Romans 8:32).
In addition, we should allow this love God has for us to motivate our living. If God loved to the extent that He gave His Son, nothing should be too big for us to give to Him.
WE MUST REMAIN HUMBLE AND SEEK JESUS (John 3:2)
As discussed earlier, Nicodemus was a member of the ruling class of Israel during the life of Jesus. He was no ordinary person. Although many other Pharisees saw the truth about Jesus, they refused to admit it because of their pride, hatred, and position. Nicodemus broke away from the pressure of his peers and society to seek Jesus.
Even though he came at night, he risked being rejected by his fellow Pharisees if he was seen speaking to Jesus publicly. Against all these odds, Nicodemus took the bold step of doing what was right; he came to see Jesus.
Today, people may still reject us and mock us for seeking Jesus. Self-pride and society still often reject Jesus. Yet, to experience life, we must be humble enough to seek Jesus regardless of what others may think. Jesus promises never to reject anyone who comes to Him (John 6:37).
CONCLUSION
In conclusion, review the following points considered in the lesson and pray to round up the study:
We must learn to navigate life through our spiritual senses and not just the physical.
Good actions are not enough. We must be born again.
God loves people so much; Jesus came to save us. We should also reciprocate the same extent of love to Him.
We should never lose our humility to seek Jesus.
YOUTH GAMES AND ACTIVITIES FOR JESUS AND NICODEMUS
CATERPILLAR RELAY
Cut out a set of butterfly wings for each player.
You can play this game as individuals or split players into teams.
Place cut out wings on one side of the space. Players should line up on the opposite side.
On go, they should crawl like caterpillar across to the wings. Pick them up and 'fly' back to the start. If playing as a team, they should tag the next player.
Talk about how God wants to transform us at new birth.
DON'T GET CAUGHT
Have one player facing the wall. Everyone else should line up behind them on the other side of the room.
The idea of the game is for the players to sneak up and tap the person facing the wall on the shoulder.
The person may turn around at any time, and anyone seen moving, must return to the start.
Remind them how Nicodemus didn't want to get caught talking to Jesus.
IN THE DARK CHALLENGES
Nicodemus came to Jesus at night so no one could see him.
Find a dark space to do this activity or use a blindfold.
Time children doing a task in the light and again in the dark. How much longer does it take. Which child can do the fastest?
Some ideas may be:
Put on shoes and tie laces,
Draw a picture of something.
Build something from blocks.
Peel and eat some fruit.
Free printable Teen Worksheets in the lesson pack.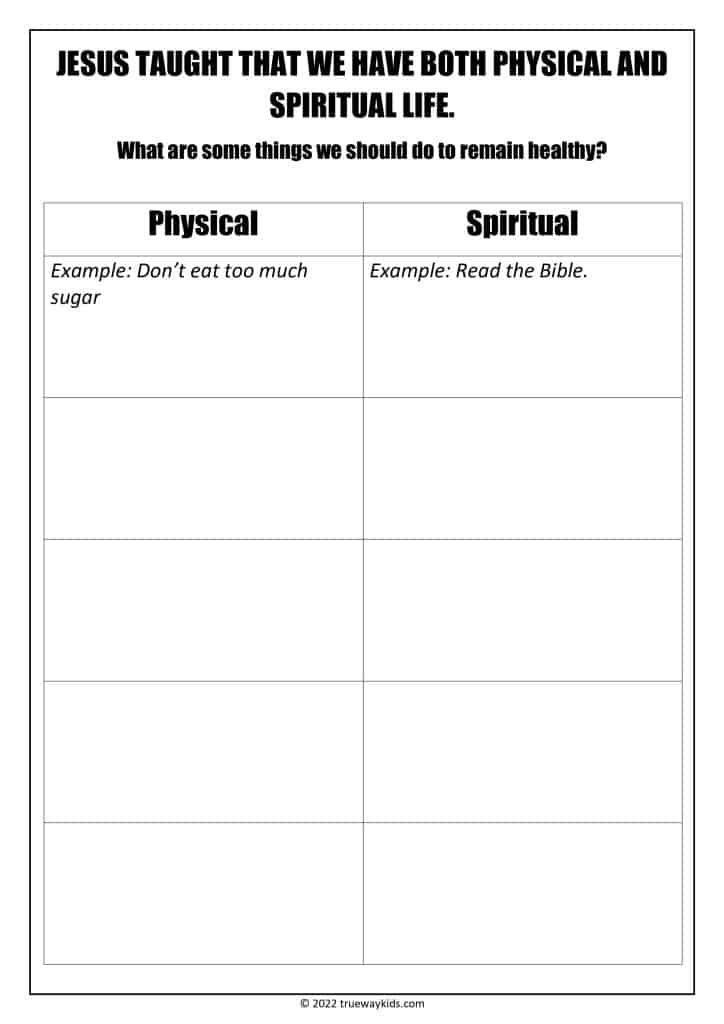 DOWNLOAD THE FREE PRINTABLE LESSON
View lesson for other age groups
Translations