Solomon's story is like one of those grand architectural wonders, starting with a magnificent foundation but ending with some noticeable cracks. Solomon wasn't merely a king but an icon of his era. While David battled giants and evaded dangers, Solomon engaged in visionary dreams, large-scale construction and rendered judgments that showcased unparalleled wisdom. His story unfolds from 1 Kings 1 to 1 Kings 11, complemented by insights in the books of 2 Chronicles, Proverbs, Ecclesiastes, and Song of Songs.
BIBLE READING: 1 Kings 1 to 1 Kings 11
KEY VERSE: "The Lord was pleased that Solomon had asked for this. So God said to him, 'Since you have asked for this and not for long life or wealth for yourself, nor have asked for the death of your enemies but for discernment in administering justice, I will do what you have asked. I will give you a wise and discerning heart…'" – 1 Kings 3:10-12.
DOWNLOAD THE FREE PRINTABLE LESSON
BIBLE STUDY NOTES FOR TEENS
OVERVIEW OF KING SOLOMON'S REIGN:
Solomon, the child of promise, is born and later ascends the throne after David (1 Kings 1:32-53).
He undertakes a monumental task, constructing the Temple of Jerusalem (1 Kings 6).
God gives him exceptional wisdom, allowing him to resolve the most challenging disputes (1 Kings 3:11-28).
He forms a strategic alliance with Hiram of Tyre, which results in significant prosperity and resources for Israel (2 Chronicles 8:1-18).
However, a turning point occurs when Solomon marries foreign princesses, introducing practices against God's commandments (1 Kings 11).
Following Solomon's demise, Israel faces internal strife, eventually dividing it into two separate kingdoms (1 Kings 12:20-24).
KEY POINTS:
1. THE IMPORTANCE OF WISDOM – 1 KINGS 3:5-14
2. PUT GOD FIRST – 1 KINGS 6:1-4
3. AVOID WORLDLY COMPROMISE – 1 KINGS 11
4. DRAW NEAR OR DRIFT AWAY – 1 KINGS 11:9
Read full notes in the pdf lesson
YOUTH GAMES AND ACTIVITIES – King Solomon
SOLOMON'S WISH GAME
Materials needed: Small pieces of paper, pens, and a hat or container.
Instructions:
Hand out a piece of paper to each player. Ask them to write down one "wish" or desire they have. This could be something personal, an aspiration, or something fun.
Fold all the wishes and place them in the hat or container.
Mix them up and then draw one wish at a time, reading it aloud.
Players take turns guessing who the wish belongs to.
After all wishes are read and guessed, discuss Solomon's wish for wisdom and reflect on the importance of our desires aligning with God's will.
TEMPLE TOWER BUILD
Materials needed: Building blocks, timer.
Instructions:
Divide the group into smaller teams.
Each team is given an equal amount of building blocks.
Set a timer (5-10 minutes) and challenge each group to construct the most impressive "temple" they can within the time limit.
After the timer goes off, let each group present their temple and explain its features.
Discuss the dedication and effort Solomon placed into building the temple and the importance of building our lives on a firm foundation.
SPIRITUAL GUIDANCE WALK
Materials needed: Blindfolds, a long piece of tape.
Instructions:
Set up a start and finish line about 10-15 meters apart.
Blindfold a participant and ask them to walk from the start to the finish line in as straight a line as possible.
After they complete their walk, discuss how their path deviated.
Repeat with different participants.
Reflect on how it's easy to drift spiritually if we don't fix our eyes on God. Just as without sight, we can't walk straight, without God's guidance, our paths can easily deviate. Discuss the importance of seeking God's guidance in our daily lives.
Example Worksheets in the lesson pack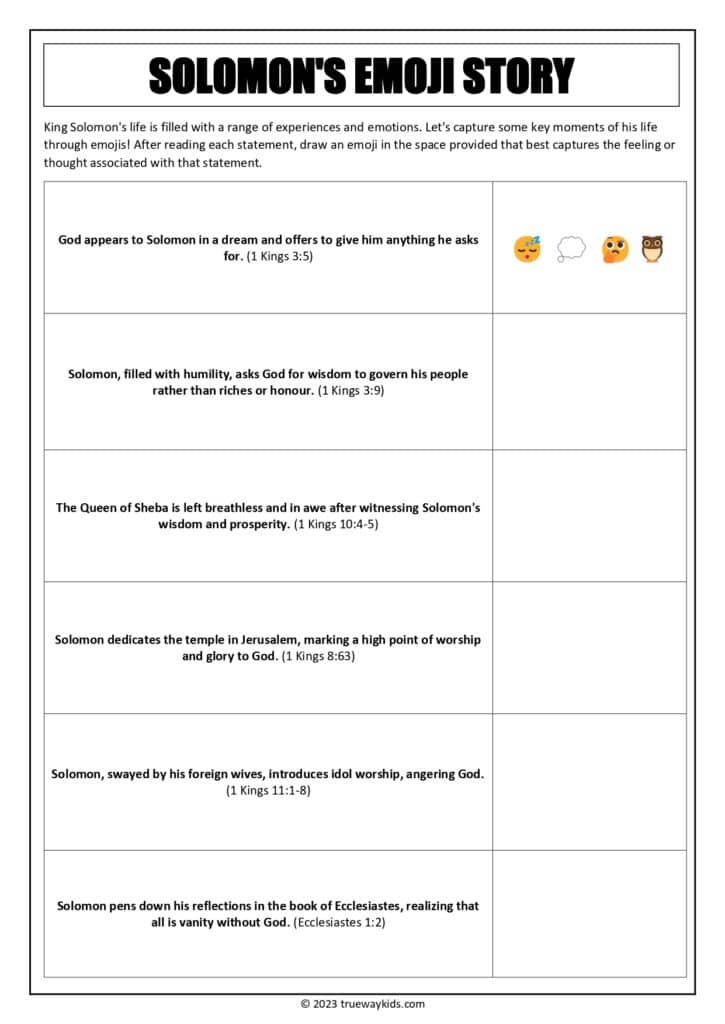 DOWNLOAD THE FREE PRINTABLE LESSON
View lesson for other age groups
Translations