In this lesson, we will learn from the Wise men in Matthew 2:1-12. This lesson relates to pre-teens and teens, and by the end of this lesson, they should have learnt about the following:
The Gospel is for all nations.
Trusting God to lead.
What do the gifts mean?
BIBLE PASSAGE: Matthew 2:1-12.
MEMORY VERSE: "And going into the house, they saw the child with Mary his mother, and they fell down and worshiped him. Then, opening their treasures, they offered him gifts, gold and frankincense and myrrh." (Matthew 2:11)
DOWNLOAD THE FREE PRINTABLE LESSON
BIBLE STUDY NOTES FOR TEENS
The story of the wise men is popular, especially during the Christmas season. They are often depicted as kings in popular culture, but there is no biblical basis for this assumption. The wise men or Magi were Gentile astronomers from the East that came to worship the King of the Jews and to offer Him gifts. It is a passage that teaches us about giving, worshipping, and following God's leading.
KEY POINTS FROM THE PASSAGE
1. THE GOSPEL BEYOND ISRAEL (Matthew 2:1)
The Magi were a group of distinguished foreigners who came to Bethlehem to find the newborn King. The Magi were probably astrologers or wise men from Persia or Babylon. One sure thing, however, is that the Magi were not Jewish or in Israel when they saw the star.
From the moment of Jesus' birth, we see it was good news for all people (Luke 2:10), not just the Jewish people. Jesus came to provide salvation and a relationship with God, regardless of our race or ethnicity. (Romans 10:12).
The Magi were not Jewish, but God used the star in the sky to lead them to the Saviour. And when they found him, they bowed down and worshipped him.
In our world, it's easy to forget that Jesus is still good news to all people. We must remember that Jesus came for everyone, not just those who agree with us politically or socially. Not just good people who attend church. We must proclaim the Good News of Jesus to everyone, regardless of their background or current situation.
2. THE MAGI WERE EDUCATED, KNOWLEDGEABLE AND WEALTHY MEN (Matthew 2:1 &7)
The Magi were educated, knowledgeable and wealthy men. They were experts in astronomy, mathematics, and astrology. In Ancient times, Magi were often consulted by kings and rulers. The Magi were well-connected and had access to the best information and resources. This made them powerful and influential men. An example of this is that King Herod welcomed them for an audience.
In recent years, there has been a growing movement of people who believe that the Bible is a book of fairy tales and that those who believe in it are uneducated. This could not be further from the truth!
First, the Bible is not a book of stories but a book of history. It is a book that was written by eyewitnesses who saw the events they were writing about to unfold.
Second, the Bible has been validated by archaeological findings. Archaeologists have found evidence that supports the Bible's account of history.
Third, the Bible has been verified by science. Many things in the Bible were once thought impossible but have since been proven by science.
Lastly, God's Word is living and active. It is full of His promises and power. He works in our lives as a tangible reminder that He is who He says He is.
3. TRUST GOD ON THE JOURNEY (Matthew 2:9-11)
The Magi saw the star, knew it was special and followed it, but they didn't know where it would take them. They followed it for days, weeks, and maybe even months.
First, they went to see King Herod after seeing the star that signalled the birth of Jesus. Herod was the King of the Jews at the time, and the Magi thought he would know where to find the newborn King.
Next, the star rose again and went ahead of them until it stopped over the place where they would find Jesus.
Often, when God calls us to follow Him, He doesn't show us the final destination. He doesn't give us a road map with every turn marked out. God simply promises to be with us and to guide us along the way. We must trust Him by taking the first step.
That can be a scary proposition. We like to have it all figured out, but we can rest assured that God has everything planned. He's the one who has called us on this journey and will never lead us astray.
The Wise Men followed the star, bringing them to Jesus, and they were overjoyed to meet the Saviour and worship Him. We can surely trust God to lead us through each step of life.
4. GIFTS OF GOLD, FRANKINCENSE, AND MYRRH (Matthew 2:11)
The Magi brought gifts of gold, frankincense, and myrrh. But what do these gifts actually mean?
Gold is a symbol of wealth and royalty. It is a fitting gift for a newborn King.
Frankincense is a resin used in ancient times for incense and perfumes. It is a symbol of holiness and purity. It was used in the temple by priests for worship.
Myrrh is a bitter spice used in ancient times for medicines and embalming. It is a symbol of death and resurrection.
So, what do these gifts really tell us about Jesus' life? Jesus is the King of Kings (Revelation 19:16), He is the Great High Priest (Hebrews 4:14-16), and the atoning sacrifice for our sins (1 John 2:2). What a Saviour!
CONCLUSION
This passage reminds us that God never changes. He's still a God of love who desires to draw us close to Him. Jesus said, 'And I, when I am lifted up from the earth, will draw all people to myself." (John 12:32). No matter who or where you are, God calls you to draw near, to meet Jesus as Saviour and enjoy eternal life with Him.
YOUTH GAMES AND ACTIVITIES FOR THE WISE MEN
FOLLOW THE STAR TREASURE HUNT
Cut out some paper stars.
Write a clue on the first star of where to find the second star.
Some ideas for clues are riddles, missing letters, picture clues.
Continue with each star to create a treasure hunt.
Use as many stars and clues as you wish.
GUESS THE GIFT
Wrap some gifts in wrapping paper or an old newspaper.
Try to disguise the gift so it is hard to guess what is inside.
Pass the gift around the group each player can touch and feel the gift but cannot open it.
Each player should guess what is inside.
The player wins a point if guessed correctly.
DIRECTION GAME
Choose two players to work together as a team.
Place a blindfold on one of the players.
Give the other play a piece of paper with a challenge on it.
The other player should give them directions to complete a challenge.
For example, sit at a table and pout a glass of water or draw a picture of something that is on the card.
Talk about how the Magi trusted God's direction.
Free printable Teen Worksheets in the lesson pack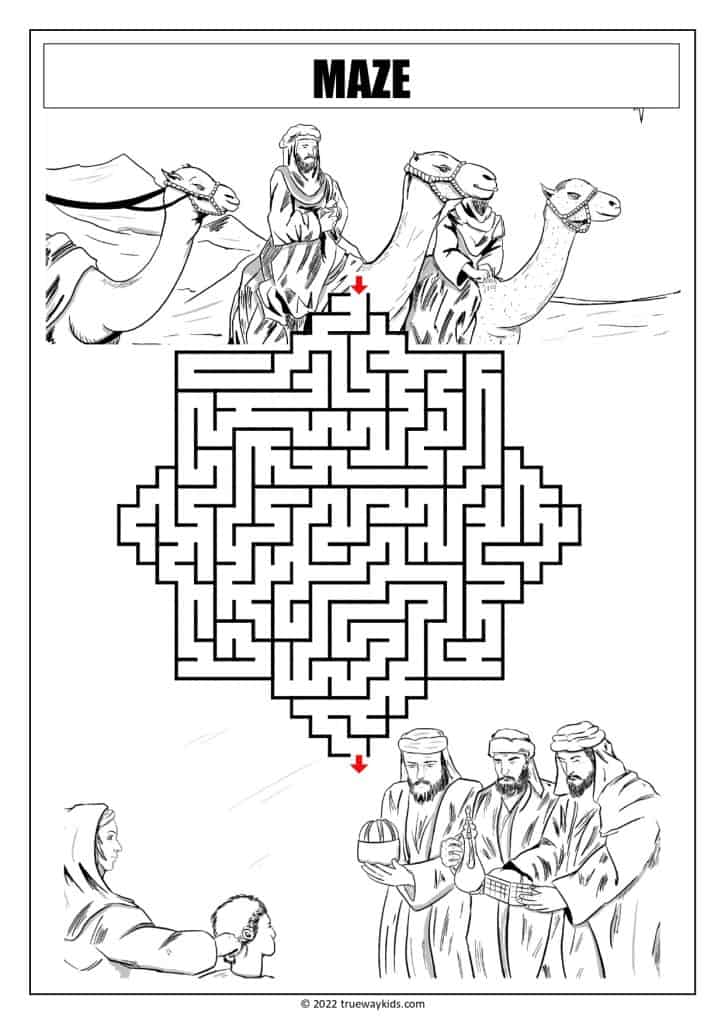 DOWNLOAD THE FREE PRINTABLE LESSON
View lesson for other age groups
Translations