In this lesson, we will learn God may use seemingly insignificant and small things to accomplish big purposes. This lesson relates to pre-teens and teens and by the end of this lesson, they should have learnt about the following:
God has called you for greater things.
God wants to partner with you for the expansion of His Kingdom.
A seed of faith in God can make all things possible.
BIBLE PASSAGE: Matthew 13:31-32
MEMORY VERSE: "It is the smallest of all seeds, but when it has grown it is larger than all the garden plants and becomes a tree so that the birds of the air come and make nests in its branches." (Matthew 13:32)
DOWNLOAD THE FREE PRINTABLE LESSON
Watch the study
BIBLE STUDY NOTES FOR TEENS
In ancient Israel, a grain of mustard was the tiniest seed that farmers could sow. It was only a few hundredths of a millimetre in diameter. Despite this, it developed into a bush-like tree that could reach up to twelve feet in height. That is double the size of an average adult man. It appears that birds preferred building their nests in mustard trees. A high number of birds were not uncommon in them. Jesus' parable demonstrated how a little seed could grow into a big tree that provided shelter and food for birds.
The objective of the Parable of the Mustard Seed, like other parables, is to convey a "big idea" through an easy-to-understand story. Jesus used parables like this so that the image is still vivid two thousand years later. The concept of a growing seed is still easy for us to understand.
In this parable, Jesus explains the incredible expansion of the kingdom of heaven. Try to imagine a tiny mustard seed in your hand and then a plant, twelve feet high and six feet wide. It seems impossible that such a small seed could produce something so big. This is Jesus' point. The idea of the Parable of the Mustard Seed is that God turns something small into something big.
The disciples may have wondered how meaningful Jesus's brief earthly ministry could be. He only had a dozen disciples. Jesus was a man of no earthly rank and wealth. He lived in what others thought second class village.
Jesus's life could have been seen in the same way that a mustard seed lying on the roadside would be. But, what in that moment looked insignificant became something that would spread into the whole world and last for eternity (see Acts 5:38–39).
KEY POINTS FROM THE PASSAGE
1. A LITTLE FAITH DOES GREAT THINGS (MATTHEW 13:32)
Using the mustard seed analogy, we are reminded that we only need a small amount of faith. In this parable, Jesus is reminding us that we only need to trust God because He alone can enable us to do amazing things. We don't need great faith to move mountains. (Matthew 17:20) What we need is a grain of hope that is rooted in truth, watered by faith, and sustained by trust in God's sovereign hand. There is nothing impossible with God, nothing. He can take an impossible circumstance and work exceedingly and abundantly, turning things around for our good and His glory.
Zechariah 4:10 asks, "Who dares despise the day of small beginnings?" God spoke these words as the exiled Jews returned to Jerusalem following the Babylonian captivity. Their efforts to build the temple are hampered by memories of Solomon's magnificent temple. Faith is a journey that starts small. You may feel like your effort for God is insignificant, but don't let that discourage you. Remember how the mustard seed grows.
When we have true faith, we are aligned with God's will as revealed in Scripture.
2. LET THE KINGDOM OF GOD GROW IN YOUR LIFE (MATTHEW 13:32)
Mustard seeds grow into mustard plants, which can be used for a variety of purposes. The seeds are crushed to make a spice. Mixed with water and vinegar to produce a sauce. The leaves can be eaten raw or cooked. Mustard oil, which can be obtained by pressing the plant, can be used as a fuel, to cook or to heal.
What does this mean to us? When our faith matures, God empowers us to do more than when we first met Him.
Like a seed, faith is alive, active, living, and expanding. Reading God's word, praying, worshiping, and learning will help to strengthen our faith. We will begin to witness the expansion of the Kingdom of God in our own heart, in the hearts of our loved ones, and in the hearts of those with whom we come into contact.
Like a plant, sometimes growth can seem slow. Especially if you are watching it and waiting. But be sure, that while you might not see changes overnight, God is transforming you daily.
3. GENUINE FAITH SPREADS AND IMPACTS OTHERS (MATTHEW 13:32)
Mustard seeds when planted in favourable conditions only require three to ten days to begin to grow. Mustard has been identified as having "hazardous takeover properties" due to its rapid growth. Gardeners will tell you, once mustard is sowed, it is difficult to clear the area since the seed germinates immediately when it falls.
Similarly, genuine faith spreads swiftly. When a person encounters the Lord Jesus and is truly born-again, it is difficult not to speak of God's grace. When we are planted and rooted into God's goodness our lives and actions change. (See John 15)
It should be as natural for us to spread the seeds of the gospel as it is for the mustard plant to produce more mustard seeds.
God can use you to be a tremendous witness in your neighbourhood and around the world. Simply be willing and available. Don't be scared to share your faith, and always remember to be strong and courageous because God is with you. He will never leave you nor forsake you. (Deuteronomy 31:6)
4. ALLOW YOUR HEART TO BE GOOD SOIL FOR THE SEED (MATTHEW 13:32)
A mustard seed is little but will grow if put in good soil. That single seed will grow into a shrub for the birds in the sky to rest on.
But there is a condition, the seed needs to be planted and in good soil (remember the parable of the Sower?) Without soil preparation, we hinder the harvest, and our efforts are in vain. The same seed planted into good soil or cement would produce very different results.
Our hearts must be receptive for the seed of His word to grow and bear fruit. Allow your heart to become more responsive to God's presence, will, and love as you cultivate healthy soil with the help of the Holy Spirit.
With the help of God's grace, we can cultivate the soil of our hearts by living completely devoted to His loving and perfect will. With a willing heart, God will mould and shape us into people equipped to live Christ-like, fruitful lives.
CONCLUSION
In conclusion, review the following points considered in the lesson with the pre-teens and then pray with them to round up the lesson:
Don't look down on humble beginnings. God is more than capable of accomplishing far larger things than you could ever imagine.
Allow God's Kingdom to expand in your life. Cultivate your faith through prayer, reading His Word, and fellowship with the Holy Spirit.
God uses His people to spread the seeds of the gospel to others.
Make your heart a fertile soil for the seed of His word to grow.
YOUTH GAMES AND ACTIVITIES FOR THE PARABLE OF THE MUSTARD SEED
LEAF VERSE HUNT
Pick a memory verse for the children to learn.
Cut out some paper leaves, one leaf for each word plus one for the Bible reference. (You could also use real fallen leaves)
Use different colour leaves and repeat if activity is for teams.
Hide the leaves around a space.
Have the children hunt for all the leaves and arrange in the correct order to complete the Bible verse.
BIRD NEST CHALLENGE
Collect some twigs, long grass, straw etc. Try to make a bird nest which is strong enough to hold an egg (a plastic egg may be cleaner :D).
You will need to weave the twigs together to make a basic nest shape, before using grass, straw and fallen leaves to fill in any spaces.
(Indoors: Use straws and shredded paper).
CREATE A MUSTARD TREE
Using some craft supplies. Paper or paint. Chalk could be used outside. Measure and create a full-size mustard tree. When it is finished, compare it to a mustard seed. It will help create the amazement of how something so small can grow so big.
Free printable Teen Worksheets in the lesson pack.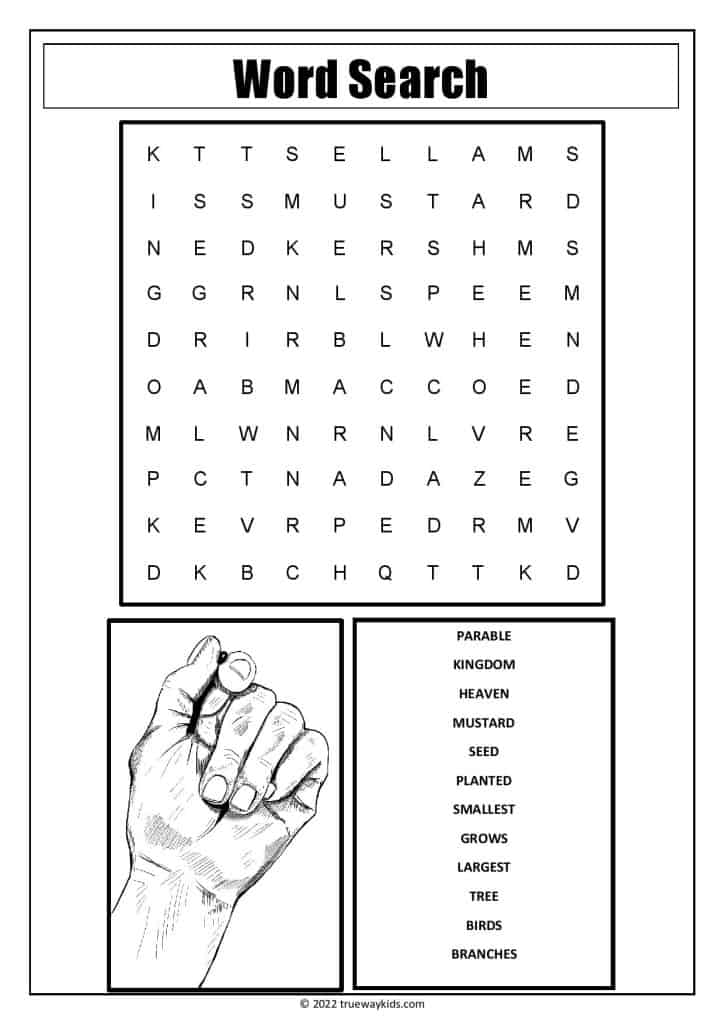 DOWNLOAD THE FREE PRINTABLE LESSON
View lesson for other age groups
Translations