Nehemiah, the cupbearer to the king, had a divine call that led him to rebuild Jerusalem's walls. With unwavering faith and determination, he left the palace and set out to complete the task.
BIBLE READING: Nehemiah
KEY VERSE: "So I answered them and said, "The God of heaven is the One who will grant us success. We, His servants, will start rebuilding, but you have no portion, right, or claim in Jerusalem." – Nehemiah 2:20
DOWNLOAD THE FREE PRINTABLE LESSON
BIBLE STUDY NOTES FOR TEENS
BACKGROUND TO THE PASSAGE:
Nehemiah lived in a time when the Israelites were in exile. Jerusalem, their once-glorious city, lay in ruins, and its walls were torn down. Nehemiah, though he lived in the comfort of the Persian king's palace, cared deeply about his homeland.
When Nehemiah heard about the state of Jerusalem, his heart was heavy with sorrow. He prayed earnestly, seeking God's guidance and favour. With the king's blessing and the Lord's hand upon him, Nehemiah journeyed to Jerusalem. There, he rallied the disheartened people and led the rebuilding efforts. Despite considerable opposition and numerous challenges, Nehemiah perseveres in reconstructing the city walls in 52 days.
Here is an overview of the events in the books of Ezra and Nehemiah.
538 B.C. Zerubbabel leads return from exile. (Ezra 1-2)
536 B.C. (2 years later) Rebuilding of the temple begins. (Ezra 3)
458 B.C. (78 years later), Ezra teaches the Law. (Ezra 7-10)
445 B.C. (13 years later), Nehemiah learns of Jerusalem's ruin and gets King Artaxerxes' support. (Nehemiah 1-2)
445 B.C. Jerusalem's walls were rebuilt amidst opposition. (Nehemiah 3-6)
445 B.C. (shortly after wall completion), Ezra reads the Law; people renew their covenant. (Nehemiah 8)
433-424 B.C. (12-21 years later), Nehemiah introduced further reforms during his second visit. (Nehemiah 13)
KEY POINTS:
1. PRAY AND TAKE ACTION – NEHEMIAH 1:4-11
2. SERVE GOD WITH PERSEVERANCE – NEHEMIAH 2-4
3. OVERCOME DISCOURAGEMENT – NEHEMIAH 2-4
4. ALL ARE CALLED TO SERVE GOD – NEHEMIAH 1:11
Read full notes in the pdf lesson
YOUTH GAMES AND ACTIVITIES – Nehemiah
WALL DEFENCE
Materials needed: soft foam balls and plastic cups.
Instructions:
Divide the group into builders and attackers.
Builders must 'rebuild' a wall using plastic cups while attackers try to knock over their structures with foam balls.
Swap roles and repeat.
Reflect on staying focused despite distractions and opposition.
TEAM KINGDOM PUZZLE
Materials needed: Jigsaw puzzles (preferably with an image of a wall or Jerusalem).
Instructions:
Divide players into teams and distribute a jigsaw puzzle to each.
As teams work on their puzzles, encourage discussions on how each member contributes uniquely to completing the puzzle, just as Nehemiah, Ezra, and others did for Jerusalem.
After completion, reflect on the importance of teamwork in building God's Kingdom and the individual roles we each play.
OPPOSITION OBSTACLE COURSE
Materials needed: Cones, ropes, and other obstacle course materials, labels or markers.
Instructions:
Before setting up the course, ask players to list everyday issues they face today, such as peer pressure, school duties, etc.
As the course is built, label each obstacle with one of these issues.
Participants then navigate the course, trying to complete it the fastest.
After completing the course, discuss how each obstacle symbolizes personal challenges and draw parallels to the challenges Nehemiah faced and overcame.
Example Worksheets in the lesson pack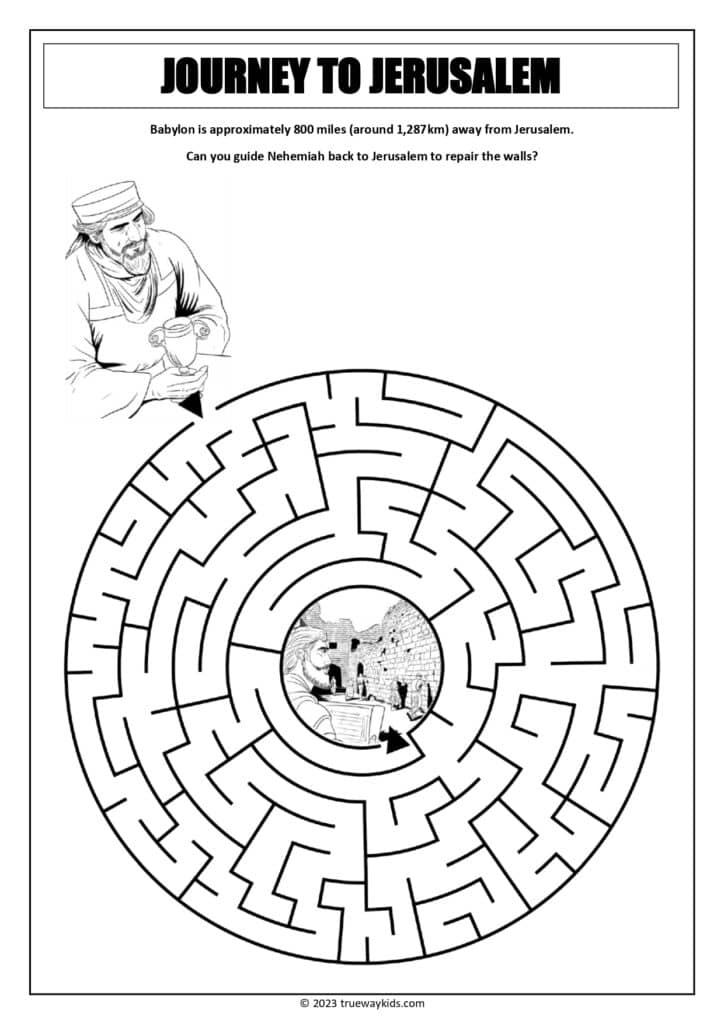 DOWNLOAD THE FREE PRINTABLE LESSON
View lesson for other age groups
Translations