Life is riddled with crossroads, dilemmas, and moments that define us. Proverbs isn't just a historical book of old sayings; it's a handbook for life. Here, wisdom is not just presented as a philosophical concept but as a choice, a way to navigate the world's complexities with grace, righteousness, and understanding. From criticising pride and laziness to prompting honesty and humility, Proverbs presents wisdom as a path to a life well-lived under God's watchful eye.
BIBLE READING: Proverbs
KEY VERSE: "Trust in the LORD with all your heart, and lean not on your own understanding; in all your ways acknowledge Him, and He will make your paths straight" – Proverbs 3:5-6
DOWNLOAD THE FREE PRINTABLE LESSON
BIBLE STUDY NOTES FOR TEENS
INTRODUCTION TO PROVERBS
Solomon wasn't just any king; he was gifted with divine wisdom. As captured in 1 Kings 3:4-15, when God offered him anything he desired, instead of wealth or power, Solomon chose wisdom to lead his people righteously.
This unparalleled wisdom wasn't just Solomon's treasure; he shared it with the world through his writings. Proverbs use engaging similes and metaphors, making the teachings memorable and relatable. From offering counsel on personal relationships and finances to imparting broader life lessons, Proverbs remains a relevant guide, irrespective of time or context.
Given its 31 chapters, many believers continue to read Proverbs on a month-long journey with Solomon's wisdom, allowing its teachings to seep into their daily lives, one chapter at a time.
KEY POINTS:
1. THE VALUE OF WISDOM – PROVERBS 1:7
2. THE DANGERS OF FOLLOWING OUR OWN PATH – PROVERBS 14:12
3. THE WEIGHT OF OUR WORDS – PROVERBS 18:21
4. THE REWARDS OF HARD WORK – PROVERBS 22:29
Read full notes in the pdf lesson
YOUTH GAMES AND ACTIVITIES – Proverbs
PROVERB PATHWAY
Materials needed: Large sheets of paper, markers.
Instructions:
Divide the youth into small groups. Give each group a large sheet of paper and markers.
Instruct each group to draw a 'pathway' and along the pathway, write down various proverbs.
Once completed, groups exchange pathways and walk each other's path, discussing the meaning and implications of each proverb they encounter.
Wrap up with a group reflection on how wisdom guides our paths in life.
WORDS OF WISDOM BALLOON POP
Materials needed: Balloons, small pieces of paper, pens.
Instructions:
Write different Proverbs on pieces of paper and place one inside each balloon before inflating.
Have the youth group stand in a circle and toss the balloon around.
When someone yells "Stop!", the person holding the balloon pops it and reads the Proverb inside, discussing its meaning.
The others in the group can share if they agree with the meaning or think it means something else.
WISE OR OTHERWISE?
Materials needed: Cards with Proverbs and other common sayings on some and nonsensical or humorous sayings on others. (There are some examples on the next page, but feel free to add your own).
Instructions:
Distribute a card to each participant.
Players take turns reading their card aloud.
The group votes if it's a genuine piece of wisdom (Wise) or not (Otherwise).
Reveal the answer and discuss the importance of discerning true wisdom.
Example Worksheets in the lesson pack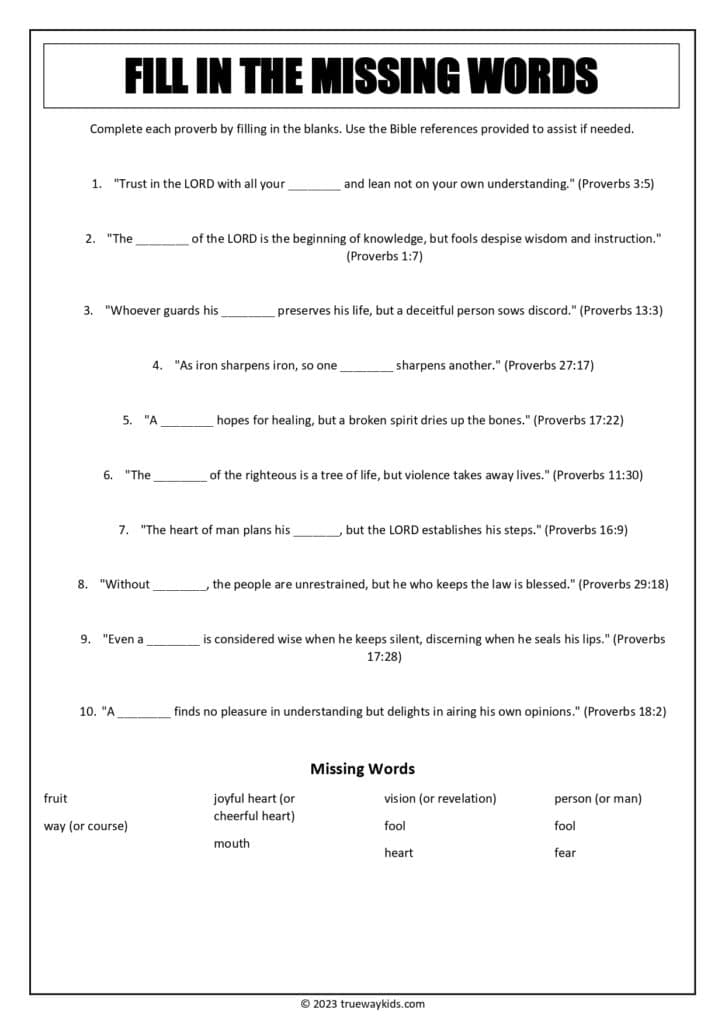 DOWNLOAD THE FREE PRINTABLE LESSON
View lesson for other age groups
Translations