Samson was a remarkable yet complicated judge. He is known for his extraordinary strength and yet plagued by his own weaknesses. As we explore his life, we will discover important lessons about God-given gifts, the dangers of compromise, the snares of the enemy, and the amazing grace and mercy of a God.
BIBLE READING: Judges 13-16
MEMORY VERSE: "Then Samson called out to the LORD: "O Lord GOD, please remember me. Strengthen me, O God, just once more, so that with one vengeful blow I may pay back the Philistines for my two eyes."" Judges 16:28
DOWNLOAD THE FREE PRINTABLE LESSON
BIBLE STUDY NOTES FOR TEENS
BACKGROUND TO THE TEXT
Samson is renowned for his exceptional physical strength given to him by God. However, despite his divine gifts, Samson often grappled with rebelliousness and moral compromise. He frequently went against God's commandments, giving in to temptations, eventually resulting in his downfall.
Here are the key points of Samson's life:
Miraculous Birth: Samson's birth was prophesied by an angel of the Lord who appeared to his mother, a previously barren woman.
Vow of a Nazirite: Samson was dedicated to God under the Nazirite vow, which included not drinking wine or cutting his hair.
Incredible Strength: Empowered by God, Samson had supernatural strength tied to his uncut hair.
Marriage to a Philistine woman: Samson's attraction to Philistine women led to his first marriage and the subsequent riddle contest at the wedding feast.
Feats of Strength: Samson performed various feats demonstrating his incredible strength, such as killing a lion with his bare hands, slaying thousands of Philistines with a donkey's jawbone, and carrying the gates of Gaza on his shoulders.
Delilah and Betrayal: Samson's downfall began when he fell in love with Delilah, who betrayed him to the Philistines. Samson revealed his source of strength to her, leading to his hair being cut and his capture.
Capture and Humiliation: After the betrayal, the Philistines gouged out his eyes and put him to work grinding grain in prison.
Final Act and Death: In a final act of defiance, Samson prayed to God for his strength to return one last time. He collapsed the pillars of a Philistine temple, killing himself and more Philistines in his death than he did in his life.
KEY POINTS
1. GOD'S GIFTS ARE UNIQUE AND PURPOSEFUL – JUDGES 13
2. THE DANGER OF COMPROMISE – JUDGES 14:1-3
3. THE ENEMY WILL TRY TO TRICK US – JUDGES 16
4. GOD GIVES SECOND CHANCES – JUDGES 16:28-30
Read full notes in the pdf lesson
YOUTH GAMES AND ACTIVITIES – Samson
SAMSON'S RIDDLE CHALLENGE
Materials needed: Riddles, paper, and pens.
Instructions:
Split participants into equal teams.
Read a riddle and give each team a few minutes to come up with the answer. Repeat
The team that solves the most riddles wins.
Discuss Samson's riddle and the significance of wisdom and understanding in the context of Samson's story.
STRENGTH OF SAMSON
Materials needed: Stopwatch, paper, and pens.
Instructions:
Set up different stations for each exercise (push-ups, sit-ups, squats, etc.).
Each team member must complete as many repetitions as possible in 30 seconds at each station.
After each minute, team members rotate to the next station. The rotation continues until each team member has completed each station.
A point is awarded for each correctly completed exercise. The team with the most points at the end of the game wins.
Discuss the connection to Samson's strength and spiritual strength. Make sure to emphasize that while physical strength can fade, spiritual strength grows when we lean on God.
BLINDFOLD MAZE
Materials needed: Blindfolds, objects to create a maze.
Instructions:
Create a simple maze using chairs or other objects.
Split participants into pairs.
One partner is blindfolded and the other must guide them through the maze using only their voice.
The pair that completes the maze in the shortest time wins.
Discuss how Samson was blinded and the importance of spiritual sight in our relationship with God.
Example Worksheets in the lesson pack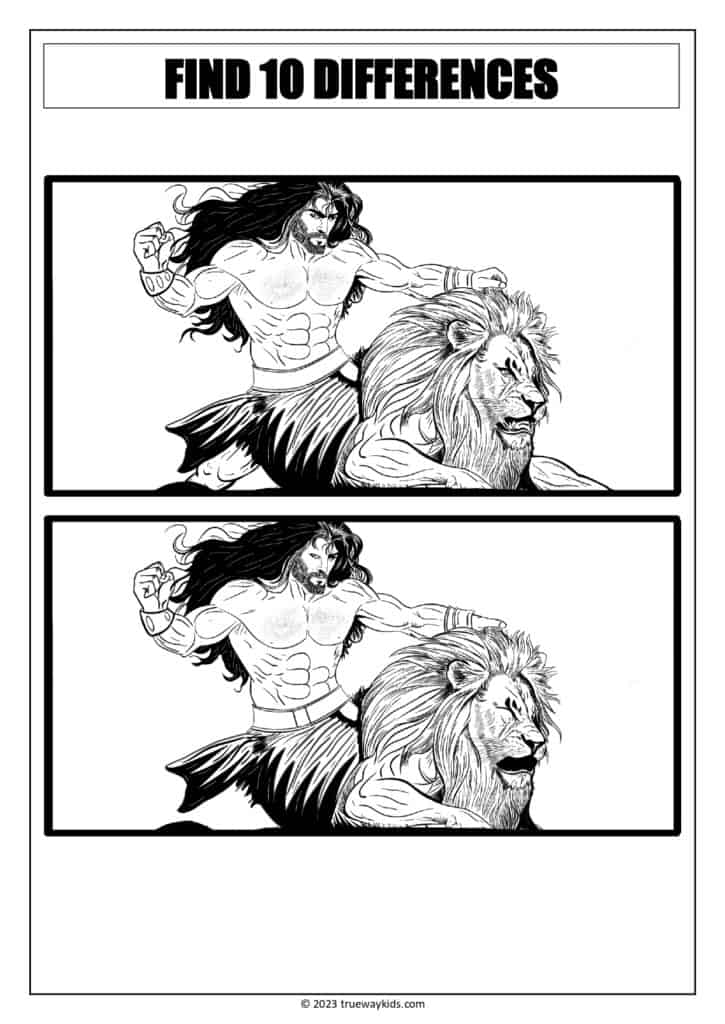 DOWNLOAD THE FREE PRINTABLE LESSON
View lesson for other age groups
Translations