In this lesson, we will learn about the conversion of Saul near Damascus in Acts 9. This lesson relates to pre-teens and teens, and by the end of this lesson, they should have learnt about the following:
False belief
Knowing about God vs knowing Him
No one is beyond God's grace
BIBLE PASSAGE:  Acts 9
MEMORY VERSE: "And he said, "Who are you, Lord?" And he said, "I am Jesus, whom you are persecuting." (Acts 9:5).
DOWNLOAD THE FREE PRINTABLE LESSON
BIBLE STUDY NOTES FOR TEENS
Saul of Tarsus, later known as the Apostle Paul, is one of the most influential and significant figures in the history of Christianity. His writings, which form a significant portion of the New Testament, have shaped the theology and doctrine of the church for centuries. Paul was also a key figure in the early church, helping to spread the gospel to both Jewish and Gentile audiences and plant new churches. Yet, his life story didn't start that way.
Saul was born in Tarsus, a city in present-day Turkey, to a Jewish family. He was educated in the rabbinical tradition and became a Pharisee; a strict Jewish sect. Saul was a zealous defender of Judaism and an opponent of Christianity. He persecuted Christians and was involved in the execution of Stephen, the first Christian martyr.
Saul sought permission from the high priest to personally hunt and imprison anyone who followed Jesus. Being versed in the laws, he believed he was doing the right thing while the so-called Disciples were wrong and walking in darkness. He had a zeal for God and wanted to make sure there were no errors in society and among the Jews.
This all changed when he met Jesus on the road to Damascus and heard a voice saying to him, "Saul, Saul, why are you persecuting Me?"
Saul was left blind until a certain disciple named Ananias prayed for him, and he received his sight and was filled with the Holy Spirit. This was the beginning of the Apostle Paul's new life in Jesus, the one he had previously condemned.
KEY POINTS FROM THE PASSAGE
1. THINKING YOU ARE RIGHT BUT BEING SO WRONG (ACTS 9:3-4)
There is a difference between having a zealous belief and being right. Just because someone is confident in their beliefs doesn't mean that those beliefs are accurate.
Paul was zealous in his beliefs and thought he was doing the right thing until, as the Bible says, "As he journeyed, he came near Damascus, and suddenly a light shone around him from heaven" (Acts 9:3).
Despite all his knowledge of the law, he lacked the light from Heaven. He had so much knowledge but was still in darkness. This shows that no knowledge in the world can be compared to the light of truth. A person can know many things yet remain in slavery and darkness without knowing the truth. Only the knowledge of the truth sets a man free (John 8:32).
Saul had knowledge, reputation, and influence, but he lacked the light. He was in darkness. This is the same problem with atheists, idolaters, and religious worshippers of different gods. They know so much but understand so little. They read books and watch documentaries but do not know the truth. It takes the light from Heaven to liberate a captive mind! No amount of knowledge can fully transform us; only the knowledge of the truth!
Saul was working against God, thinking he was working for God. We need God to open our eyes and shine a light to be able to serve Him.
2. KNOWING GOD IS NOT THE SAME AS KNOWING ABOUT GOD (ACTS 9:4-5)
Saul heard a voice from Heaven saying, "Saul, why are you persecuting me"? I'm sure Saul couldn't believe his ears. He was shocked that he was fighting the One whom he thought he was fighting for.
Knowing God is not the same as knowing about God. Knowing Him requires a relationship with Him. It's not enough to just know His name or what He's done.
When we don't know God, we engage in wrong activities in the name of religion, fight for an unjust cause, pursue the wrong purposes, and engage in harmful cultures and values.
The Bible says, "And he said, "Who are You, Lord?" Then the Lord said, "I am Jesus, whom you are persecuting" (Acts 9:5). It is clear that Saul knew about God, and probably knew a lot about Jesus and His disciples, but Saul didn't know Him personally.
Many people today have ideas and knowledge about God but lack a personal relationship with Him. You can never really know Him until you invite Him into your life.
3. KNOWING GOD COMES BEFORE SERVING HIM (ACTS 9:5-6)
After Saul asks, "who are you, Lord?" He asks, "what do you want me to do?"
Before we can do any pleasing work for God, we must first come to know Him. Only through a relationship with God we can hope to serve Him in a way that is pleasing to Him. We must seek Him first, and then our work will follow.
Some people work hard in the church, hoping that they will be rewarded with intimacy with God. God expects that our works of service should flow from our passion and relationship with Him.
The Bible says, "And he appointed twelve (whom he also named apostles) so that they might (1) be with Him, and he might (2) send them out to preach" (Mark 3:14).
Our good works are not the cause of us knowing God but rather a result of it. It is God who saves us and equips us for service. It is only when we know Him that we can truly serve Him.
4. NO ONE IS BEYOND GOD'S GRACE (ACTS 9:15)
In Acts 9:15, the Lord said to Ananias, "Go! This man is my chosen instrument to proclaim my name to the Gentiles and their kings and to the people of Israel."
Despite all the terrible things Saul did to the early church, he became God's chosen instrument to bring salvation to many generations of Gentiles and Jews.
This passage reminds us, no one is beyond God's grace. No matter how lost you feel, how far you've fallen, or how much you've messed up, God's grace is always there for you. His grace is enough to cover your sin, restore your relationship with Him and use you in the Kingdom.
We must never see anyone as useless, forsaken, irredeemable and lost cause. God might just use such a person to proclaim salvation to a nation. Another example is the Samaritan woman, who had several husbands. When she met Jesus, she became an evangelist (John 4:28-29). She brought a whole village to the Lord. Never give up on anyone God has not given up on.
CONCLUSION
There is a fantastic line in the song 'To God be the glory' which says, 'The vilest offender who truly believes, that moment from Jesus a pardon receives.' Saul had done many terrible things to the early church. Many would have seen him as beyond redemption, but God had an amazing plan for his life. Do you think you're a mess? Do you think someone is irredeemable? You might be surprised. When we surrender our lives to Jesus, He completely changes us and gives us a new life – one that is full of hope, purpose, and meaning. Your stories, pain and frustrations can become testimonies when you encounter His light.
YOUTH GAMES AND ACTIVITIES FOR SAUL'S CONVERSION
RECOGNISE THE VOICE
Choose a player to sit in the front of the room with their back to the other players.
Point to one of the players. They should ask "Who am I?" They should try and disguise their voice to make it more challenging.
The player in the front try to guess who is speaking.
Share how Saul heard a voice from Heaven and asked who it was. Remind them it was Jesus.
CARDBOARD TESTIMONIES
Saul's life was changed in a dramatic way when he met Jesus. We might not be like Saul, but everyone's life is changed when they accept Jesus as Lord and Saviour.
Watch some videos of Cardboard Testimonies online and then invite each person to make their own and share with the group.
BLINDFOLDED CHALLENGE WITH A GUIDE
Place a blindfold on the player. Pick another player to be a guide.
Set up a short course or challenge for the pair to complete together.
Speak about how Saul was left blind after seeing the bright light and needed others to help him. Talk about how we can help lead people to Jesus.
Free printable Teen Worksheets in the lesson pack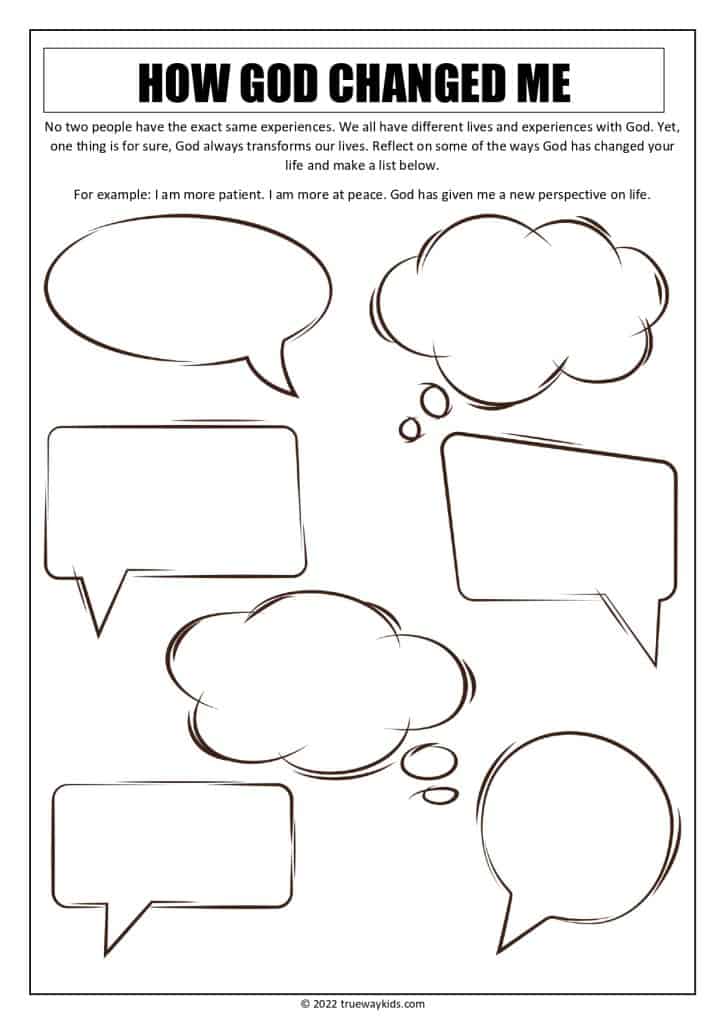 DOWNLOAD THE FREE PRINTABLE LESSON
View lesson for other age groups
Translations