Welcome to our printable Bible lesson on the 12 Spies and the Promised Land, specially designed for children aged 5 to 10 years old! Our comprehensive lesson pack includes printable worksheets, a captivating story, a detailed lesson guide, and a delightful craft that reinforces the key concepts.
In this lesson, children will dive into the account of the 12 Spies and their expedition into the Promised Land, as described in Numbers 13-14. They will discover how God commanded Moses to send one representative from each tribe to explore the land, gather information, and bring back a report.
Through engaging activities, children will learn about the challenges the spies faced, the incredible sights they witnessed, and the mixed responses they had upon returning. They will explore the significance of trust and faith in God's promises, as well as the importance of obedience and courage in following His guidance.
Whether you are a parent or a Sunday School teacher, we invite you to embark on this adventure with us. To give you a sneak peek of what to expect, we have included a sample of some of the captivating pages from the lesson pack below.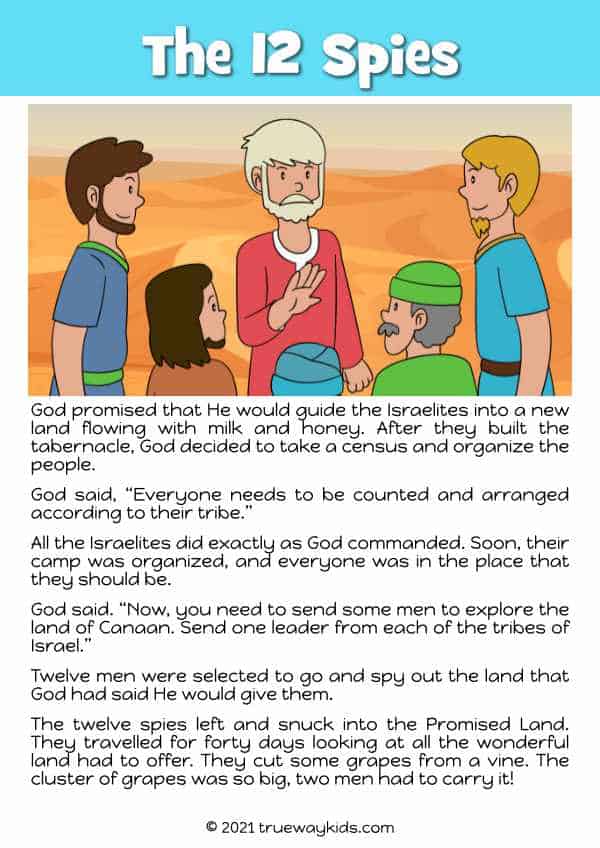 Click the link below to download your free printable Bible lesson today!
Download the FREE lesson packs