In this lesson, we will study Jesus' first miracle at the wedding in Cana. This lesson is designed for pre-teens and teens. By the end of this lesson, they should have learned about the following:
Nothing is impossible for God.
God demands full obedience.
God cares about our lives.
BIBLE PASSAGE: John 2:1-11.
MEMORY VERSE: "His mother said to the servants, "Do whatever he tells you." John 2:5
DOWNLOAD THE FREE PRINTABLE LESSON
BIBLE STUDY NOTES FOR TEENS
BACKGROUND TO THE STORY
This passage introduces us to the start of Jesus public ministry on Earth. At the beginning of His ministry, Jesus is invited to a wedding. Jesus was present there with His disciples and His family. Everything seemed to be going fine till the wine ran out at the feast. In those days, it would have been an embarrassment and brought shame on the host if there was no wine to accompany the banquet.
Shame was looming around the corner for the new couple till Jesus intervened and performed His first miracle; the turning of water to wine.
Inevitably, some think that Christ's actions legitimize the social drinking of alcohol. This can especially be a temptation to pre-teen and teens. This passage must be handled with care. It is important to reinforce the Bible's teachings on drunkenness (Ephesians 5:18 and Proverbs 20:1). While also explaining the contextual setting where wine was often used to avoid sickness from unclean water.
Let us consider some key lessons we can find from this story.
KEY POINTS FROM THE PASSAGE
GOD IS A MIRACLE WORKER (JOHN 2:11)
When the wine ran out at the wedding of Cana, it must have been incredibly sad for the couple who just got married. We don't know if they under planned or if they had more guests than they invited. What we do know is that the situation got beyond their control. If not for the intervention of Jesus, the wedding of Cana would have ended in shame.
Don't we all have situations like this in our lives? Where the situation is beyond us, and we need God's intervention. We can always trust God to care for us in those moments. Any situation, which is impossible for us, is possible for God because He is a miracle worker.
A miracle is God's timely intervention in our situations beyond our control. Just like God performed a miracle for the couple at their wedding, God still intervenes in situations which trouble our lives. God's miracles should not be seen like a genie in a lamp. He is not there to grant us our wishes despite their repercussions. God's miracles result in His glory and the working out of His perfect will for our lives.
WE SHOULD TRUST GOD WITH OUR PROBLEMS (JOHN 2:3)
While others began to panic, Mary knew exactly what to do. She took the situation to Jesus.
Too often in life, we struggle with situations both big and small rather than bringing them to Jesus. Jesus cares about our everyday needs, not just our spiritual needs. There is no issue too small or problem too big for Him to care. (See: Matthew 6:26)
We must learn to relinquish the steering wheel of our lives to God and allow Him to direct us. We should trust Jesus not only with the difficult situations but our entire lives because He knows the best for us and can turn hopeless mess into a miracle.
WE SHOULD DO WHATEVER JESUS TELLS US (JOHN 2:5)
This week's memory verse is so important for the Christian life. After Mary spoke to Jesus, she told the workers at the wedding: "Do whatever He tells you."
As we walk with God, we must learn to do whatever He tells us. In Jesus Christ, we find the perfect model of obedience and as His followers we are called to follow His example. Our full obedience to Him is a sign of our love for Him. (John 14:15 & 1 John 5:2–3).
Too often, we like to pick and choose which of God's commandments to follow. We decide on which commandments are relevant to us. Partial obedience is still disobedience (consider the example of Saul in 1 Samuel 15).
GOD ONLY DOES THE BEST (JOHN 2:10)
The master of the banquet was confused that the best wine should be kept till last. From this, we can learn that man's best is never equal to God's best.
God's gifts are always the best (James 1:17). Sometimes, we can be tempted to chase world things and pleasure, yet we will find they never compare to what God wants to bless us with.
Each year companies launch the newest best product, yet very quickly become second best. God will never be outdone. God loves to show mercy. His goodness has no end.
TRUE JOY IS FOUND IN OBEDIENCE TO ENJOY GOD (JOHN 2:5-10)
If those at the wedding had not obeyed Jesus, they would have been left thirsty and in shame. Before the miracle took place they had to submit to Jesus. The first step was full complete obedience to Him.
Joy is the by-product of obedience! (Romans 15:13). When we start obeying God, we become more joyful Christians. As we walk in obedience, we experience His perfect and miraculous will.
There is no conflict between happiness, obedience, and God's glory. Rather the Bible is clear, "In Your presence is fullness of joy. In Your right hand there are pleasures forever more" (Psalm 16:11).
CONCLUSION
In conclusion, review the following points considered in the lesson with the pre-teens and then, pray with them to round up the lesson:
When we trust in God, we will never be put to shame.
God specializes in turning a mess into a miracle.
When we obey God, we give Him the space to work miracles.
God does the best things for his children.
God wants us to enjoy our lives.
YOUTH GAMES AND ACTIVITIES FOR THE WEDDING AT CANA
FOLLOW THE INSTRUCTIONS
Split players into pairs. If doing with a single child, you can be the other person.
Each player should have a piece of paper and a pencil.
Sit pair back-to-back so they can't see each other's paper. One person draws a picture while explaining what they are drawing.
The other player must try to copy it. When finished, compare the drawings.
Talk about how Mary told the servants to listen to Jesus and do exactly what He said.
TASTE TEST
Have a selection of branded and unbranded foods and drinks. Be sure to check for allergies. Place the items onto labelled plated or cups without anyone else seeing. For example: Branded cola in cup A – Unbranded cola in cup b. Make a note of which is which.
During the activity players should taste the items and guess which is the branded item and mark which they prefer.
Talk about how the wine Jesus made from the water was the best wine.
WATER RELAY RACE
Divide the players into teams.
Give each team a large bowl of water, a cup, and a jug.
Place the bowl of water on one side of the room.
Players should race back and forth scooping water with the cup and pouring into their jug.
The first team to fill six jugs win.
This can also be played as individuals.
CARRY THE WATER
Give each player two pieces of paper.
They must try to create something to hold water only using the paper.
When finished, they should pour water into their paper container.
Set a timer. How long can it hold the water?
Free printable Teen Worksheets in the lesson pack.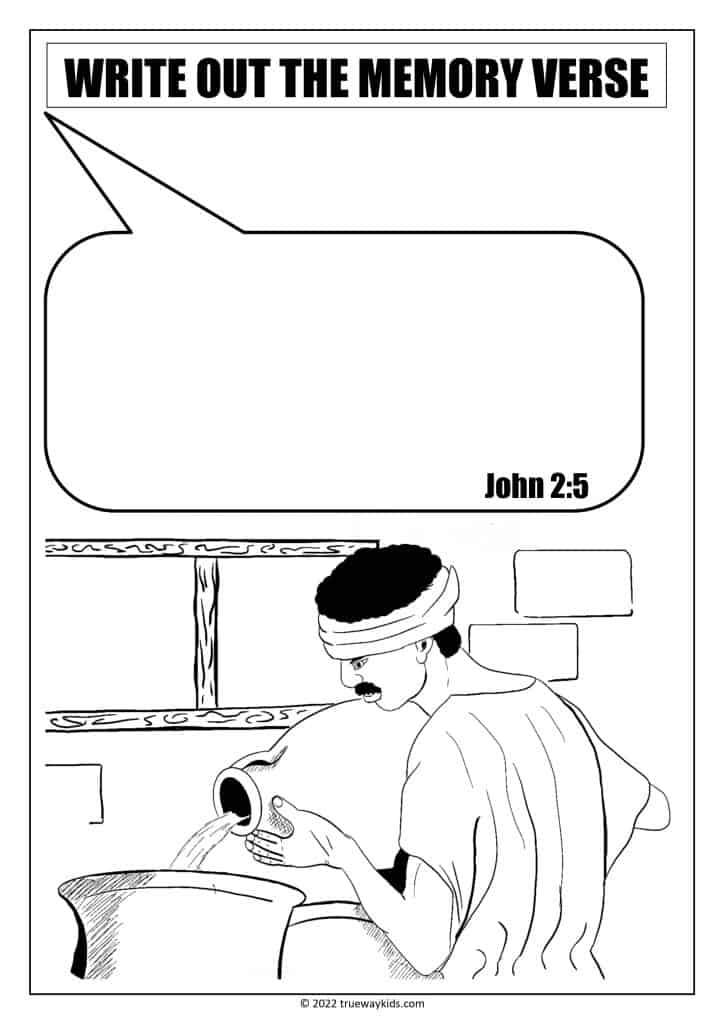 DOWNLOAD THE FREE PRINTABLE LESSON
View lesson for other age groups
Translations