Thank you.
Thank you so much for your prayers, encouragement, emails, service, and support towards Trueway Kids. Each month, as we stop and reflect, we are amazed by how God has been working through these resources. We are incredibly thankful for your partnership in this ministry. 
As we come to the end of 2021, we'd love to share a few updates with you and some plans for the rest of this year and the beginning of next.
Feel free to watch the video or read below.
Growth
Each week, the numbers of people using the lessons continue to grow. In October, 495,273 people visited the site to download a lesson.
Some may use the lessons with one child at home. Others may use them with hundreds at church or at school. It is such a privilege to be able to help children build an early foundation on the Bible.
Translations
Over the past two months, we've continued to add extra translations of past lessons in addition to the weekly translations of the new lessons, in 14 – 16 languages each week. It has been such a blessing to add many more lessons in Arabic, Messianic, and Tetum, to name just a few.
Awajum Language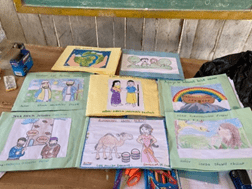 Furthermore, we've been able to start translation on some brand-new languages.
For example, work has already begun on the Awajum Language for the indigenous church in Peru. The indigenous churches do not have a study program to use in their children's ministry, do not have Bible stories for children in their languages, and have not been instructed on how to teach children's ministry.
After completing the translation and creating simplified versions of the lessons, local training will also be given on using them. Please pray for those in working on this work in Peru.
Plans for the rest of the year
Old Testament lessons
As we approach the end of the year, we will continue through the Old Testament. The remaining lessons are Nehemiah, Esther, Job, 'Shadrach, Meshach, and Abednego', Daniel and the Lion's Den, and Jonah.
Baby and Toddler Christmas lessons
We will soon add Baby and Toddler resources to our Christmas and advent resources. In addition, we will also add several new crafts and activities ready for this Christmas season. Let us know if you'd like us to add anything special.
Christmas is a special time of the year when many unchurched families also use a Bible lesson at home. Last year, we were encouraged to hear how God spoke to parents and grandparents through the preschool lessons. Please pray that God will speak to many more this year.
Two new songs
We plan to add two more songs before the end of the year. It has been such a blessing to see and hear children singing them at church or in the car. Our prayer is that these songs will continue to be a tool to help children learn Bible truths.
We also hope to be able to begin translation of some of the songs.
New VBS program in English
We've been working hard alongside the weekly lessons to create another program resource for VBS (Holiday Clubs) or a themed weekly Bible session. We have one that is almost ready and hope to share the English version at the beginning of next year. Translations to follow soon after.
This program has loads more inside. We are excited to share it with you soon.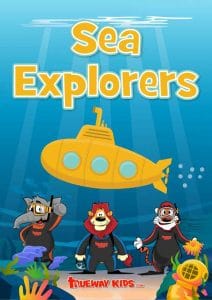 Plans for 2022
As we come towards the end of the year, we are praying and seeking God's plans for Trueway Kids for 2022.
While we have loads of ideas and things we'd love to do, here are the plans so far. Please pray with us about these and let us know what would help you the most.
New Testament lessons
Starting in January, we will begin our way through the New Testament again. As we've done this year, we will update the preschool lesson each week with more colouring pages, crafts, activities, and so on. We will also add a baby and toddler lesson and a 5+ lesson each week.
New themed programs
Our Sports VBS program was very well received during the summer. Next year, we will create at least two new programs.
Bonus lessons
We will continue to add bonus lessons for passages missed during the weekly lessons. We've begun planning the first few and hope to add many more. Do let us know if there is a passage of the Bible, you'd like us to cover.
App or online program
We regularly receive emails from people who use the lessons but cannot access a printer or afford the printing costs. We are working to create a digital version for them to have access to a version of the lessons. We will first try a few formats to see which works best for others.
Training resources
Another regular request we receive is for help in training—either teaching in a group setting or at home. We've already begun to write some helpful articles. But we plan to add many more in the next year and format them in a more accessible and systematic way.
And much more
We also have many more things we'd love to add if the time and resources become available. Please continue to pray with us as we seek God's guidance.
Thank you
Thank you once more for your support and partnership in this ministry. It is such a privilege for us to serve alongside you in helping children study the Bible and grow in faith.