Welcome to our Bible lesson on David and Goliath, the iconic passage of a young shepherd's extraordinary faith and victory! Taken from 1 Samuel 17, this lesson has been designed for children aged 5 to 10 years old.
Key Lessons:
Facing Your Giants with Faith: Children will be encouraged by David's audacity to stand up to Goliath. They will learn that no matter their size or age, with faith and God's help, they can face their giants – be they fears, challenges, or difficult situations.
God is Greater than Any Challenge: Through David's story, children will learn the powerful message that God is mightier than any problem or obstacle. They'll be reassured that with God on their side, they're never truly alone in facing challenges.
Finding Strength in Authenticity: By observing David decline King Saul's armor and weapons, children will grasp the value of authenticity. They'll understand that it's essential to embrace who they are and utilize their own unique gifts, rather than try to fit into someone else's mold.
Recalling God's Faithfulness: David's recounting of God's previous interventions in his life will guide children to reflect on moments of God's faithfulness in their own lives . They'll be motivated to recall and trust in God's constant love and support.
What's Included in the Lesson Pack:
Interactive Printable Worksheets: Engaging exercises that delve deeper into the story, allowing children to reflect on the narrative and relate it to their own experiences.
Child-Friendly Bible Story: A compelling retelling of David's showdown with Goliath, crafted for young readers, immersing them in the Biblical event.
Comprehensive Lesson Guide: A concise guide for parents and teachers, detailing how to effectively narrate the lesson and initiate insightful discussions.
Creative Craft Project: A fun hands-on activity reflecting the story's key themes. This craft will not only foster creativity but also serve as a visual reminder of David's faith and God's omnipotence.
If you're a parent aiming to strengthen your child's spiritual foundation or a Sunday School teacher in search of enriching content, we hope our printable Bible lesson on David and Goliath will be a helpful tool. Let this story of unwavering faith and God's might inspire young souls and bolster their conviction.
Get a glimpse of the content and activities included in our David and Goliath lesson by exploring the preview below.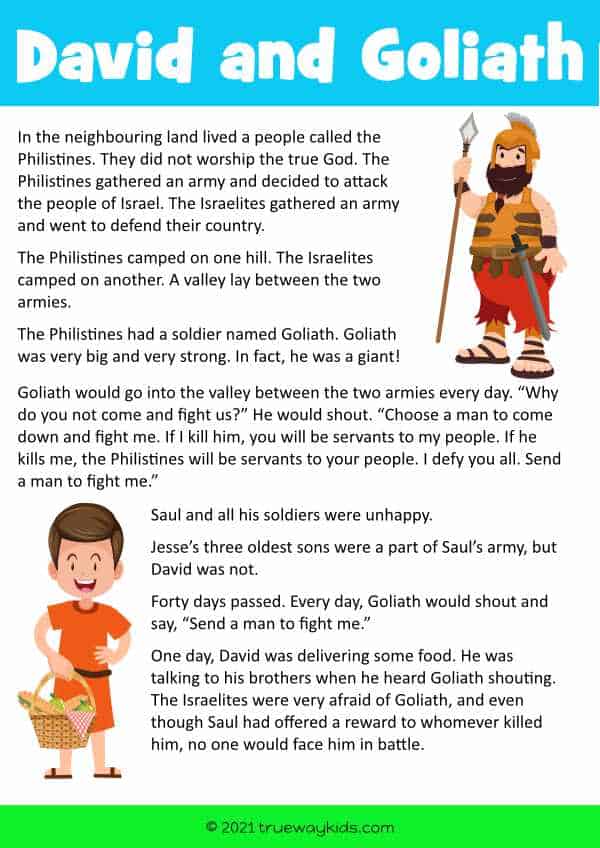 Click the link below to download your free printable Bible lesson today!
Download the FREE lesson packs