In 1 Samuel 16, God sends Samuel to anoint an unexpected king. God leads him to a small shepherd boy, overlooked by his family and forgotten in a field, to teach us all an important lesson, "the LORD looks at the heart."
BIBLE READING: 1 Samuel 16:1-13
MEMORY VERSES: "But the LORD said to Samuel, "Do not consider his appearance or height, for I have rejected him; the LORD does not see as man does. For man sees the outward appearance, but the LORD sees the heart" – 1 Samuel 16:7.
DOWNLOAD THE FREE PRINTABLE LESSON
BIBLE STUDY NOTES FOR TEENS
BACKGROUND TO 1 SAMUEL 16
The nation of Israel had asked for a king to lead them, like all the other nations (1 Samuel 8). Despite Samuel's warning about the cost of a monarchy, the Israelites insisted, leading to the anointment of Saul as the first king of Israel.
Initially, King Saul showed promise. Tall, handsome, and charismatic, Saul appeared to be everything Israel wanted in a king. However, as time progressed, Saul's true character emerged. He disobeyed God's direct commandments on a least two significant occasions: 1 Samuel 13 and 1 Samuel 15.
In this context of Saul's disobedience, God, in 1 Samuel 16:1, tells Samuel, "How long will you mourn for Saul, since I have rejected him as king over Israel? Fill your horn with oil and be on your way; I am sending you to Jesse of Bethlehem. I have chosen one of his sons to be king."
God's instruction to Samuel to find a new king signifies a pivotal turning point. It's a shift from Saul's reign, characterized by a king representing the people's wants to a new reign led by a "man after God's own heart" (1 Samuel 13:14).
KEY POINTS
1. GOD LOOKS BEYOND EXTERNAL APPEARANCES – 1 SAMUEL 16:7
2. YOU'RE NOT FORGOTTEN BY GOD – 1 SAMUEL 16:11-12
3. DEVELOP A HEART FOR GOD – 1 SAMUEL 16:7, 1 SAMUEL 13:14
4. TRUST IN GOD'S TIMING – 1 SAMUEL 16:1, 1 SAMUEL 16:13
Read full notes in the pdf lesson
YOUTH GAMES AND ACTIVITIES – David's anointing
HEART OF THE MATTER
Materials needed: Paper, markers, scissors.
Instructions:
Hand out paper and markers to each person.
Have everyone cut out a heart from the construction paper.
Ask them to write or draw on the heart something they feel represents their heart for God (could be a word, a scripture, a picture).
Once everyone is finished, allow them to share their hearts and why they chose what they did.
Reflect on 1 Samuel 16:7, emphasizing that God looks at the heart.
SHEEP HERDING
Materials needed: Small soft balls or balloons (representing sheep), blindfolds.
Instructions:
Divide the group into pairs, and in each pair, one person is a shepherd (blindfolded).
Scatter the "sheep" (soft balls or balloons) around the room.
The shepherd must listen to the voice of their "guide" to guide them to pick up the "sheep" safely without stepping on them.
The pair that gathers the most sheep wins.
Relate this game back to David's role as a shepherd and how he needed to listen to God and care for his sheep, similar to how we must listen and follow God's voice.
GOD'S TIMING RACE
Materials needed: Stopwatch, several everyday tasks/items (like tying a shoe, stacking cups, adding maths, simple puzzle, etc).
Instructions:
Set up different stations with the tasks/items.
Divide the youth into teams and assign a station to each.
Each team must estimate how long they think it will take to complete the task at their station, then attempt to complete it in that time without a clock to guide them.
Use the stopwatch to time them and see how close they got to their estimate.
Discuss how God's timing is perfect, and how our timing may not always be accurate.
Example Worksheets in the lesson pack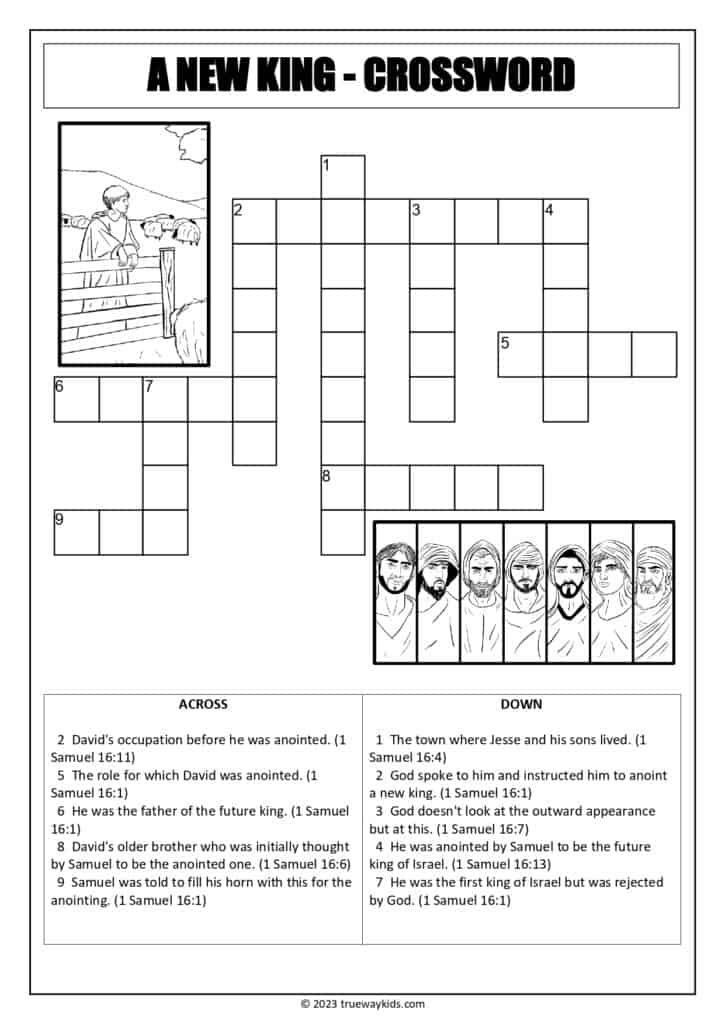 DOWNLOAD THE FREE PRINTABLE LESSON
View lesson for other age groups
Translations