Ecclesiastes is a book of the Bible that focuses on the meaninglessness of life without God. Most likely written by King Solomon, it reflects his view of life as he grows old and realizes the fragility of his ambitions and accomplishments.
BIBLE READING: Ecclesiastes
KEY VERSE:  Remember your Creator in the days of your youth, before the days of adversity come and the years approach of which you will say, "I find no pleasure in them," – Ecclesiastes 12:1
DOWNLOAD THE FREE PRINTABLE LESSON
BIBLE STUDY NOTES FOR TEENS
INTRODUCTION TO ECCLESIASTES
King Solomon was the wisest and wealthiest king in Israelite history. At the time of his writing Ecclesiastes, he was in a unique position to reflect on life's pursuits, having experienced much of what people often desire: wealth, fame, relationships, and more. Having experienced all that most people seek, in Ecclesiastes, Solomon counters the idea that life can be fulfilled by anything other than serving God. He encourages readers to acknowledge the limitations of worldly pursuits and focus instead on pursuing an eternal relationship with God.
Ecclesiastes is a timeless book of wisdom, which speaks as much into our world today as it did thousands of years ago when it was originally written. The book examines vanity, futility, and pleasure with piercing insight, ultimately concluding that there can be no real joy or fulfilment outside enjoying God's presence and will.
KEY POINTS:
1. DON'T PUT YOUR TRUST IN FLEETING THINGS – ECCLESIASTES 1:4
2. FINDING CONTENTMENT AND JOY – ECCLESIASTES 3:12-13
3. THERE IS A TIME FOR EVERYTHING – ECCLESIASTES 3
4. FEAR GOD AND KEEP HIS COMMANDMENTS – ECCLESIASTES 12:13-14
Read full notes in the pdf lesson
YOUTH GAMES AND ACTIVITIES – Ecclesiastes
WIND CHASER RELAY
Materials needed: Balloons, straws.
Instructions:
Divide the youth into teams and give each member a balloon and straw.
They must blow their balloon across a set course using only the straw.
Discuss the challenge of chasing after the balloon, relating it to the vanity of chasing worldly things.
FLEETING BEAN BAG TOSS
Materials needed: Bean bags, and targets with labels like 'wealth', 'fame', 'pleasure' 'huge house' etc.
Instructions:
Youth aim to get them into the labelled targets.
After several rounds, reveal that the scores don't matter, symbolizing the fleeting nature of worldly pursuits.
Reflect on the importance of investing time and energy in eternal matters.
LIFE'S TIMELINE
Materials needed: Large sheets of paper or poster board, markers, sticky notes,
Instructions:
Lay the sheets of paper on the ground or on tables.
Ask each group to think of major life events that most people encounter. Use sticky notes to jot down one event per note.
Once all events are placed, groups rotate around the circle, discussing and reflecting on the different life seasons and events.
Close the activity by reading Ecclesiastes 3 and discussing how there is a time and season for every purpose under heaven. Reflect on how God is present in each of those times, guiding, supporting, and providing purpose.
Example Worksheets in the lesson pack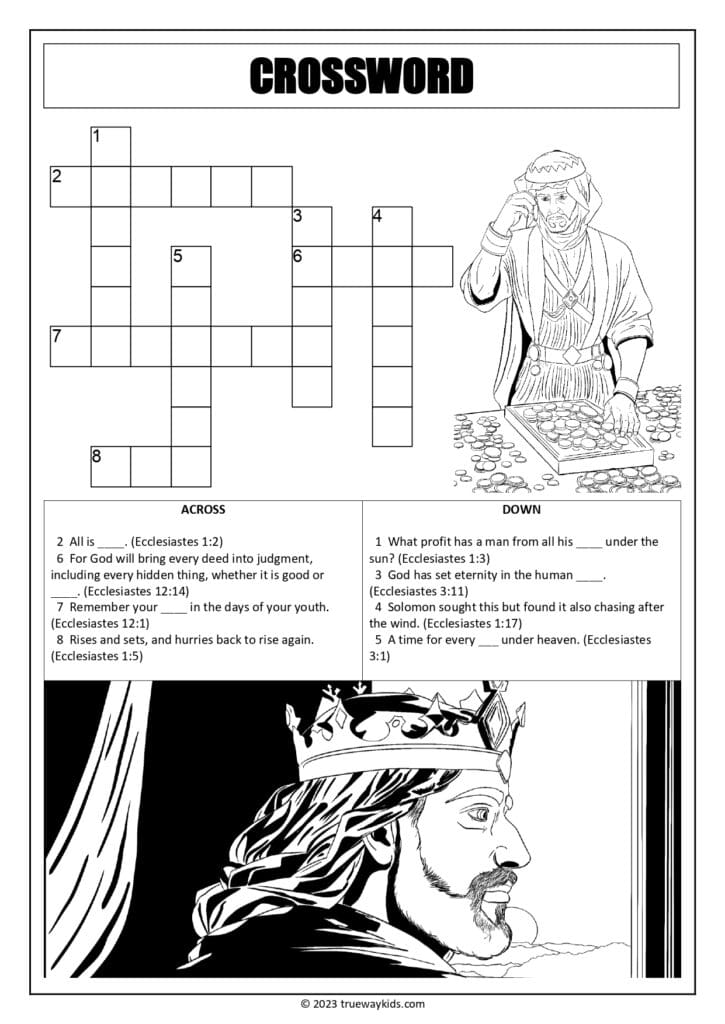 DOWNLOAD THE FREE PRINTABLE LESSON
View lesson for other age groups
Translations