When I mention our family devotion time with my three-year-old son to other parents, the response I usually hear is, "Good for you. You are brave doing that with a toddler. It would never work at our house." There are variations, of course, but that is the general theme. I wish people could see how it looks in real life – they might be more encouraged to try.
There are many obstacles for parents to overcome when incorporating a toddler/preschooler into family devotion time. Parents have valid questions.
"How do I find the time to add devotions to our busy schedule?"
"How do I get my child to listen?"
"What if I don't know enough to teach them properly?"
I am going to share with you what I have learned and how we began this important family time.
The Promise
Many parents wonder how I got started. We didn't start with a Ph.D in Theology and a perfect dad, a perfect mom or a perfect son. We started with Jesus' promise.
"Where two or three come together in my name, there am I with them,"  Matthew 18:20 NIV.
What a promise! If our family gathers and talks about Jesus, He will show up. With the crazy world, we live in today, the one place I need to make sure Jesus spends time is at my house, with my family.
The Decision
It started with a simple decision to start. In 2018, I wanted to have a regular family devotion time with my son, but life always got in the way. This year 2019, I decided to just get started and talk about Jesus daily with my son. God is clear in His Word that as parents, we are responsible for our child's spiritual walk.
"Fathers, do not exasperate your children; instead, bring them up in the training and instruction of the Lord." Ephesians 6:4 NIV.
"Train up a child in the way he should go; even when he is old, he will not depart from it." Proverbs 22:6 NIV.
Strategies
Let's be clear. Our bible devotions with my son do not last an hour, with him sitting quietly, hands folded, as we discuss the significance of Ecclesiastes. That would bore me. I knew I needed to create a time that honoured God but also accepted the practicalities of our home. God is not surprised by the two-minute attention span of my constantly moving three-year-old. That is why He gave us these instructions about family devotion time:
"Fix these words of mine in your hearts and minds; tie them as symbols on your hands and bind them on your foreheads. Teach them to your children, talking about them when you sit at home and when you walk along the road, when you lie down and when you get up. Write them on the doorframes of your houses and on your gates…" 
Deuteronomy 11:18-20 NIV.
He instructed us to add His Word to our daily schedule, not in one-hour chunks but infused in our regular conversations. If your goal is a five-minute family devotion, expect it to take all day.
Content
Stories
Jesus understood the power of a story; most of His best lessons were parables. Your child can learn a great deal about faith, courage, love and service to others from bible stories.
Simplify stories to 1-3 characters

Shorten stories to one central point. You don't have to tell David's whole life in one story, but you can talk about David's faith to defeat Goliath.

Be age appropriate. Your child probably doesn't need to hear details of the crucifixion story at this age or the sins of Sodom and Gomorrah. You can go into more detail when your child is older and ready.

It's ok if it's not perfect. Give yourself grace. You may be learning the stories at the same time as your child. Utilize the multitude of great preschool adaptations of the Bible for inspiration
Pick a theme, character or topic for the week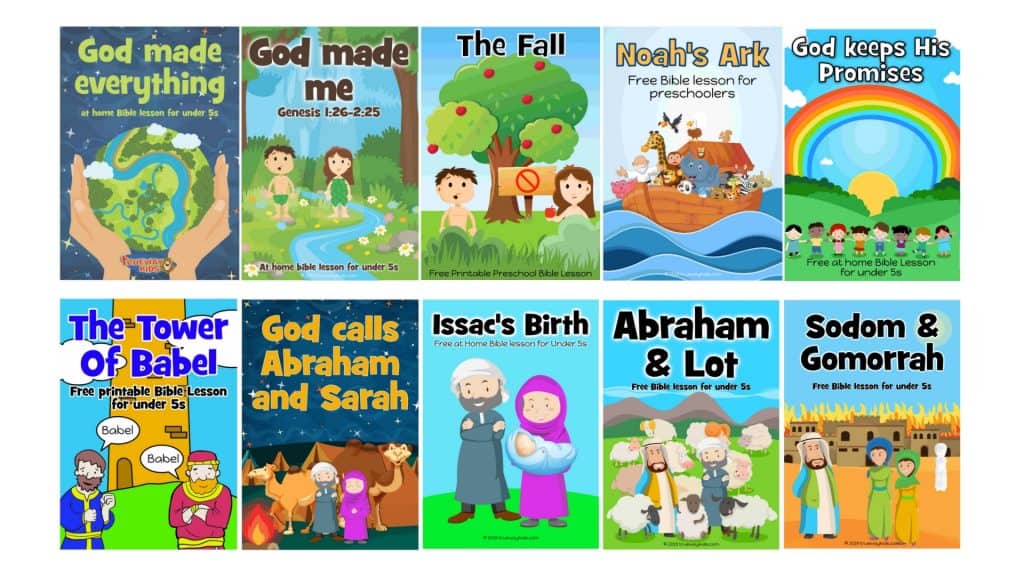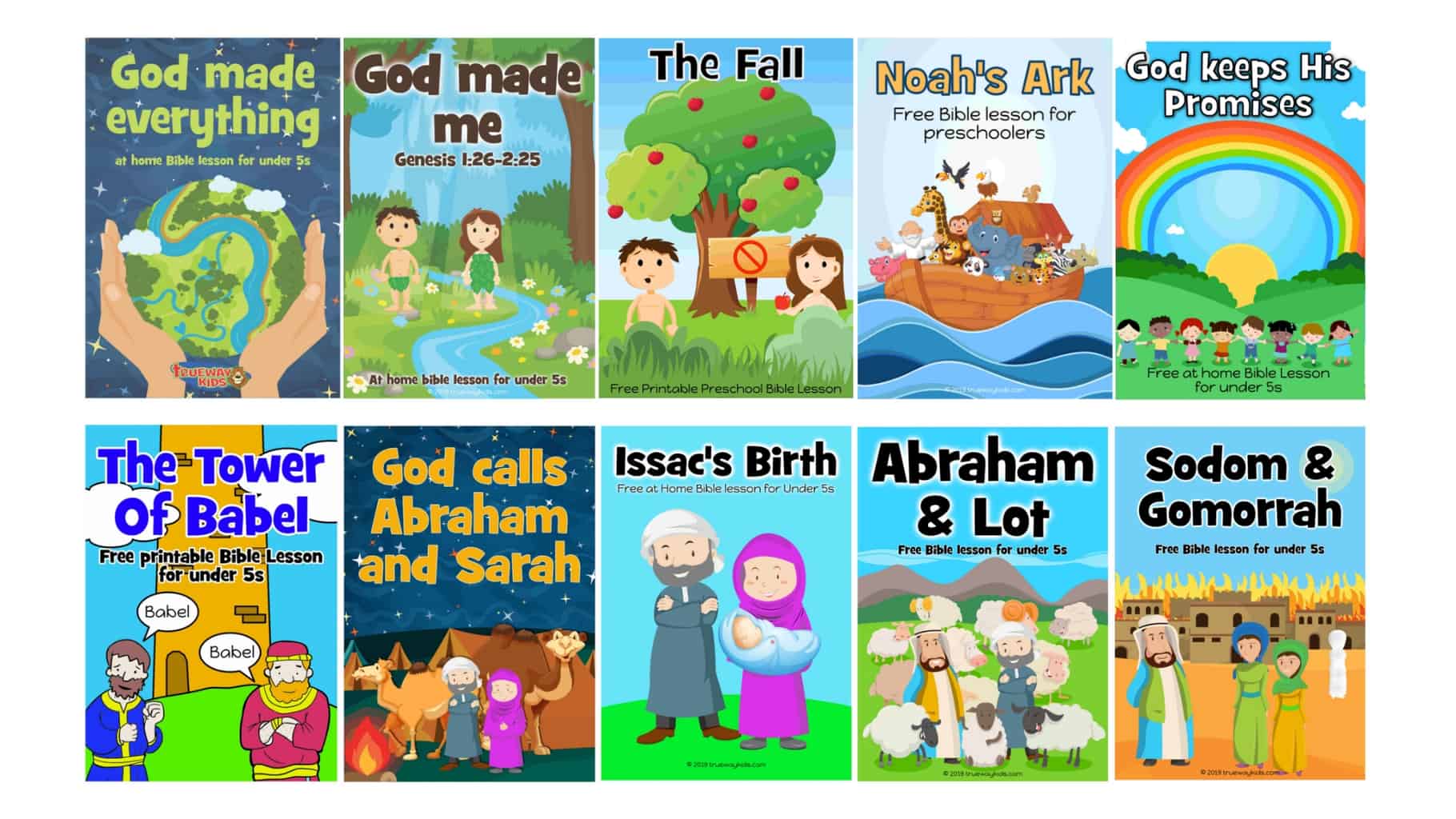 Don't feel like you need to accomplish a certain number of verses or chapters. Allow time for your child to discuss and learn a topic. That's why we upload one lesson each week to truewaykids.com. It allows time not only to read the passage but to explore it and keep coming back to it throughout the week.
If your going to create your own lesson for your Family Devotion Time, be creative with your theme. Find songs, stories and crafts for your theme. You will also notice that we add different ways of telling the story each week. This is an excellent way for you to explore any Bible passage.
Worship Songs
Each week in the lesson we add a selection of child-friendly worship songs. Music is a powerful medium. Your child will probably be able to memorise songs before they memorize verses. Scripture Lullaby creates amazing musical renditions of scripture that you can play at bedtime, in the car, or background music throughout the day. As well, you can begin with some basic Christian songs like Jesus Loves Me.
Prayer
Prayer can be daunting for adults. Keep your prayers simple. Make them enjoyable and short. Kids love to hear their names said in prayers so pray over them at bedtime. Also, allow your child to free verse during prayer time.I love listening to my son pray. When he decides to pray he can go on and on. He will list every person he knows, what he sees in the room, what is on the table, etc. I love it. He just wants to thank his God for everything he has. His simple childlike faith encourages my heart.
There are different types of prayer you can teach your child.
Thankfulness

Confessing sins

Praying for Others

Expressing love to Jesus, God and the Holy Spirit

Praising God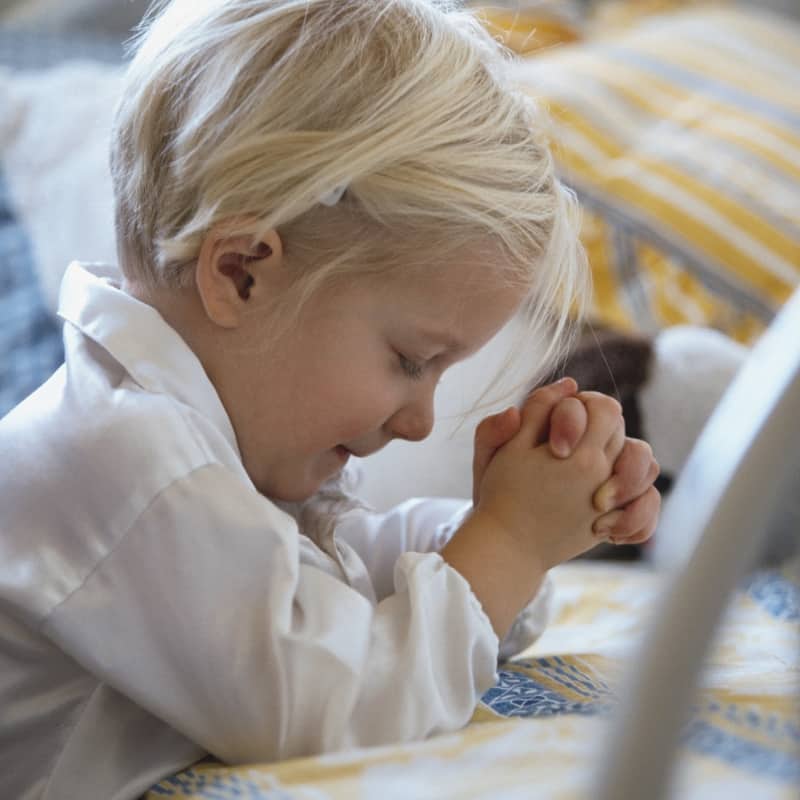 Challenges
The power of your family devotion time will be met with resistance from the enemy, your crazy schedule, your own fatigue and your children. Here are some common obstacles.
Time:
Our lives are so busy. You likely are not considering family devotions because you have a 15-minute slot in your day with nothing to do. Finding time for devotions will require some effort and commitment.
Remember you do not need 15 minutes at the same time. Sprinkle your devotions throughout the day or even throughout the week. This is the art of Biblical meditation. Coming back to the same passage and reflecting on it over and over again. Say the bible verse when you pass it in the hall, sing the worship song when it comes on, and discuss loving one another after a sibling fight. Add one minute at bed and one at meal times and you will find your day very full of God.
Attention:
If your toddler/preschooler is anything like mine, they probably have between one or two-minute attention span. Nothing long-winded will do. End the devotion before they are bored. Allow your child to move during the time you are talking it's ok if they fidget in their chair. Some days will be better than others. Perfection is your biggest enemy. Relax and have fun.
Fear:
It can be overwhelming to know you are preparing your child for their lifelong spiritual walk. God is not looking for perfection. He is not shaking his head at you for telling your child it was Abraham who built the ark. Learn with your child. It's ok not to know all the answers. Your family devotion time is a chance for you both to explore the Bible together. Your child learns a great lesson when they hear you say, "I don't know let's go look it up."
Different learning styles:
If you have more than one child you already know how different they are from each other. Some are quieter, introspective while other children are active and outspoken. God created your child exactly the way He wanted. Honour those differences where you can. Get your fidgety hyper child to act out the story while it is read. One child might enjoy colouring the verse pages while the other likes to dance to worship music. These family devotions can offer you a great opportunity to discover and celebrate your child's strengths.
Conclusion
Start your family devotion time just like you started being a parent. Learn and you go along. You can adapt as you go. Be flexible and give yourself and your child volumes of grace. 
If you wanted a resource to help you along the way, have a look around our site for our free printable Bible lessons and or sign up to receive one new lesson each week by email.
More Resources:
Schultz, Arthur J. Use of Scripture in Family Devotion. [Presented to Symposium: The Uniqueness of the Christian Scriptures, Dr. Martin Luther College, New Ulm, MN, April 15-17, 1993]  http://essays.wls.wels.net/bitstream/handle/123456789/3168/SchulzDevotion.pdf?sequence=1
https://intentionalbygrace.com/how-we-do-family-devotions-with-a-toddler/
https://www.fortheloveofmom.org/faith/memory-verses-for-toddlers-and-preschoolers