This study focuses on the dedication of Jesus at the temple. We will learn how Simeon and Anna were prepared by God and waited patiently to see the fulfilment of the prophecy concerning Jesus for many years. This lesson is aimed at the pre-teens and teens, and by the end of this lesson, they should have learnt about the following:
Simeon and Anna's story.
Dedication to God.
Waiting patiently for God's promises
The infallibility of God's words.
Devotion and commitment to God.
MEMORY VERSE: "for my eyes have seen your salvation." Luke 2:30
DOWNLOAD THE FREE PRINTABLE LESSON
BIBLE STUDY NOTES FOR TEENS
1. WHAT IS DEDICATION. (Verses 22-24)
Explain the concept of dedication to God and its significance. You can also use scriptures from the Old-Testament to explain this point to them. (Exodus 13:2, 12, Leviticus 12). Dedication to God stands for consecration and a life set apart for God. This is why Jesus was also dedicated at His birth. Therefore, He lived for God throughout his life.
APPLICATION POINT: If the child was dedicated to God at birth, remind them of this fact and if possible, show them pictures or videos of the occasion. If none are available, maybe you could show a moment of another child's dedication. Regardless of whether they were dedicated or not, say that they can each pray now and dedicate them to God afresh. Let them know that means that they are committing their life and plans to God, and they should live for God throughout their lives. Lead them in a moment of prayer.
2. SIMEON, WAITED ON GOD. (Verses 2:25-32)
Talk about Simeon and his prophetic role in God's agenda. God revealed to Simeon that he would not die until he saw the coming of the Messiah (Jesus) into the world. Simeon had to wait for a long time before the fulfilment of God's promise. Here are a few points worthy of note in Simeon's story:
Just like God had a specific purpose for Simeon (Verse 26), God has a purpose for all of us too. Explain that God has a purpose for them and that no one was born accidentally. God knows us, and he has a plan for every one of us. (Jeremiah 1:5)
The Holy Spirit was upon Simeon (verse 22). This was why he was able to fulfil his divine destiny. Explain shortly who the Holy Spirit is and how important He is to the fulfilment of God's purpose for him or her.
God wants us to be obedient to Him in all we do. It is not only important that we have the Holy Spirit, but we must also obey Him too. Relate this point to how Simeon obeyed the leading of the Holy Spirit to come to the temple. If Simeon did not obey God, he would have missed his divine moment of meeting the Messiah. Emphasize how important it is for us to obey God with the example of Simeon.
"My eyes have seen your salvation" These words were uttered by Simeon in Verse 30 after seeing Jesus as God promised him.

Firstly, explain that Jesus is God's salvation for mankind. He came into to the world to deliver us from sin and give us life everlasting. Read Jesus' own words from John 3:16.

Secondly, the statement "my eyes have seen your salvation" tells us that God always fulfils his promises. God promised Simeon that he would not die until he saw the Messiah and that promise came to pass eventually. Teach the teens that God always fulfils His word and that we can always trust Him that His good promises to us will come to pass no matter how long it takes.
3. A MOMENT OF CONFIRMATION (Verse 33-35)
The parents of Jesus were in awe to hear all that Simeon said about Jesus, and they were amazed at all that happened. (Verse 33). This meeting was a moment of confirmation. Share a moment of confirmation from your own life when God has confirmed His plans for you. How are some ways that God confirms His plans and purposes?
4. ANNA THE PROPHETESS (Verse 36-38)
The case of Anna is also very similar to that of Simeon as considered above. Anna was a widow who lived in the temple, continually praying and worshipping God. Like Simeon, she was waiting and hoping to see the coming of the Messiah before her death. As at the time of the dedication of Jesus in this scripture, Anna was 84 years. She had been staying in the temple since when she lost her husband from her youth. Here are a few important lessons from the life of Anna:
Just like Anna, God wants us to be devoted to him with our whole lives. Anna spent her life in the temple praying and fasting (verse 37). Explain that although we might not live in the temple like Anna, we must learn the lesson of devotion and total commitment to God as she did. Anna dwelt in the temple, but now, all those who accept Jesus as Saviour become the temple of the Holy Spirit. (1 Corinthians 6:19-20).
Despite the pain of losing her husband as a young lady, God brought meaning and purpose out of her suffering. Whatever situation we face, God can bring beauty and joy out of it for us. We must learn to trust God no matter what we go through.
5. CONCLUSION
Here are a few points to note as you round up this study:
Anna and Simeon were both aged according to this scripture. They were still serving God and committed to him even as older people. Use this to encourage your youth to serve God throughout life.
Jesus is the Saviour of the world. Just like Anna and Simeon proclaimed, Jesus is not just a religious leader or moral person. He is the Saviour.
Like Simeon and Anna, we must wait for some of God's promises for our life to come to pass. Assure the child that no matter how long it takes, God's promise will become a reality, just like it did for Simeon and Anna.
Pray together on all that was taught in this lesson and ask the Holy Spirit to lead you.
DISCUSSION QUESTIONS
WHAT HAVE YOU LEARNED FROM THE STORY OF ANNA AND SIMEON?
WHAT OTHER EXAMPLES ARE IN THE BIBLE OF PEOPLE WHO WAITED FOR GOD'S PROMISES TO BE FULFILLED?
HAVE YOU EVER HAD TO WAIT FOR SOMETHING BEFORE? HOW DID IT FEEL DURING THE WAITING?
HOW DID YOU FEEL AFTER YOU GOT WHAT YOU WERE WAITING FOR?
YOUTH GAMES AND ACTIVITIES FOR JESUS PRESENTED AT THE TEMPLE
BLINDFOLD COLLECT
Scatter several balls of two different colours across the playing area. You could use scrunched-up paper.
Split players into two teams. Give each team a basket.
Blindfold one player from each team. The two teams go and stand at their baskets.
The blindfold player should be on their hands and knees.
On "go," the blindfold player must collect all their team's balls and place them in the basket. Their teammates should shout directions.
The first team to collect all their balls wins.
Talk about how the task is difficult when we can't see well. Pray and ask God to open your eyes.
DON'T LOOK AT ME
You will need a group to play this game. Ideally more than 8.
Have the players stand in a circle shoulder to shoulder.
Everyone must look at the floor.
On the count of three everyone must look up and at another player.
If two players look at each other they are both out.
The game continues until there are only two people left.
Talk about how we must look and fix our eyes on Jesus for salvation.
AMBIGUOUS IMAGES
Search for some Ambiguous images online. They are pictures that show two images as one. Some of the most famous are the candlestick/couple kissing, duck/rabbit.
Ask the group what they see and then show them the other images.
Talk about how some people in the temple only saw a baby, but Simeon and Anna saw the Saviour. Explain how we should see Jesus as our Saviour.
Free printable Teen Worksheets in the lesson pack.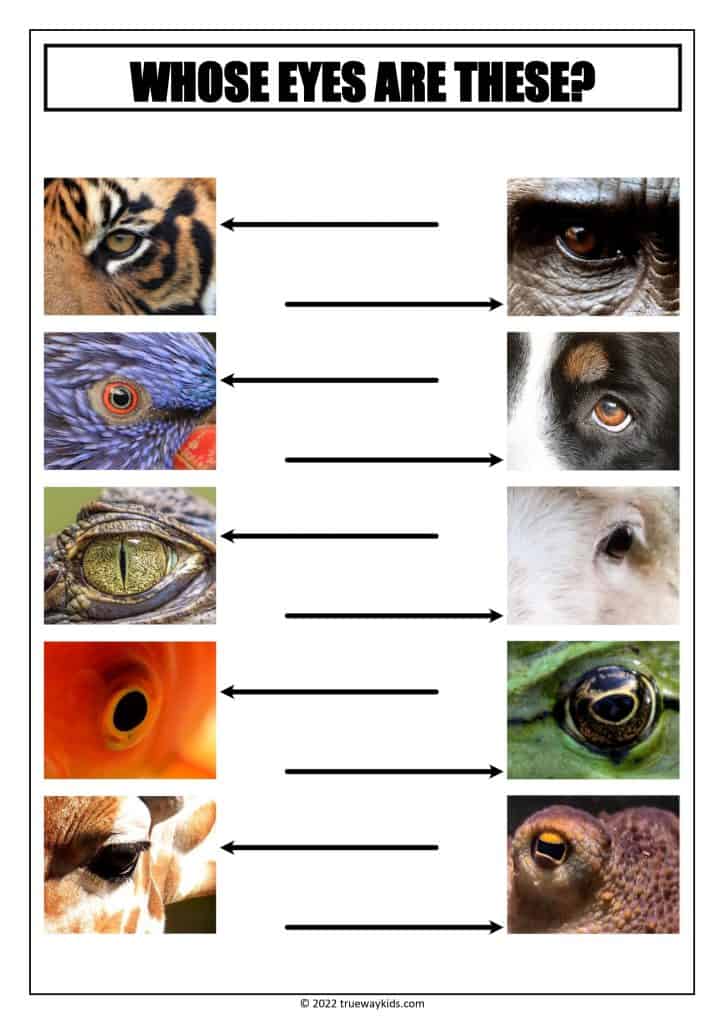 DOWNLOAD THE FREE PRINTABLE LESSON
View lesson for other age groups
Translations