In this lesson, we will pick valuable lessons from the visit of Jesus and his parents to the temple and how He was left behind by His parents on their way back home. This lesson should be related to the pre-teen(s) and teens and by the end of this lesson, they should have learnt about the following:
The visit of Jesus to the temple.
The importance of growth.
Putting God first.
Learning and Inquisitiveness.
Submission to Parents.
Start by reading the LUKE 2: 41-52, repeat the memory verse to them, discuss the key points from the passage with them and conclude with the discussion questions.
MEMORY VERSE: "…. Did you not know that I must be in my Father's house?" Luke 2:49
DOWNLOAD THE FREE PRINTABLE LESSON
BIBLE STUDY NOTES FOR TEENS
1. JESUS BECAME A PERSON AND GREW JUST LIKE US (Luke 2: 42)
Explain how important growth is in life. Show them from the story how Jesus went through all the required growth phases that every human being goes through from being a toddler to childhood to the pre-teen, teen and adulthood. In the same vein, we must all go through the phases of growth that life presents us and submit ourselves to this process.
APPLICATION POINT: Children and teens sometimes look forward to becoming adults and fulfilling the dreams in their hearts. Assure them that God has a plan for their lives now and in the future. We must serve God through all stages of life.
2. WE MUST BE CAREFUL NOT TO LEAVE JESUS (Luke 2:43-44)
Just like the parents of Jesus forgot Him at the feast in Jerusalem and continued their journey without Him, many people still repeat the same thing. We live our daily lives leaving Jesus behind and forgetting His will and promises. Encourage the child that as they grow older and get busier, they must always put God first and never leave Him behind. Here are some practical ways in which we leave Jesus behind:
Not putting God first.
Getting too busy to pray or read our Bibles.
No­t committing our ways into God's hands.
Making decisions with our human wisdom without consulting God.
Caring less about our relationship with God and disobedience to his commandments.
3. JESUS LOVED GOD AND HIS HOUSE (Verse 47-49)
After three days of searching for Jesus, His parents eventually found Him in the temple discussing God's word with people who were much older than Him. After his parents rebuked Him for staying back, He asked the question in our memory verse for this lesson: "Did you not know that I must be in my Father's house?" Jesus was this passionate and committed to God and His house at the age of twelve.
Use the life of Jesus to challenge the child to get committed to God and His work not just at their present age but also throughout their lives. They should also dwell in God's house just like Jesus did. That is, they should live in God's presence and serve Him continuously.
4. KEEP ON LEARNING (Verse 46)
For three days, while the parents of Jesus were searching for Him, He was busy in the temple listening to highly knowledgeable people and asking them questions. Jesus was actively committed to learning from a young age.
Encourage the child to keep being inquisitive and hungry for knowledge. This could be any kind of knowledge that is useful and helps them grow more. They should constantly put this to practice by reading useful books and asking questions just like Jesus did. But especially so, they should be committed to growing in faith and studying the Bible. You can recommend some books or materials that will trigger their sense of inquisitiveness and help them to learn more.
5. JESUS WAS SUBMISSIVE TO HIS PARENTS (Verse 51)
The first commandment in the Bible that has a promise tied to it directly is that children must honour and submit to their parents (Ephesians 6:1-2). Jesus practically obeyed this principle by obeying His parents and following them back home after they rebuked Him for staying back in Jerusalem. Jesus did not show any form of pride or arrogance to His parents, He obeyed them continually.
Affirm that God wants children to obey their parents and submit to their parents. If they are finding this difficult, they should pray and ask God for grace to do so. They should also engage in meaningful and loving conversations with their parents to resolve whatever issues might be transpiring between them.
6. CONCLUSION
Here are a few points to note as you round up this study:
Growth is an integral part of life. Just like Jesus grew, we must also give ourselves to growth in all phases of life.
Life is always busy, and this tends to make us forget Jesus along the way. We must always choose to involve God in our lives and put Him first at all times.
Jesus served His Father from when He was young, we all must serve God and be committed to Him no matter what age we might be.
Staying inquisitive is an important characteristic we must not lose in life. We must always be ready to learn new things like Jesus was. No one knows it all except God.
God wants children to be submissive to their parents.
Pray together on all that was taught in this lesson and as the Holy Spirit leads you.
YOUTH GAMES AND ACTIVITIES FOR JESUS VISITS THE TEMPLE
WHEN I GROW UP
Have everyone in the group write secretly on a piece of paper the job they wanted as a child. For example: A fireman, teacher, or actress.
Fold the papers and put into a bowl.
Have each player in the group pick a piece of paper from the bowl.
Once all players have a piece of paper, they must try to find the person whose paper they have.
Repeat the game, but this time everyone in the group writes what they now want to be as an adult.
FIRST TO FIND
Write some items on pieces of paper. They should be items that are in the space you are meeting.
Split the group into teams.
Pick a piece of paper from the bowl and read out the item. The first team to bring that item wins a point.
WHERE IS JESUS
Split the group into teams.
Give each team a grid.
Each team must mark a J for Jesus in one box.
The teams then take turns to give grid references and try to find Jesus.
Free printable Teen Worksheets in the lesson pack.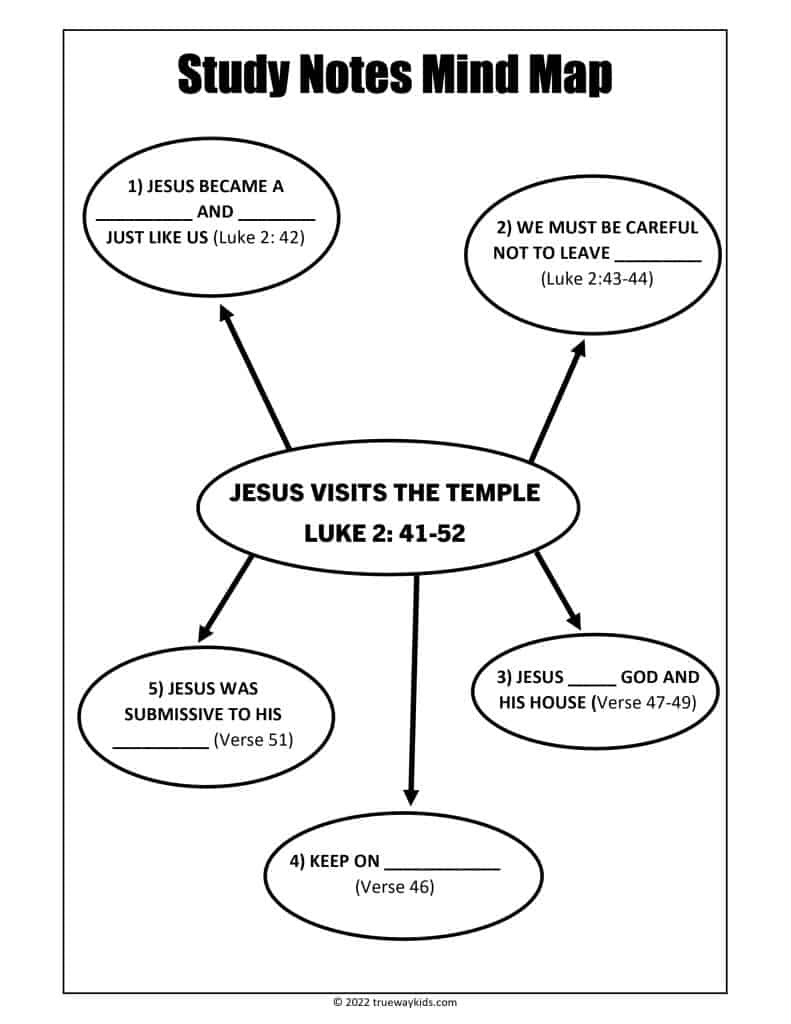 DOWNLOAD THE FREE PRINTABLE LESSON
View lesson for other age groups
Translations