The Book of Job tells of a man named Job who lived in the land of Uz. Job was a wealthy and righteous man with everything he could ever want: a large family, great wealth, and good health. However, his perfect life was shattered when a series of calamities stripped him of his riches, family, and well-being. Despite being confronted with unprecedented suffering and pressed to denounce his God, Job's faith stood firm. Throughout his trials and tribulations, Job learned to trust God's sovereignty and goodness.
BIBLE READING: Job
KEY VERSE: "The LORD gave, and the LORD has taken away. Blessed be the name of the LORD." Job 1:21
DOWNLOAD THE FREE PRINTABLE LESSON
BIBLE STUDY NOTES FOR TEENS
OVERVIEW OF JOB:
Chapter 1: Job begins with a conversation between God and Satan. Satan says that Job only loves God because of God's blessings. To prove his point, Satan asked permission to unleash calamities on Job. By the end of Chapter 1, Job has lost his family and wealth.
Chapter 2 – Chapter 37: Job's three friends come to console him during his suffering. However, instead of providing comfort, they tried to convince him that his pain was a result of his own actions, and he deserved it. We can learn more about Job's character and struggles through several lengthy debates between them and Job.
Chapter 38 – Chapter 41: God makes His majestic appearance, addressing Job directly. Instead of providing explanations, God highlights His supreme power and wisdom in the design and governance of the universe.
Chapter 42: Job acknowledges his limited understanding and repents. God then restores double all of Jobs' material possessions as well as sons and daughters.
KEY POINTS:
1. TRUSTING IN GOD'S SOVEREIGNTY – JOB 1:21
2. GOD IS ALWAYS GOOD – JOB 13:15
3. CHOOSE YOUR ADVICE CAREFULLY – JOB 16:2
4. SUFFERING DOESN'T MEAN SIN – JOB 9:19
Read full notes in the pdf lesson
YOUTH GAMES AND ACTIVITIES – JOB
TRUST FALL – JOB'S FAITH
Materials needed: None
Instructions:
In pairs, one participant stands with closed eyes and falls backward.
The partner catches them before they reach the ground.
Switch roles and repeat.
Discuss the feeling of placing trust in someone else.
Reflect on Job's trust in God, even in the face of adversity.
FRIENDS' ADVICE HOT POTATO
Materials needed: A small object or soft ball.
Instructions:
The leader presents the group with a current issue or problem, for instance: "A friend at school is being bullied."
Participants sit in a circle and pass around the object while music plays.
When the music stops, the holder acts out being one of Job's friends, offering "advice" for the given problem.
The group then discusses the quality and impact of the advice, drawing parallels to the advice Job received from his friends in the story. This helps to discern wise counsel from misguided or unhelpful advice, reminding participants of the importance of turning to God and Scripture for guidance.
BIBLE VERSE PUZZLE RACE
Materials needed: Bible verses from the Book of Job.
Instructions:
Select key verses from the Book of Job and print them out. Examples could include Job 1:21, Job 13:15, and Job 42:10.
Cut each verse into pieces (word or phrase segments) and place each set in an envelope.
Divide participants into teams. Each team gets an envelope containing a jumbled verse from Job.
At the signal, teams race to assemble their Bible verse correctly from the pieces.
The first team to finish and read their verse aloud wins.
Reflect on the significance of the assembled verse in relation to Job's experiences and lessons from the book. Discuss how these lessons can be applied to our lives today.
Example Worksheets in the lesson pack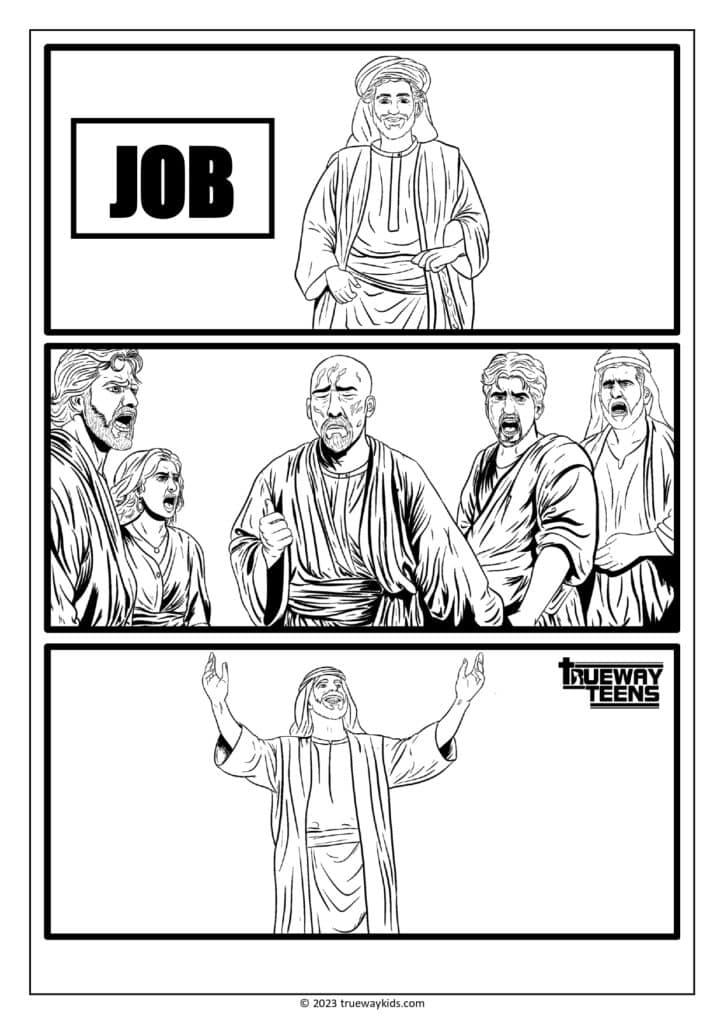 DOWNLOAD THE FREE PRINTABLE LESSON
View lesson for other age groups
Translations