Welcome to our free printable Bible lesson for children between 5 – 10 years old! This week, we will dive into the fascinating story of Joseph, found in Genesis 37-45.
In this lesson, we will explore some key points that are relevant to children today. We will discover how God has a wonderful plan for our lives and can turn a bad situation into good, just like He did for Joseph. Romans 8:28 says, "And we know that in all things God works for the good of those who love him, who have been called according to his purpose."
We will also learn that even if people forget us, God will never forget us. Joseph's own brothers sold him, but God had a plan for his life that was bigger than anyone could have imagined. And, of course, we will talk about the importance of forgiveness. Joseph forgave his brothers even though they hurt him, and we can learn from his example.
Our lesson includes a variety of games and activities that will help children engage with the story in fun and meaningful ways. We have printable worksheets, a story to read, a lesson guide, and a craft that will help reinforce the lesson.
Whether you're using this lesson in a church setting or at home, we believe that it will be a valuable resource for children and their families.
Here is a sample of some of the pages in the lesson pack on the website, so you can see exactly what you're getting before you download the full lesson.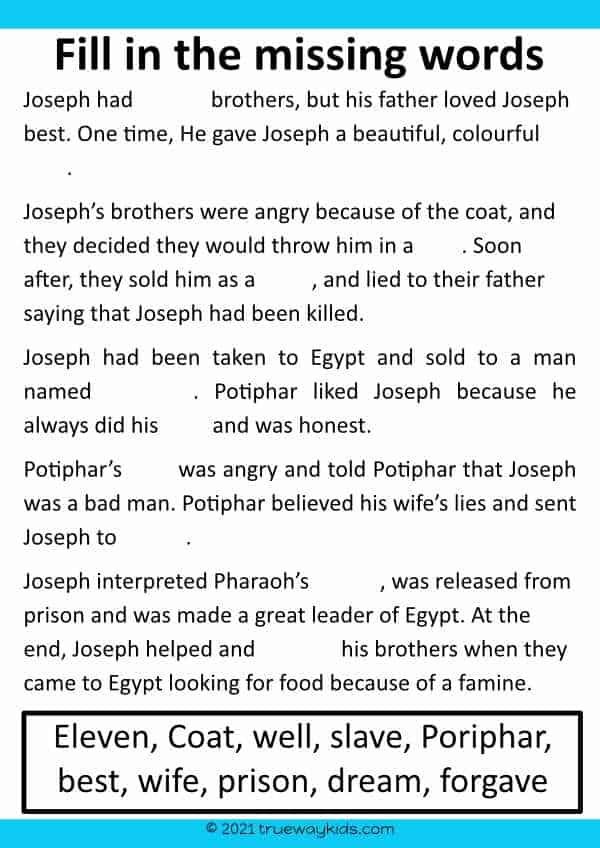 Click the link below to download your free printable Bible lesson on the story of Joseph today!
Download the FREE lesson packs