Welcome to this week's Bible lesson pack on the life of King Josiah, an extraordinary example found in 2 Kings 22 and 2 Chronicles 34. Specially designed for children aged 5 to 10, this lesson is bursting with activities and teachings that bring to life the spiritual treasures hidden in the story of King Josiah.
Here are some of the truths we'll learn in this lesson:
You're Never Too Young to be Used by God: Through King Josiah's youthful journey, children will be inspired to see that age is not a barrier when it comes to fulfilling God's divine purposes.
The Preciousness of God's Word: By exploring Josiah's high regard for the Scriptures, children will learn to treasure God's Word and recognize its invaluable place in our lives.
Actively Engage with the Scriptures: We will discover that merely possessing the Bible isn't enough – it's crucial to read, understand, and live by its teachings, just like Josiah did.
Sharing the Good News: King Josiah's enthusiasm in sharing the Scriptures will encourage children to also share the beautiful words of the Bible with others.
Inside the King Josiah Lesson Pack, You'll Explore:
Dynamic Activities: Enjoy a range of fun-filled, challenging activities that are designed to engage your child's mind and foster a love for learning Biblical truths.
Innovative Worksheets: Enhance learning with exciting worksheets like "mazes" "quiz" and intriguing Biblical puzzles.
Clear and Concise Story Pages: Our well-illustrated and easy-to-understand story pages are crafted to make the biblical story of King Josiah relatable and enjoyable for your child.
Craft Projects: Engage in delightful craft projects that are not only fun but also reinforce the key teachings from the story of King Josiah.
Colorful Coloring Pages: Unleash your child's creativity with coloring pages that bring the biblical stories to vibrant life.
Plus, lots of Additional Activities that will ensure the story of King Josiah leaves a lasting impression on your child's heart and mind.
Preview our content and download your free, enriching King Josiah lesson pack below.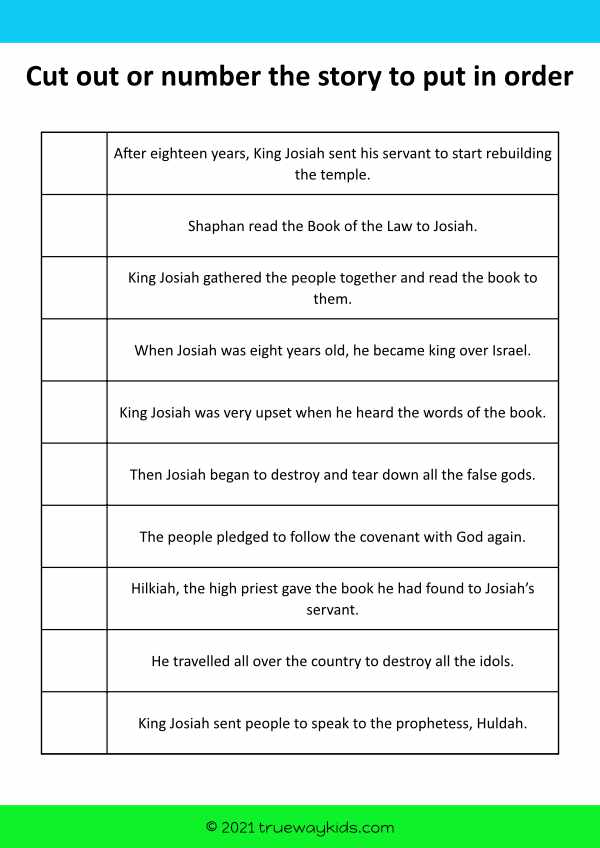 Bible lesson today!
Download the FREE lesson packs