King Josiah began to reign at only eight years old. Yet, he became the most righteous king in Judah's history, leading his people back to God.
BIBLE READING: 2 Kings 22-23 and 2 Chronicles 34-35
KEY VERSE: "Neither before nor after Josiah was there any king like him, who turned to the LORD with all his heart and with all his soul and with all his strength, according to all the Law of Moses."- 2 Kings 23:25
DOWNLOAD THE FREE PRINTABLE LESSON
BIBLE STUDY NOTES FOR TEENS
BACKGROUND TO THE PASSAGE:
Judah had a series of both good and bad kings. Josiah ruled from 640-609 B.C. and was a good king. Unlike his father, King Amon, and grandfather, King Manasseh, who ignored God, Josiah chose to follow Him.
Josiah became king at just 8 years old after his father's death. Despite his young age, he sought to serve God faithfully until his death. During the rebuilding of the temple, a scroll containing God's law was found and read to Josiah. Josiah grieved deeply for how he and his people had turned away from the Lord.
Wanting to make things right, Josiah asked a prophetess for advice. He then worked hard to stop people from worshipping false gods and brought them back to God. King Josiah even went from Jerusalem to the surrounding towns and villages to call forth everyone from the least to the greatest to serve God according to His Word. He read the laws of God so that all the people could hear them (2 Kings 23).
KEY POINTS:
1. YOU'RE NOT TOO YOUNG – 2 KINGS 22:1
2. THE VALUE OF SCRIPTURE – 2 CHRONICLES 34:30-32
3. JOYFUL SHARE SCRIPTURE – 2 KINGS 23:1-2
4. A FRESH START – 2 KINGS 22:19
Read full notes in the pdf lesson
YOUTH GAMES AND ACTIVITIES – King Josiah
SCROLL SCRAMBLE
Materials needed: Paper scrolls (rolled up papers)
Instructions:
Write parts of various Bible verses on scrolls.
Scatter the scrolls throughout the area.
Participants search and collect the scrolls.
After collecting, they must sort to complete the Bible verses and read aloud.
Reflect on the importance of discovering God's Word, as Josiah did in the temple.
IDOL SMASH
Materials needed: Balloons and markers.
Instructions:
Give each person a few balloons to inflate.
Have them write one modern 'idol' on the balloon (e.g., money, fame etc).
Spread them out across the room.
Have the players pop the balloons using only their bodies.
Reflect on Josiah's commitment to removing false gods and focusing on the true God.
SEARCH FOR THE SCROLL
Materials needed: Scroll.
Instructions:
One participant hides the scroll within a designated area while others close their eyes or wait outside.
Once the scroll is hidden, the rest of the participants start searching for it.
The person who finds the scroll gets to hide it during the next round.
Reflect on the significance of the scroll discovery in Josiah's time and the transformative power of God's Word when it's found and embraced.
Example Worksheets in the lesson pack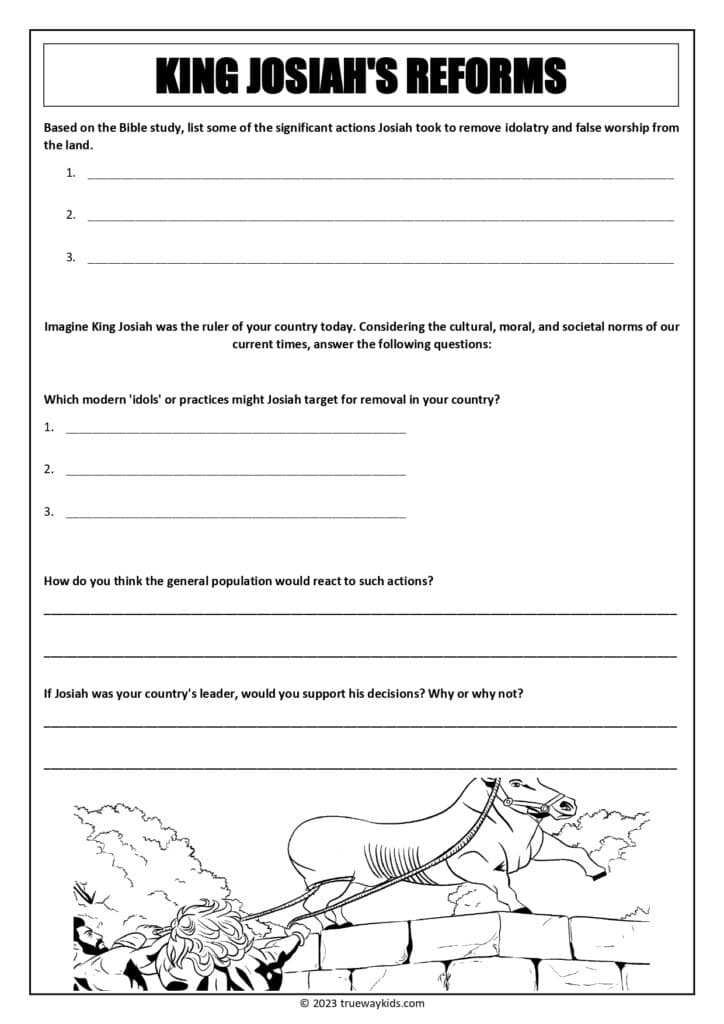 DOWNLOAD THE FREE PRINTABLE LESSON
View lesson for other age groups
Translations