Naaman was a highly respected commander of the Syrian army, honoured by his king and held in high esteem by his fellow citizens. Despite his accolades and successes on the battlefield, Naaman bore a personal struggle; he was a leper.
BIBLE READING: 2 Kings 5
KEY VERSE: "Then Naaman and all his attendants went back to the man of God, stood before him, and declared, "Now I know for sure that there is no God in all the earth except in Israel. So please accept a gift from your servant."- 2 Kings 5:15
DOWNLOAD THE FREE PRINTABLE LESSON
BIBLE STUDY NOTES FOR TEENS
OVERVIEW OF THE PASSAGE:
Naaman, an important Syrian army commander, has leprosy. (2 Kings 5:1)
Israelite slave girl says Elisha can cure him. (2 Kings 5:2-3)
Elisha sends a message telling Naaman to wash in the Jordan River seven times. (2 Kings 5:10)
Naaman is initially angry and disappointed. (2 Kings 5:11-12)
His servants persuade him to follow Elisha's instructions. (2 Kings 5:13)
Naaman washes seven times in the Jordan and is healed. (2 Kings 5:14)
Naaman returns to Elisha, acknowledges the God of Israel, and offers gifts. Elisha declines. (2 Kings 5:15-16)
1. OBEY GOD EVEN WHEN IT DOESN'T MAKE SENSE – 2 KINGS 5:12
2. POINT OTHERS TO GOD – 2 KINGS 5:2-3
3. OBEY GOD IN THE BIG AND LITTLE THINGS – 2 KINGS 5:13
4. GOD'S LOVE AND MERCY ARE FOR EVERYONE – 2 KINGS 5:1
Read full notes in the pdf lesson
YOUTH GAMES AND ACTIVITIES – Naaman
SEVEN TIMES IN THE JORDAN RIVER RACE
Materials needed: Seven hula hoops.
Instructions:
Hold up the hula hoops in a straight line, representing the Jordan River.
Players must step through each hoop without touching the sides.
After stepping through all seven hoops, they race to the end.
The fastest participant to complete the race without touching the sides of the hoops wins.
Discuss the significance of obeying God's precise instructions, just like Naaman did.
GOD'S DIRECTIONS DICE GAME
Materials needed: Large dice, challenges/tasks written on cards.
Instructions:
Each side of the dice corresponds to a challenge card.
Players roll the dice and perform the task written on the chosen card. Foe example: Card #1 (Easy): Say a book of the Bible. Card #2 (Difficult): Think of 15 words which start with the same letter.
After everyone has had a turn or multiple turns, gather together.
Discuss how sometimes we can't predict God's directions, but we still follow them, regardless of the perceived difficulty or simplicity of the task.
MUD RIVER ART
Materials needed: Brown paint, paper, paintbrushes.
Instructions:
Create an art piece that represents the muddy Jordan River.
As they paint, encourage reflection on the significance of the Jordan River in Naaman's healing.
Share artworks.
Highlight the idea that God's ways may not always align with our expectations or understanding.
Example Worksheets in the lesson pack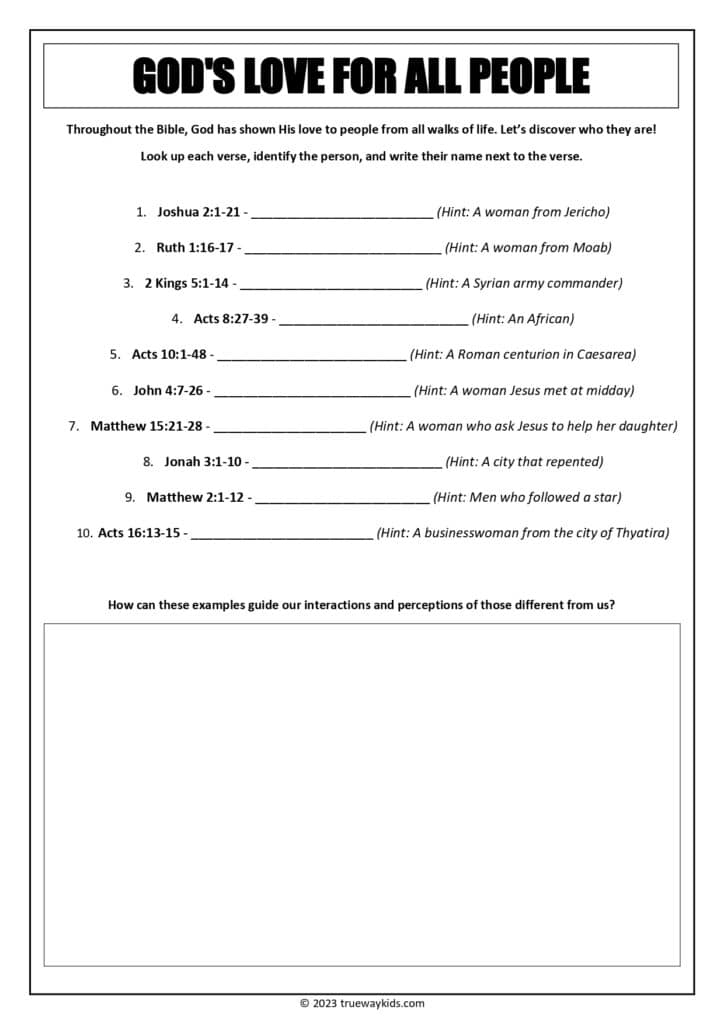 DOWNLOAD THE FREE PRINTABLE LESSON
View lesson for other age groups
Translations