In this lesson, we will study the temptation of Jesus and how He defeated the devil through God's word. This lesson is designed for preteens and teens. By the end of this lesson, they should have learnt about the following:
Jesus faced temptation just as we do.
Jesus understands us when no one does.
We should not be provoked to sin.
Man shall not live by bread alone.
The importance of memorizing Scriptures.
Start by reading the Bible passages, repeat the memory verse and discuss the key points from the passage. Conclude with discussion questions and activities.
BIBLE PASSAGE: Matthew 4:1-11, Hebrews 4:15.
MEMORY VERSE: "Jesus answered, It is written: 'Man shall not live on bread alone, but on every word that comes from the mouth of God.'" Matthew 4:4
DOWNLOAD THE FREE PRINTABLE LESSON
BIBLE STUDY NOTES FOR TEENS
BACKGROUND TO THE TEXT
The account of the temptation of Jesus shows us how we can have victory over the devil and temptations through God's word. Jesus went to the wilderness to fast for forty days and to prepare for His public ministry. After the fasted, He was weak, hungry, and tired. The devil recognized this moment and seized the opportunity to tempt Jesus.
Satan made three attempts to make Jesus sin. However, Jesus confronted the devil with God's word, and the devil fled from Jesus. Jesus sets us an example of how to resist the devil and live a life according to God's will.
KEY POINTS FROM THE PASSAGE
(Hebrews 4:15)
It is easy to become discouraged in our fight against sin. Life as a preteen and teen is super challenging. Life is full of temptations, and the battle is intense. Friends, society and media can all lead us in the wrong direction.
The account of the temptation of Jesus should encourage us because it shows us how Jesus went through the daily temptations that we also go through too. It shows us that we are not alone in our struggle to do the right thing.
Everyone is different, so are the temptations we face. Yet, Jesus' temptations follow three common patterns which we all face. 1) Satisfy the flesh (To make bread), 2) Pride (prove yourself), and 3) lust of the eyes after things and others (this could all be yours).
Jesus went through these temptations and did not sin. This should give us great encouragement to face our daily struggles and remain without sin through God's help.
JESUS UNDERSTANDS US BECAUSE HE BECAME LIKE US (Hebrews 4:15).
The incarnation of Jesus is not something to only be remembered at His birth. The Bible teaches that Jesus Christ is both fully God and fully man. Jesus was not a 'godly man'; He was the God-man (John 1:18). Jesus has all of the attributes of God.
He knows everything (John 4:29). He is everywhere (Matthew 28:20), and He has all power (Matthew 8:26–27). Jesus rules over everything (Revelation 19:16;). He never began to exist and never will cease to exist (John 1:1.)
There was never a time when Jesus became God, but he did become fully man at His birth. Without removing any of His deity, Jesus was born as a baby (Luke 2:7). He became tired (John 4:6), hungry (Matthew 4:2), and thirsty (John 19:28). He felt human emotions (John 11:35) and temptations (Hebrews 4:15).
Jesus also understands us perfectly because He has been in our shoes, and He knows how it feels when we are tempted.
Have you ever seen a person going through the same pain or event you have once been through? Has someone ever tried to comfort you without really understanding your situation? How did you feel?
Whatever we face, we can run to Jesus, and He will be compassionate on us too. He will give us the strength we need to get through because He has been through them before.
JESUS DID NOT ALLOW HIMSELF TO BE PROVOKED TO SIN (Matthew 4:10)
The devil tried to tempt Jesus to sin by telling Him to prove He was the son of God. However, God had already proclaimed Jesus as His beloved Son during the baptism of Jesus in Matthew 3. The devil was trying to get Jesus to prove a needless point.
In the same way, we get many provocations in our lives and people pushing us to do the wrong things. When this happens, we must reject these temptations and obey God instead. Refuse the urge to prove a point to people and sin against God. God's approval is more important than proving a point.
Jesus was secure in His relationship with God and believed what His Father declared over Him. What God says about us is far more important than what others think.
MAN SHALL NOT LIVE BY BREAD ALONE (Matthew 4:4)
Jesus quoted this scripture to show how important God's word is for us. In defeating the devil, Jesus quoted scriptures and reaffirmed He knew God's will. Furthermore, Jesus did not just know God's word, He also obeyed it. As children of God, we must also learn to live by God's word.
Where can we find God's word? We find His word in the Bible. Therefore, we must make sure to study God's word daily to help us know God's will and plans. We live by God's word through reading and obeying God's word.
JESUS MEMORIZED THE SCRIPTURES. (Matthew 4:4,7,10)
Jesus continued quoting scriptures from the law of Moses. The temptation was unplanned and spontaneous; this tells us that Jesus knew the Holy Scriptures by heart.
This teaches us to memorize scriptures so we can live by them and rebuke the devil when he comes tempting us. Explain that the child does not have to learn the entire Bible at once, but step by step. There is a memory verse at the beginning of this lesson; why not start with memorizing that Bible verse?
Here are a few points to note as you round up this study:
Jesus fought against temptation and overcame it. This tells us that we can overcome sin too.
We are not alone. Jesus understands us and empowers us to fight temptation.
We should not allow ourselves to be provoked to sin.
We live by God's word by reading God's word and obeying it.
We should memorize scripture to help us know how to live right.
Pray on all that was taught in this lesson and as the Holy Spirit leads you.
YOUTH GAMES AND ACTIVITIES FOR THE TEMPTATION OF JESUS
DON'T LAUGH
Have one person sit in front of the group and try not to laugh while everyone tries to make the person laugh. No one is allowed to touch the person.
Talk about how it's hard to resist laughing, especially when everyone around us is doing it.
Talk about how we must resist temptation, even when we see others giving in and doing wrong things.
TEMPTATIONS MATCH GAME
Write out each of Satan's temptations and Jesus's responses on a piece of paper.
For example: Satan – "Command this stone to become bread." – Jesus – "It is written, 'Man shall not live by bread alone.'"
Make a set for each team that will take part.
Place all of Jesus responses on one side of the room. Place Satan's temptations folded into a bowl.
On go, 'the first player from the team must pick a temptation from the bowl and run to the other side of the room to collect the correct response. If they return with the wrong response, the papers are returned. If they are correct, the team can keep them.
The first team to have the correct responses to the three temptations wins.
BIBLE PICTOGRAMS
Write some well-known Bible verses on pieces of paper and fold into a cup.
This game can be played as teams or individuals. The first player must choose a paper and try to draw the Bible verse on a board or piece of paper. The other players must guess the Bible verse. 1 point for guess the verse (more or less), 2 points if they know if it's in the Old or New Testament. 3 Point for knowing the book or 5 points for the whole Bible reference. This is a great game to help kids remember a bible verse. Talk about how Jesus knew the Bible.
Free printable Teen Worksheets in the lesson pack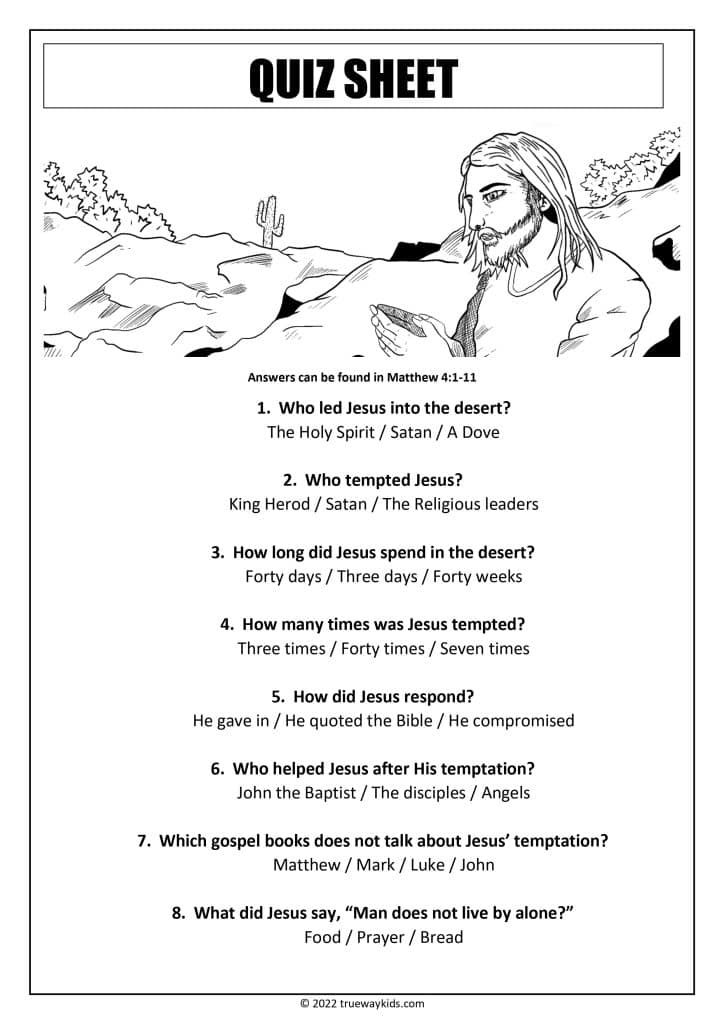 DOWNLOAD THE FREE PRINTABLE LESSON
View lesson for other age groups
Translations