This week we will begin our Christmas lessons. We will look at some of the Old Testament prophets and their foretelling of Jesus' coming. The people had been waiting for many years for the Messiah to arrive. Some of the key points we will look at are:
God will do what He says in His own time.
We need to be patient.
God is outside of time. He can see the past and future.
God has a plan.

Waiting For Christmas – Lesson Guide
There are some helpful animated videos and song ideas included in a youtube playlist to go along with this lesson.
Explain to the child that the future is something that will happen. Talk about things that will probably happen in the future (such as eating dinner or going to bed). Explain that sometimes what we think will happen, doesn't. Like maybe, we think we will have a roast for dinner, but it burns, so we eat something else instead. Remind them that God's prophecies always happen.
Explain the role of a prophet. Show how a prophet is not someone who tells or predicts the future, but someone who delivers a message from God. Sometimes this can be a message about the future. To help them understand this, you could write a letter to someone about an event later that day and ask the child to deliver it. For example, "Could you give this letter to your father saying we will have food at 6 pm".
Make a list of events that you and your child are looking forward to doing. Many of these can relate to Christmas, but you can also list other activities like birthdays or a particular sweet treat. Ask the child if they enjoy waiting or if they wish they could speed up time. Talk about how the people of Israel had been told that a Messiah would come. If you have a relative coming for Christmas, you may point out how excited your child is for their arrival. Talk about how you are counting down the days until they come. Think about how hard it is to wait and then point out how many years and generations passed as Israel waited for the Messiah to arrive. Explain that they did not have a set time for the prophecy to happen like you do for your relative's arrival, only a promise that it would happen. Remind the child that Jesus came at the exact time that God had chosen.
To help the child understand, point out the times that they receive what they need at the right time. You may choose to do this for any length of time. For instance, when they sit down to eat dinner, hand them a toothbrush instead of a fork. When they are going to bed, offer them a jacket instead of pajamas. Offer them a spoon to brush their teeth. Explain that you are giving them the right thing but at the wrong time. Explain that God always knows what to provide us with and always at the right time.
Discuss why the people of Israel were excited for Jesus to come. Explain that unlike some of the things on the list we made, Jesus came to bring permanent help. Talk about how people were lost in sins and unhappy because they were separated from God. Talk about how Jesus came to bring peace between God and His people. You can create a visual for your child by standing on one side with another adult on the other side. Hold a blanket up to separate the two of you. Explain that just like the blanket, sin separates people from God. Tell the child that you and your helper are sad because the blanket is separating you from each other. Ask the child what he can do to help. Allow the child to pull the blanket down (if necessary, give the child hints of what to do). Explain that just as your child removed the blanket, Jesus came to offer forgiveness for sins, which are separating us from God.
Talk about how sometimes it is hard to be patient. Select a particular activity or food item. Ask the child to sit and wait as long as possible for the treat. Use a stopwatch to track the length of time they are able to sit. Ask them how long they think they waited. Compare that to the time they actually waited.
Explain that Isaiah lived many hundreds of years before Jesus, but God told Isaiah that Jesus would come. Read Isaiah 9:6, 7:14, 53:5, and Micah 5:2. (If the child is older, you may seek out additional prophetic references to read). Talk about how each of these verses is a clue about Jesus' birth and why He came to the world. Ask the child if they can tell you what city Jesus would be born in or a clue about Jesus' mother. Ask the child if they know why Jesus came to the world.
If possible, buy or create a nativity set. Throughout the five weeks, you will add pieces. On this, the first week, set up the stable. Point out that the stable is empty and waiting. There is a printable template in this lesson you may use, along with a character card set. I'll explain more about this later, but you could print an additional copy and use for characters in your nativity scene.
Memorize Isaiah 9:6 together. Pray and thank God that He sent His Son into the world. Ask God to help you tell others about His coming.
NOTE: This is a special additional project you may choose to do. This will connect to the third week of the Christmas lessons. Explain to your child that you are going to create some predictions. Explain that you will write down things that will happen in the next weeks. Create predictions such as your child will be wearing a green shirt, or you will make carrots for dinner when you do the lesson in the third week. After you complete the list, seal it into an envelope and place it in a safe place to wait for week three of the Christmas lessons.
Games and Activities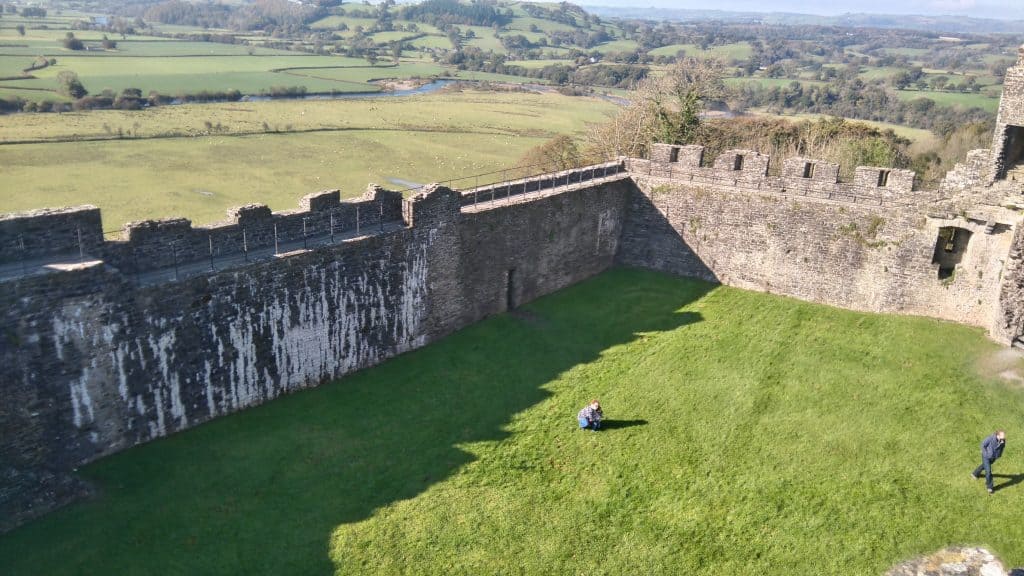 Visit a historic place
Take your child a nearby historic place, a castle, cathedral, fort, etc. Alternatively, you could show photos of ancient places like Rome or the pyramids. Try to imagine what it must have been like to live at that time. Think about things which they didn't have, which we take for granted (phones, electricity, water, supermarkets etc). Try to help your child understand the gap of time. Remind your child that many of the prophecies relating to Jesus' birth were given hundreds of years before He was born.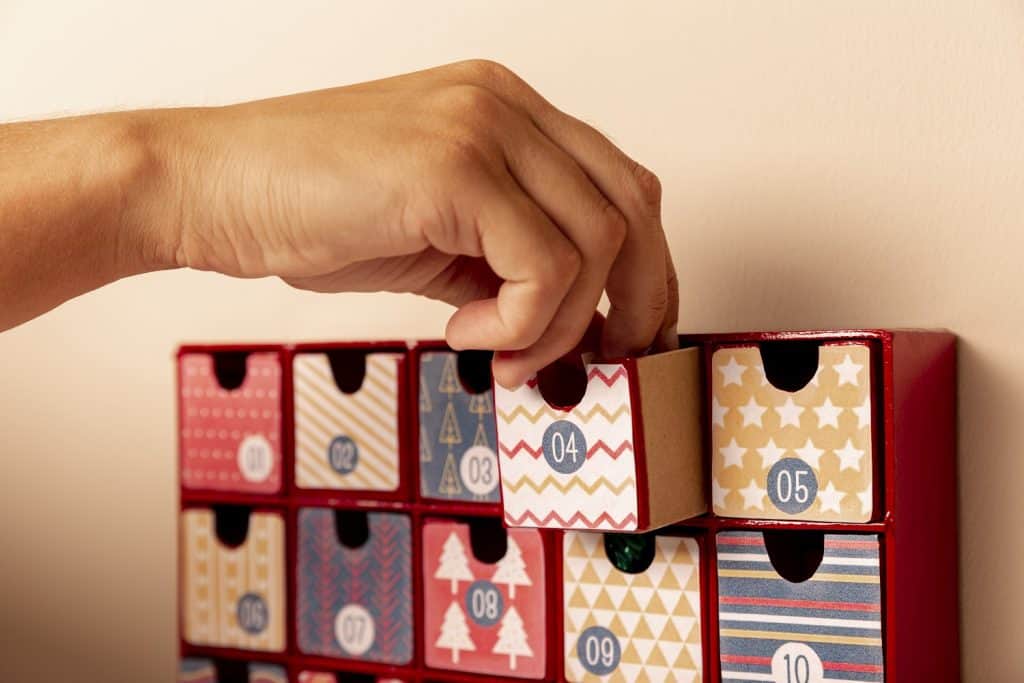 Make or buy an advent calendar
Advent calendars are a great way to teach children about waiting for an important event. Something they are excited about. There are loads of tutorials online for DIY advent calendars. It could be as simply as envelopes with numbers on the outside. Speak about how the people waited thousands of years for Jesus to be born.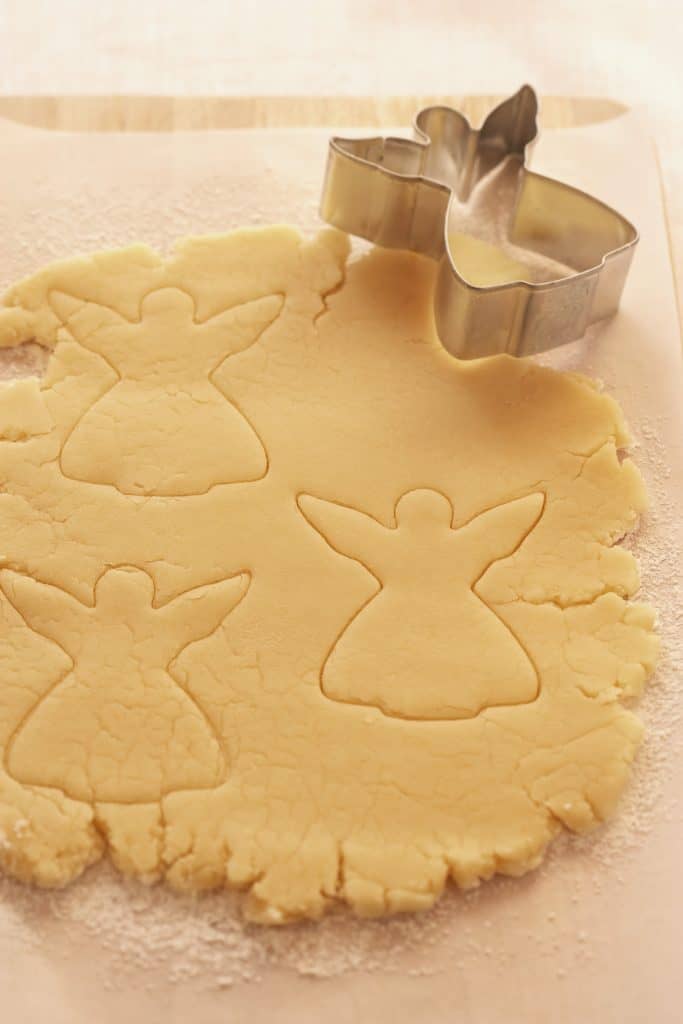 Bake some Christmas snacks
Bake some Christmas snacks or biscuits. As you wait for them to bake, talk to your child about waiting for them to be ready at the correct time. Remind them that Jesus came at the perfect time and fulfilled all of the prophecies.
Worksheets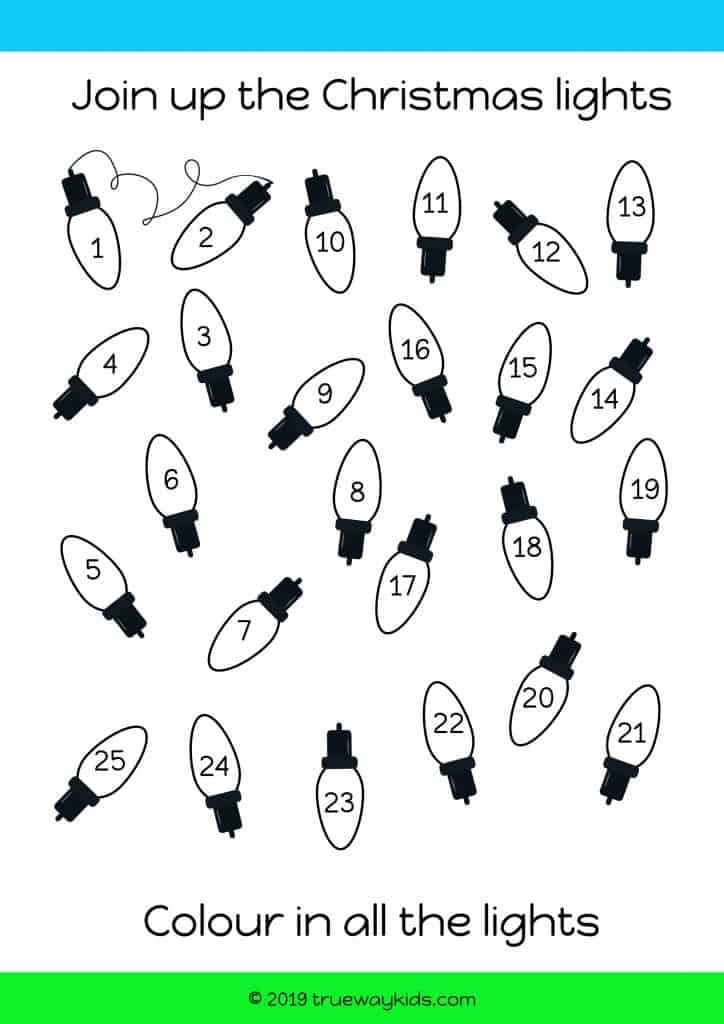 Christmas Character Cards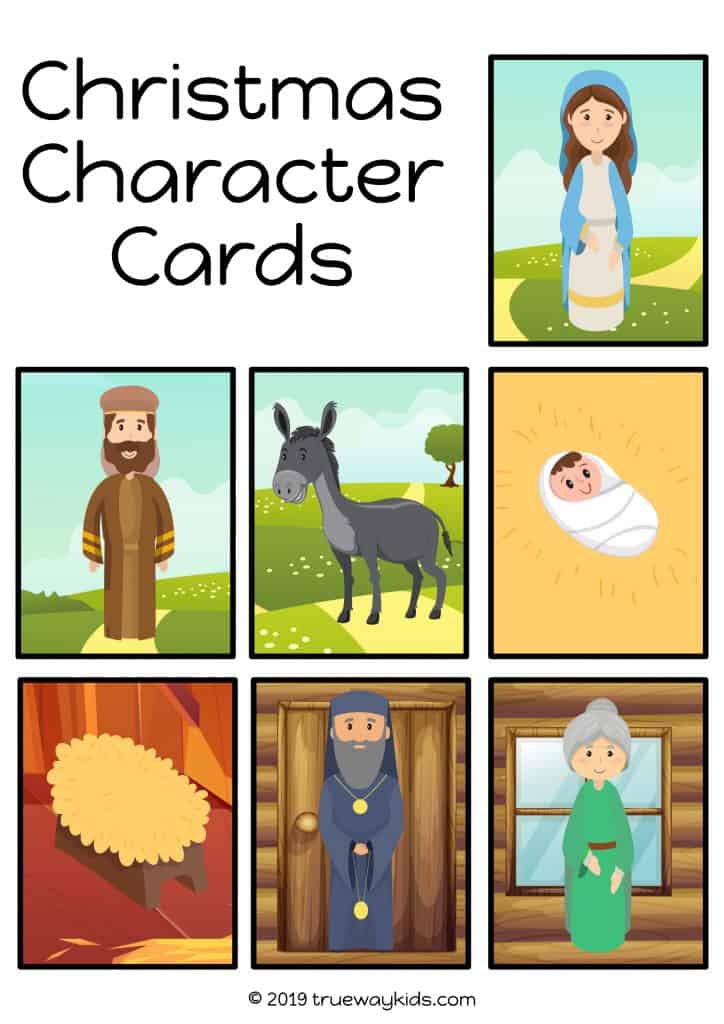 Advent Calendar Hide and Seek
There are 25 cards included in the lesson. Hide one card in a new place around your home each day. Each day, your child can find a new character card and add it to their collection.
Story visual aids
Use the cards as visual aids while reading the Christmas passages from your Bible. Ask your child to point or hold up the matching item whenever it is mentioned in the passage. You could also use the cards to act out the story.
Matching pairs game
Print two copies of the character cards. For best results, glue some coloured paper onto the back before cutting so that you cannot see through the card / paper. Turn cards upside down. Take turns to turn two cards over at a time. If the cards match, the player gets to keep them.
Snap
Print at least two copies of the character cards. Shuffle the cards and share out between players. Take turn to turn over the top card and add it face up to a central pile. If picture match, the player calls snap and wins all the cards in the pile.
Who am I? Yes or No
Player picks one card from the pile. The other players must ask questions to guess what is on the picture. The player with the card may only answer yes or no. The first person to correct correctly wins.Have any other ideas of how to use them? Send us a message, we'd love to share your ideas with others.

Make your own Nativity
There are two options for making this week's craft. A version which you can colour yourself and another version that comes pre-coloured. You only need to print the version you would like to use. The scene can be used over the following weeks and covers, the angel appearing to Mary. Mary's visit to Elizabeth and Zechariah. The Shepherd, The wise men and of course the stable scene.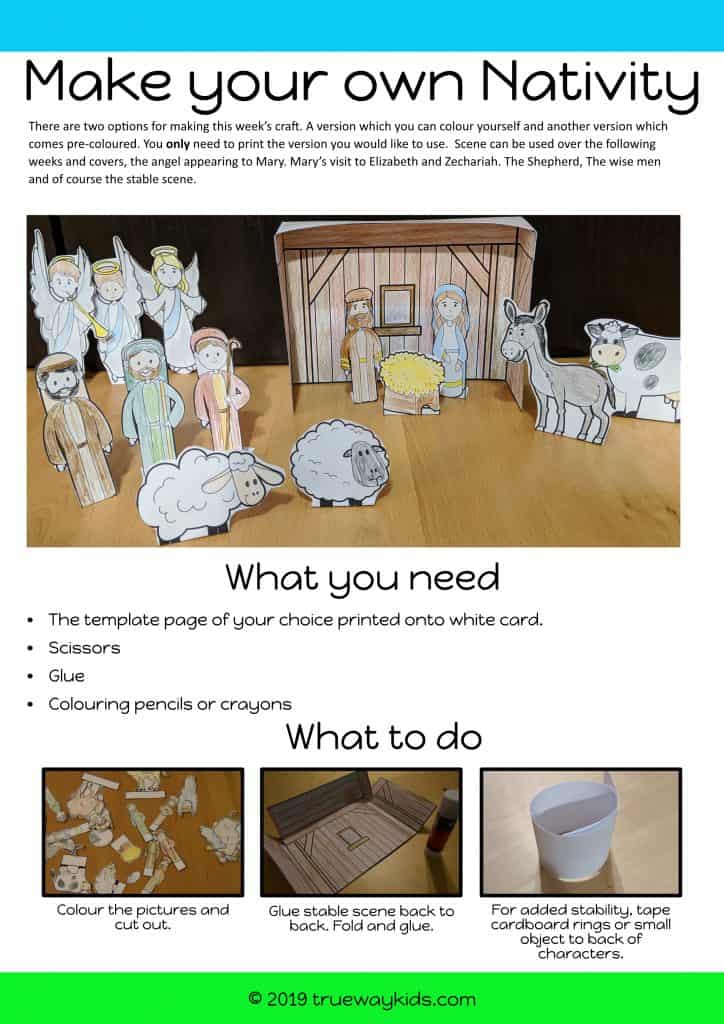 What you need:
The template page of your choice printed onto white card.
Scissors
Glue
Colouring pencils or crayons
What to do:
Colour the pictures and cut out.
Glue stable scene back to back. Fold and glue.
For added stability, tape cardboard rings or small object to back of characters.
Choice of color or black and white templates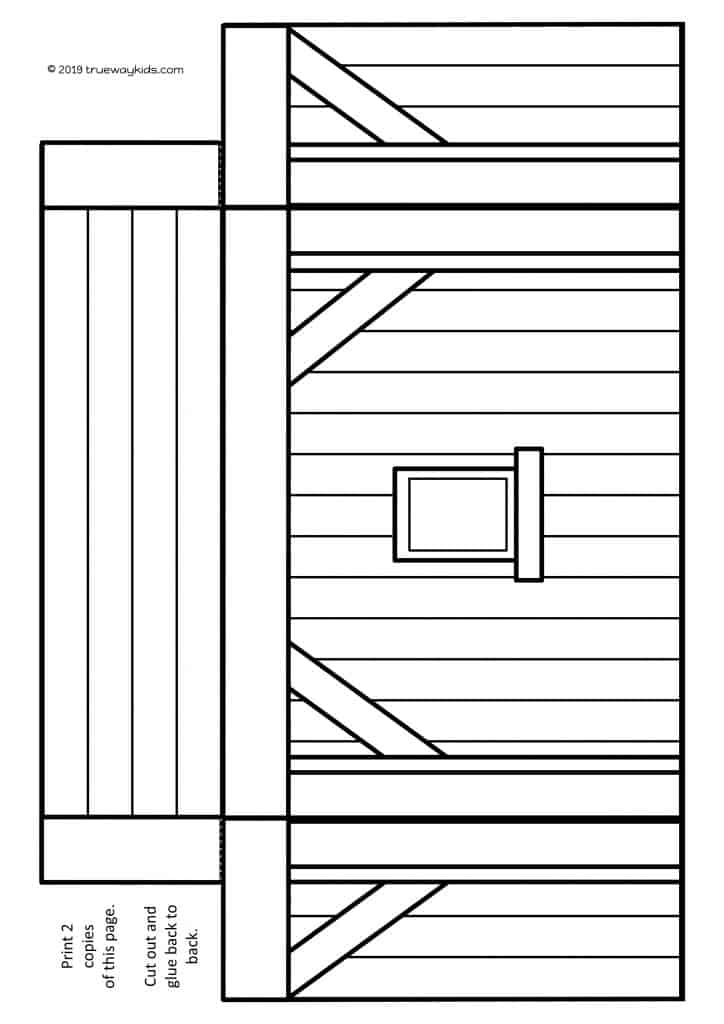 Isaiah 9:6 Christmas baubles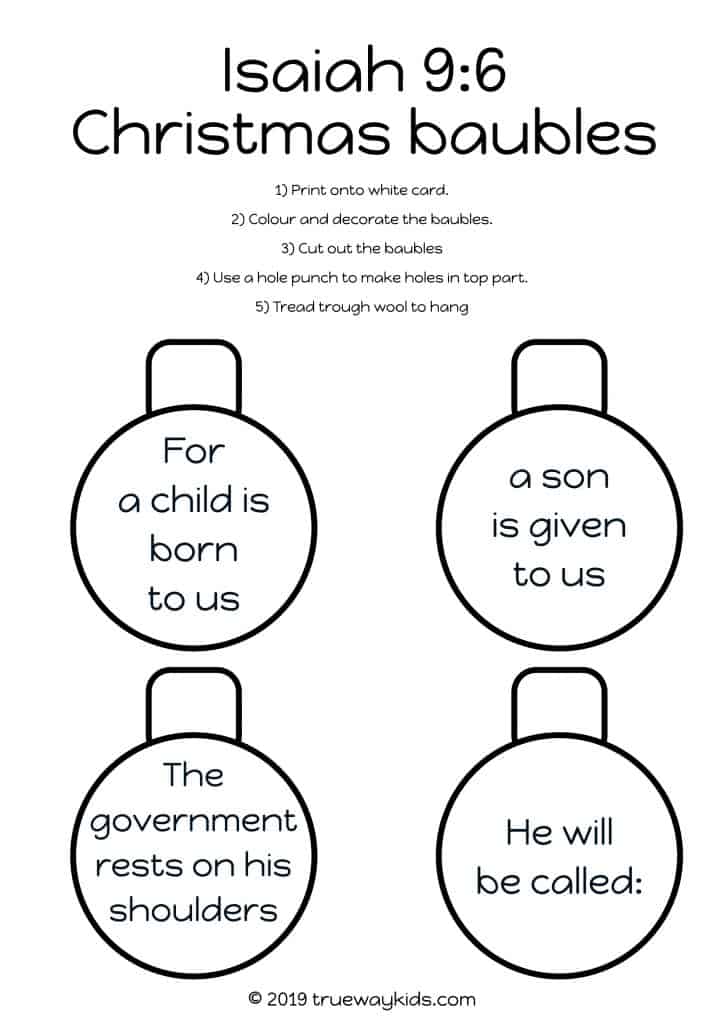 What to do:
Print onto white card.
Colour and decorate the baubles.
Cut out the baubles
Use a hole punch to make holes in top part.
Tread trough wool to hang
For a child is born to us, a son is given to us. The government will rest on his shoulders. And he will be called: Wonderful Counselor, Mighty God, Everlasting Father, Prince of Peace. Isaiah 9:6
Download the lesson

Translations