OLD TESTAMENT PROPHECIES ABOUT THE COMING MESSIAH
In this lesson, we will look at a few of the most well-known Messianic prophecies about Jesus' birth found in the Gospel of Matthew. This lesson relates to pre-teens and teens and by the end of this lesson, they should have learnt about the following:
Jesus is the promised Messiah
The wait for the Messiah is over
God fulfils all His promises
BIBLE PASSAGE: Matthew 1 & 2
MEMORY VERSE: "All this took place to fulfil what the Lord had spoken by the prophet:" (Matthew 1:22).
DOWNLOAD THE FREE PRINTABLE LESSON
BIBLE STUDY NOTES FOR TEENS
The Old Testament is full of prophecies about the coming Messiah. In fact, there are over 300 prophecies about Jesus in the Old Testament! These prophecies were written centuries before Jesus was born, yet they foretold His birth, life, death, and resurrection.
When we understand the Old Testament prophecies about Jesus, we can have confidence that He is who He said He was. We can trust that He is the Saviour of the world!
In this study, we will look at just a few of the most well-known Old Testament Messianic prophecies about Jesus' birth found in the Gospel of Matthew.
MESSIANIC PROPHECIES FULFILLED IN THE BIRTH OF JESUS
1. GOD WITH US: ISAIAH 7:14 AND MATTHEW 1:23
Isaiah 7:14 was written over seven hundred years before Jesus was born. In it, the prophet Isaiah speaks of a sign that will be given to King Ahaz of Judah. This sign would be that the virgin shall conceive and bear a son, who would be named Immanuel, which means "God with us." This son would be a sign that God was with His people, even amid great trials and difficulties.
Today, we can see the fulfilment of this prophecy in the birth of Jesus Christ. Jesus is Immanuel, God with us. He is the sign that God is with us, despite our trials and difficulty. When we trust in Jesus, we can have hope and confidence that God will be with us, no matter what we face.
The name Immanuel appears only three times in the Bible, but it's a name with great significance.
When we turn to Jesus, we find He is the Immanuel – God with us. He is with us in our sorrows and our joys. He is with us in our struggles and our triumphs.
2. BORN IN BETHLHEM: MICAH 5:2 AND MATTHEW 2:1-6
Micah was written approximately seven hundred years before the birth of Jesus Christ. In Micah 5:2, the prophet foretold that the Messiah would be born in Bethlehem. This prophecy was fulfilled when Jesus was born in Bethlehem (Matthew 2:1-6).
Caesar Augustus called a census and required each citizen to return to their own town to be counted. We can imagine it was an annoyance for Joseph and a heavily pregnant Mary. They were forced to leave home and make a long journey to the town of Joseph's family.
Yet, by reading the Old Testament, we see that God remains in control. In Rome, Caesar Augustus had an idea, but unknowingly, he was an instrument to fulfil God's plans and promises. Caesar Augustus was one of the most influential leaders in history, but still under God's sovereign plan.
Despite what we see happening in the world around us, we can be confident that God is still in control. Even though the world may be going through a lot of turmoil right now, we can trust that God is still sovereign and in control. He is the same yesterday, today, and forever (Hebrews 13:8). While world leaders may plan without any consideration of God, this prophecy reminds us that He remains in control.
3. OUT OF EGYPT: HOSEA 11:1 AND MATTHEW 2:15
Hosea wrote this prophecy approximately eight hundred years before Christ was born.
When God was speaking to the nation of Israel, He said, "When Israel was a child, I loved him, and out of Egypt I called My son." (Hosea 11:1)
In Hosea 11, God spoke to the nation of Israel and said that they were children and He loved them. He also said that He called them out of Egypt.
This verse looks backwards and forward. Remember, the Israelites were enslaved in Egypt when God rescued them and brought them to the promised land.
Yet, Matthew quotes this passage when discussing Joseph and Mary's flight to Egypt to escape Herod's attempt to kill baby Jesus. Jesus and His family eventually returned to Israel from Egypt after Herod's death.
Matthew shows that the coming of the Messiah is an extension of the Lord's love for His people by referencing Hosea's statement.
No matter what we go through in life, good or bad, we can always take comfort in knowing God loves us. He loved us so much that Jesus came to Earth to save us and restore our relationship with Him.
God calls His people out of a life of sin and into a relationship with Him.
4. BORN OF A WOMAN: GENESIS 3:15 AND MATTHEW 1:25
It is not one hundred per cent certain when Genesis was written but it is estimated to be a least 1500 years before Christ was born.
When God created the world, He made it perfect. There was no sin, no death, and no suffering. However, that all changed when Adam and Eve sinned against God. As a result of their sin, God cursed the ground and death and suffering entered the world. But God right away gives hope of redemption.
From the very beginning, right after Adam and Eve disobeyed God, God shared that a saviour would come.
In Genesis 3:15, God tells Satan, "I will put enmity between you and the woman, and between your offspring and hers; he will crush your head, and you will strike his heel."
This verse is often called the first gospel because it contains the first hint of the gospel message. The word "enmity" means hostility or hatred, and it is clear that God is speaking of a conflict between two parties. The word "offspring" refers to children or descendants, so God says there will be a conflict between Satan and the woman's children.
The word "crush" can mean to destroy. God says that Satan will strike the woman's heel, but the woman's descendant will crush Satan's head. This verse contains the first hint of the gospel message because it speaks of a conflict that will be resolved.
Jesus Christ is the fulfilment of this promise. He came to Earth and was born to a woman as a human. (Matthew 1:25) He was God in the flesh, fully man and fully God. He lived a perfect life and then died on the cross for our sins. His death was the ultimate act of love, defeating Satan once and for all. (1 John 3:8).
CONCLUSION
Jesus fulfilled many more Old Testament prophecies. In the Old Testament, the people of Israel waited for the Messiah. They waited for a Saviour to come and save them from their sin. They looked forward to a time when all would be made right, and all could live in peace and harmony. They longed for the day when the Messiah would come and save them.
Through these passages, we can see that the wait was long and some of the prophecies took thousands of years before they were fulfilled, but we must never miss the fact that they were ultimately fulfilled. God always keeps His promises in His perfect timing. The good news is that we don't need to wait for the Messiah. Jesus has come. Jesus is the only way to gain eternal salvation. He is the only way to gain access to the Father. When we put our faith in Jesus, we are saved. We don't need to wait for anything or anyone else. We don't need to work our way to salvation. We simply need to trust in Jesus and His death on the cross for our salvation.
YOUTH GAMES AND ACTIVITIES FOR WAITING FOR JESUS
BAKE SOME CHRISTMAS SNACK
Check for Allergies
When it comes to teaching patience, few things are more effective than baking. After all, there's nothing quite like the smell of freshly baked goods to get people to wait patiently!
Why not bake some Christmas snacks together? Not only will they learn the importance of waiting, but they'll also get to enjoy some delicious treats in the process!
Talk about how the Old Testament people had to wait for the Messiah.
PERFECT TIMING GAME
This is a super easy game to play with teens.
Give the group x number of seconds to cross the room. Change the number each time.
For example, "When I say go, cross the room in 10 seconds."
The child should them aim to touch the wall on the other side exactly in 10 seconds. Not before or after.
The child who is closest to the correct time wins.
Talk about how God's timing is always perfect.
CAN YOU PROVE IT?
Prepare some fact cards for each player. Shuffle them and place on the table.
Each card should include a challenge such as "I can say the alphabet backwards' or 'I can lick my nose'.
The child should then try to prove the statement on the card.
If they can do the challenge, they win one point for their team.
Talk about how Matthew included the Old Testament prophecies as proof that Jesus was the promised Messiah.
Free printable Teen Worksheets in the lesson pack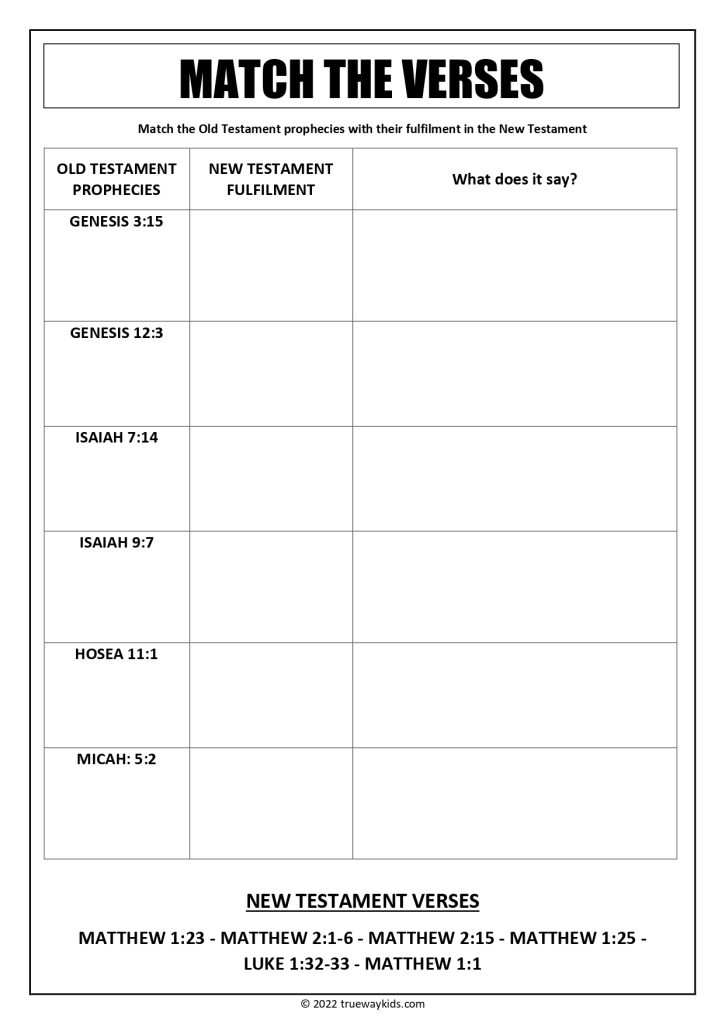 DOWNLOAD THE FREE PRINTABLE LESSON
View lesson for other age groups
Translations