In this lesson, we will learn about the seven chosen to serve from Acts 6. This lesson relates to pre-teens and teens and by the end of this lesson, they should have learnt about the following:
Effective kingdom leadership is first service to God before it is a service to the people.
Good reputation is a strong factor when leading people.
Need for the Holy Spirit and wisdom in service.
The call to serve.
BIBLE PASSAGE:  Acts 6
MEMORY VERSE: "Therefore, brothers, pick out from among you seven men of good repute, full of the Spirit and of wisdom, whom we will appoint to this duty." (Acts 6:3)
DOWNLOAD THE FREE PRINTABLE LESSON
BIBLE STUDY NOTES FOR TEENS
After the Pentecost and the massive conversion of people into followers of Christ, there came a time when there was disagreement among the people over the care of the widows. The Apostles, who were direct disciples of Jesus, responded to the complaint by explaining their concern on food and welfare matters.
They knew the care of the needy was important, but they also knew their assignment and the risk of distraction in fulfilling their calling. To resolve the matter, the Bible says, "The twelve summoned the full number of the disciples and said, "It is not right that we should give up preaching the word of God to serve tables. Therefore, brothers, pick out from among you seven men of good repute, full of the Spirit and of wisdom, whom we will appoint to this duty."
The Apostles made their position clear; they were not going to neglect their primary assignment, but they were going to see that the needs of the widows were met.
The Apostles gave the believers a standard recommendation for anyone who would be appointed. There were to find seven men of good repute, full of the Spirit and of wisdom (Acts 6:3).
The seven would serve as deacons and make sure the needs of the people were met. The people chose Stephen, Philip, Prochorus, Nicanor, Timon, Parmenas, and Nicolaus. The Apostles laid hands on them, prayed for them, and set them apart for this special ministry.
KEY POINTS FROM THE PASSAGE
1. KNOW YOUR CALLING (ACTS 6:2)
The Apostles demonstrated a great deal of understanding in their leadership. Despite the demands of the people, they prioritize their service to God. They must have learned this correctly from Jesus. They were not there to be men-pleasers. They knew their assignments and were committed to it. Distraction no matter how noble, were not going to disturb them from their calling. Rather than dealing with a temporary issue, they put a long-term solution in place.
This is a great message to and for us. Effective Kingdom service is first doing what God calls us to do. It is easy to be busy doing good things but forsake the thing God has actually called you to do.
The Apostles were not called to serve tables. They understood their priorities. Someone once said, "The enemy of the best, is not what is bad, but what is good." It means get stuck in doing good, can keep us from what is best. It would have been good for the Apostles to serve food to the widows, but not the best.
However, we need to note that they weren't indifferent to the need of the people. In as much as they wanted to remain focused on the Word of God and prayer, they didn't leave the matter unresolved. They came up with a plan. As we serve God and His purposes, we need to know how to balance our service to God and people.
2. SERVICE COMES BEFORE POSITION (ACTS 6:3)
As part of the criteria given to the people to consider when choosing the seven men, the Apostles stated that they must be of good reputation. Their character must be clear to everyone that they are good men. Reputation is a strong factor when leading people.
Proverbs 22:1 says, 'A good name is to be more desired than great wealth.' People must be able to testify of our moral conduct, and our lives should glorify God.
It's interesting that the appointment was not done by the Apostles, but by the people. These men couldn't fake it to the leaders to impress them. They don't need to have good reputation for a few but the many. They were chosen by the ones they would serve. They were good, even before they became known. Their reputation brought them to the position.
It is not an excuse to say we would be or act better if we were in a certain position. We should live in a way now that honours God. For example, we shouldn't say, 'If I were the youth leader, I'd tidy the chairs after the meeting.' We should do it now. We should never say, if I were the pastor, I'd make disciples. Service should come before the position.
3. FULL OF THE HOLY SPIRIT AND WISDOM (ACTS 6:3)
The men who were chosen were not just of good reputation, they were full of the Holy Spirit and Wisdom. We can't serve well in the Kingdom by the flesh.
Too often, we try to do things by our own strength and ability rather than allow God to empower us and work through us. No matter how good we may be at something, we need God's help to serve Him and His people.
People who lack the fruits of the Spirit cannot serve successfully. We need perseverance, love, peace, and self-control, to lead people and manage resources.
Paul later wrote, "Brothers, I do not consider that I have made it my own. But one thing I do: forgetting what lies behind and straining forward to what lies ahead," (Philippians 3:13).
If we don't rely on God to serve, we will most certainly become discouraged, burned out and fail. Yet if we humble ourselves, the Holy Spirit will empower us to do so much more than we could even imagine.
4. THE CALL TO SERVE (ACTS 6:3)
Zechariah 4:10 says 'Do not despise these small beginnings.' The truth of the matter is that we all need to start somewhere. There are too many people who do nothing because they are waiting for fame.
The seven men could have thought, 'If the Apostle are not going to serve tables, then neither am I.' Today, this may look like, 'I'll sing lead in the worship service but I'm not going to clean up after the service.'
But these men knew what it means to serve as a body, each part has an important and vital role.
Furthermore, the opportunity to serve acted as a launch pad. They came to serve others. They did this and were exceptional at it. Over time, God continued to build their character and develop them. Later, Stephen and Philip had great testimonies added to their service. Stephen preached the Word of God till his face was like that of an angel (Act 6:5). Philip was regarded as an evangelist; he preached the Word and led a revival. He ministered to the Ethiopian Eunuch who accepted Jesus Christ and took the gospel to Africa.
Don't overlook the opportunities you have to serve now. God is giving us a chance to serve Him and others while He prepares us for the future.
CONCLUSION
The Apostles of Jesus set a Godly standard for the appointment of the men who would serve. We should seek God's will for our lives and serve where He give us opportunity.
YOUTH GAMES AND ACTIVITIES FOR THE SEVEN CHOSEN TO SERVE
HELP THE NEEDY
The early church knew the importance of taking care of the needy.
Plan a way to help needy people in your community.

Plan and event with your family or church group.
Help at an event in your church or local community.
Pack up food parcels etc.
Start a fundraising event (Sale, car wash etc)
FAST SERVERS
Split children into teams.
Give each team a tray with some 'safe to drop' food items on it.
Space the other team players around the rooms.
On go, the player with the tray must serve each of their teammates with one item from the tray as quickly as possible.
Each teammate can only remove one item at a time.
If any items are dropped. The player must return to the previous person before continuing.
The first player to have an empty tray wins.
NAME SEVEN
The Apostle told the people to pick seven men to serve the tables.
In this game, a player will pick out an option from a bowl of paper.
They should then name 7 things which match the description.
Some ideas include. A type of pizza. A place in South America. Something you can use to draw.  A hot drink. A Subject as school. A minor prophet, a song from the 60s. A famous artist and so on.
Free printable Teen Worksheets in the lesson pack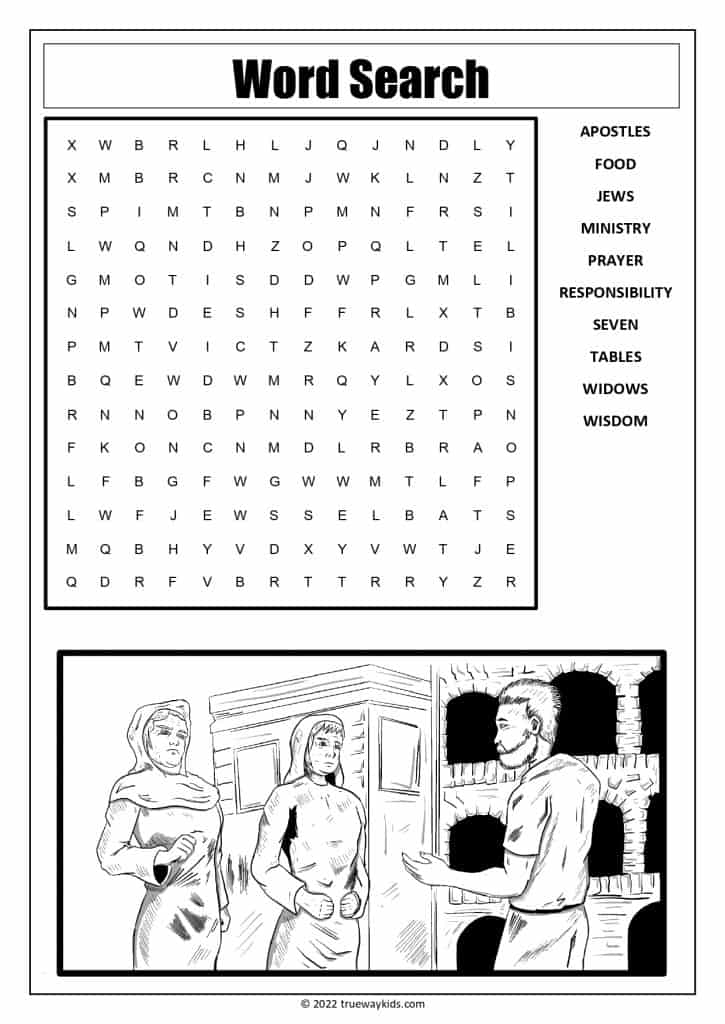 DOWNLOAD THE FREE PRINTABLE LESSON
View lesson for other age groups
Translations