Genesis 2 gives us a closer look at the creation narrative in chapter 1 and consequently is best read alongside Genesis 1:26-31. The chapter focuses in on the account of the sixth day of creation.
This lesson relates to pre-teens and teens and by the end of this lesson, they should have learned about the following:
What it means to be made in the image of God
The purpose of work
Companionship
BIBLE READING: Genesis 1:26 – 2:25
KEY VERSE: "then the Lord God formed the man of dust from the ground and breathed into his nostrils the breath of life, and the man became a living creature." Genesis 2:7
DOWNLOAD THE FREE PRINTABLE LESSON
BIBLE STUDY NOTES FOR TEENS
BACKGROUND TO THE PASSAGE
In this chapter, God creates Adam, the first man, and places him in the Garden of Eden to care for it and name the animals. God then creates Eve, the first woman, from Adam's rib. God grants the couple dominion over the Garden and gives them the command to be fruitful and multiply.
Genesis 2 is an important biblical passage as it outlines the creation of man and woman. It reveals the divine plan of God to bring order to the world and to provide humans with purpose and meaning. This passage is significant because it shows God as a loving and caring Creator, who desires that humans should be in relationship with Him and with each other.
KEY POINTS
1. MADE IN GOD'S IMAGE – GENESIS 1:26-27
God says in Genesis 1:26-27, "Let us make people in our own image, in our own likeness."
This statement speaks of the uniqueness of mankind, crafted in the image of our Creator. It shows us the value and worth of each individual, as we have been carefully and purposefully designed with a purpose in mind.
We are beings of great complexity, carrying the capacity to love, think, create, and experience. God's statement emphasizes our purpose and potential as we were designed to reflect His attributes and to represent Him in the world.
We are all born with a purpose – to reflect the image of God. Even in our fallen state, we can see God's qualities in people.
As believers we should strive to make God visible through our lives in the way we interact with each other and the world. This can be done through acts of kindness, compassion, and mercy, as well as intentionally seeking justice and truth in our lives. Despite our imperfections, we can still reflect His goodness. We can pray like John the Baptist, "He must increase, but I must decrease." John 3:30.
2. MADE LIKE GOD BUT NOT EQUAL TO GOD – GENESIS 2:7
The Bible teaches that God created man in His image and likeness but not equal to Himself. This is an important distinction because it stresses the importance of recognizing that while humans bear the image of God, we are not God.
As with any image, we are not an exact duplicate. God shared with us many of His attributes, but He remains sovereign. Man was created with a spirit and a mind and was given the ability to recognize God's sovereignty, wisdom, and love.
God told Adam that he could eat of every tree of the garden, except the tree of the knowledge of good and evil. He warned that if he ate of the forbidden fruit, he would surely die.
This commandment serves as a reminder of the importance of following God's will and trusting in His divine judgement. The command was a reminder of Adam's dependence on God, and of his need to walk in obedience and trust in His Word.
John Calvin's suggests that abstaining from the fruit of a single tree was a lesson in obedience for humanity, reminding us that there is a higher power that we must look to for guidance.
This lesson of obedience is essential for living a God honouring life. We should never forget there is a higher purpose in our lives and trust in God's perfect ways.
3. MADE WITH A PURPOSE – GENESIS 2:15
Genesis 2:15 highlights the biblical origin of divine stewardship, as God gives man with the responsibility of working and taking care of the Garden of Eden. This is the first instance of humans being given a task to fulfil.
Work is meant to be a blessing and not a curse, as it allows us to use our God-given talents and abilities to create and produce. It is also meant to be an act of worship, as God created us to serve Him through our work.
We are stewards of all the gifts given to us by God. We have a responsibility to ensure that the things and gifts God gives us are used responsibly and to honour Him.
Work should not be seen as a burden or a necessary evil, but rather as an opportunity to worship. Work, in its various forms, can be a great way to serve God by using the gifts and talents he has given us.
When we approach our work with an attitude of worship, this perspective can be transformative. Worship should not be confined to the walls of a church. Instead, we should strive to embrace worship in every aspect of our lives and work.
Work is a way to express our faith and to serve the Lord. It should be approached with the same respect and reverence we have for Him. Colossians 3:23 reminds us "Whatever you do, work heartily, as for the Lord and not for men."
4. MADE FOR COMPANIONSHIP – GENESIS 2:18
In Genesis 2:18, God says, "It is not good that the man should be alone;" He took a rib from Adam and made the woman out of it, so that she could be a companion and a helpmate. Adam was filled with joy at the sight of her. He declared her to be "bone of my bones, and flesh of my flesh".
This story reflects the importance of companionship, and it serves as a reminder that we were never meant to be alone. God gave Adam and Eve the ability to glorify Him through their love, companionship and in their work together.
Genesis 2 introduces marriage as a divinely ordained union and shows the importance of companionship, as the two become one. Marriage is presented as an institution to be respected and honoured, and as an important part of the covenant of God.
The New Testament uses marriage as a metaphor to represent the relationship between Christ and the Church. Paul compares marriage to a "profound mystery" where the husband symbolizes Christ, and the wife symbolizes the Church.
From the very start of time, God was painting a picture of the relationship that He wants to have with mankind. Even before the fall, He was setting the stage for the loving relationship He desired to have with us.
CONCLUSION
In conclusion, Genesis 2 provides us with a better understanding of how the world was created and God's plan for us.
YOUTH GAMES AND ACTIVITIES FOR ADAM AND EVE – GENESIS 2
CLAY PEOPLE CREATION
Clay people are an excellent way for teens to express themselves through art.
All that is needed is air-dry clay, which can be found in most craft stores.
Teens can use the clay to create any type of person they can imagine, or you can set a challenge for them to make themselves or a famous person.
Talk about how the clay lacks life. Talk about How God breathed life into man.
NAME THE ANIMAL
Find some photos of lesser-known animals, birds and fish.
Split players into teams or pairs.
Show a photo of an animal and have the team write down the name of that animal on a piece of paper.
The activity can be tailored to their age group and level of understanding.
At the end, swap papers with the other team and review the photos with the correct answers.
The team with the most point wins.
Talk about how God gave Adam the job of naming the animals.
TEAMWORK ACTIVITIES
Split children into teams and have them complete some teamwork activities.
Talk about how God said it's not good for man to be alone. There are loads of fun teamwork games and activities online for good ideas.
Free printable Teen Worksheets in the lesson pack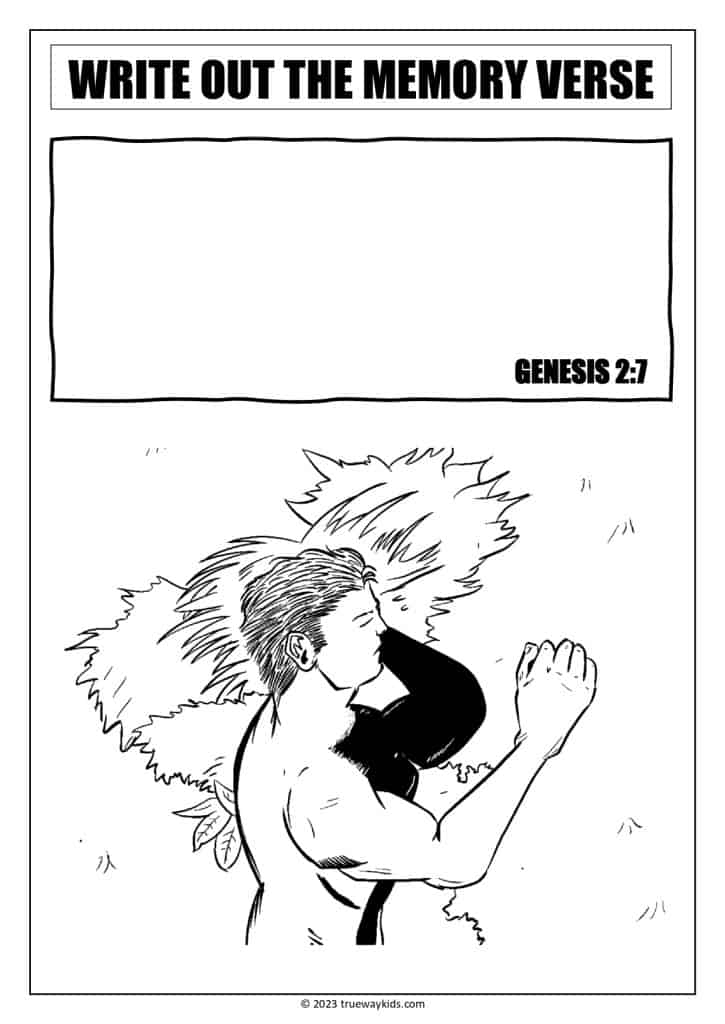 DOWNLOAD THE FREE PRINTABLE LESSON
View lesson for other age groups
Translations