At this halfway point of 2021, we'd love to give you an update and share some points of encouragement and prayer from Trueway Kids.
Old Testament Lessons
Our main goal of 2021 was to create free weekly Old Testament lessons for three age-groups.
Baby and Toddler,
preschool
and over 5s.
The great news is we are totally on track.
So far, we are on lesson 25. It has been amazing to see more and more people using the lessons each week in all different settings. Homes, churches, schools, mission outreaches and more.
We've also been able to produce Bible story videos for each lesson.
Growth
In the first six months of 2020, we had 609,823 visitors to Trueway Kids.
So far in 2021, we have had 1,723,114 visitors.
We are so thankful to be able to produce the lessons and know they are helping children explore the Bible.
Translations:
We are incredibly thankful for those who partner with us to allow us to share the lessons in multiple languages for children to study the Bible in their own language.
We now have lessons available for free in 29 languages.
We are also very excited to have just began working on a Messianic Jewish version of the lessons.
Music
Music was never on our plans of things to add to Trueway Kids. But it reminds us of Proverbs 16:9, "We can make our plans, but the LORD determines our steps." So far, we've been able to produce ten songs, some are covers of traditional songs and some are brand new songs.
You may listen to them here: https://truewaykids.com/music/
Holiday Club program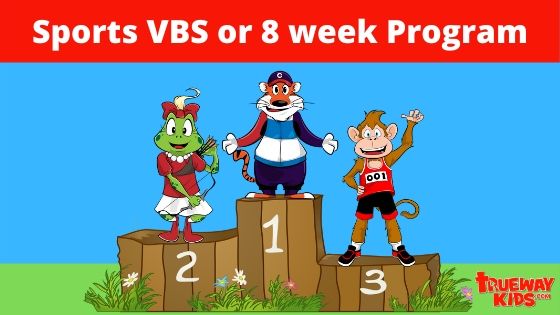 It was such a blessing to be able to share our first mixed age VBS (Holiday Club) program last month.
It has a sports theme ready for the Olympics. Each lesson has a lesson guide, stories, worksheets, craft ideas, games, snack ideas, colouring pages and more.
It is designed to be used in multiple ways. Including in small groups as a house / garden program with family and friends.
Currently in English, Spanish and Portuguese. – https://truewaykids.com/sports-program/
Plans for the rest of 2021.
Continue with the creation of Old Testament Bible lessons in three age groups each week. Total of 52 O.T. lessons by the end of the year.
Add two new themed programs.
Prepare new praise songs for kids.
Add further translations of the lessons, including minority languages.
Website upgrades.
To follow any doors which God opens.
Thank you so much for your prayers and support for this ministry. It is such a blessing to be able to serve alongside you.