As a special lesson for Valentine's day, we will be looking at love. Our lesson will include some key Bible passages on love.
Key Points:
True love comes from God.
God's love for us.
Our love for others.
Lesson Guide – Love
Ask your child to make a list of things they love. Talk about how love is an often misunderstood word. We say we love pizza and with love our family. But those types of love are very different to each other.
What is love? In I Corinthians 13:4-8 (ESV), the Bible defines it like this, "Love is patient and kind; love does not envy or boast; it is not arrogant or rude. It does not insist on its own way; it is not irritable or resentful; it does not rejoice at wrong doing, but rejoices with the truth. Love bears all things, believes all things, hopes all things, endures all things."
True love comes from God. (I John 4:7) Set out a bar of chocolate. Taste the chocolate with your child. Talk about the flavour. Talk about what you like most, least, etc. Now, set out some random ingredients on the table (not chocolate related). You may use mustard, ketchup, mayonnaise, cooked rice, banana, etc. Ask the child to combine the ingredients and make a chocolate bar. As they attempt to make something that resembles chocolate, explain that they cannot make chocolate without cocoa, sugar and other ingredients that make chocolate. In the same way, we cannot show real love without God, because God is love (I John 4:8)
God loves His people. He loved them so much that he sent His only Son to die on the cross to save His people from their sins. He didn't just say that he loved Christians, He showed His love for believers. "God shows his love for us in that while we were still sinners, Christ died for us." (Romans 5:8)
God shows us love, but He also tells us to show love to others. "Love one another: just as I have loved you, you also are to love one another." (John 13:34) and "Love your enemies." (Matthew 5:44) When we show love to others, we are mirroring Christ.
Set up a doll, action figure or stuffed animal in a dark place. Explain that the toy is in the dark and cannot see light. Set up a light out of view of the toy. Now give your child a mirror (or more than one if necessary). Assist your child in setting up the mirrors in such a way as to bring light to the toy. Talk about how we are to reflect God's love to others.
Think of ways you can show your love:
1) God
2) Family and friends
3) Those who treat you badly.
Cut out some hearts and write some Bible verses about love on each. Decorate and hang on your wall.
Worksheets – Preschool Pack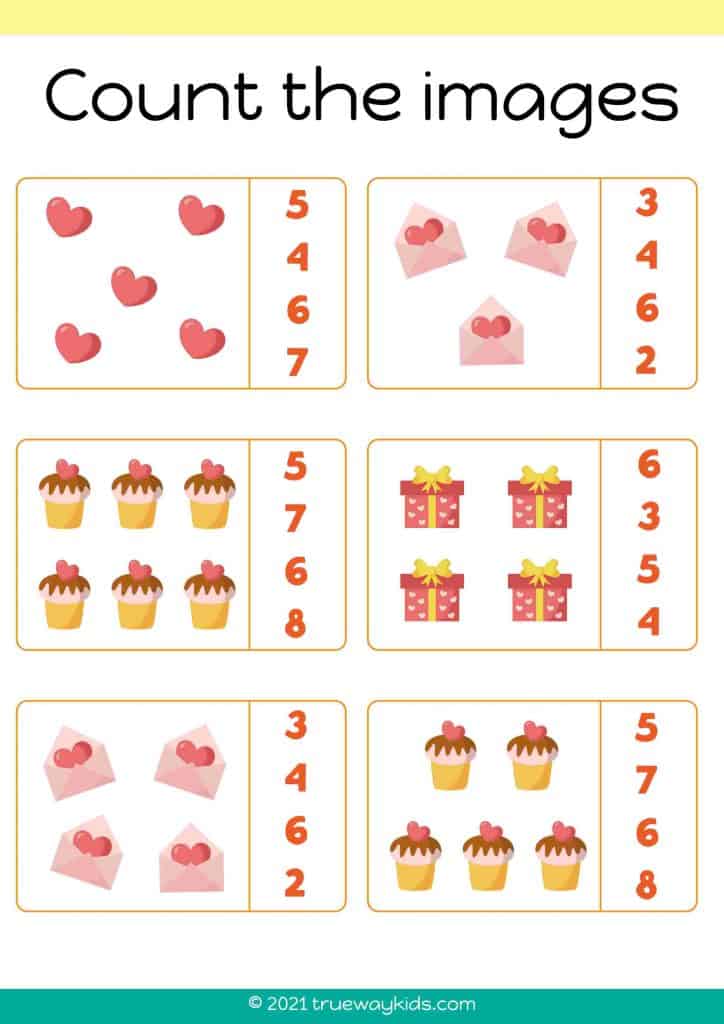 Worksheets – 5+ lesson pack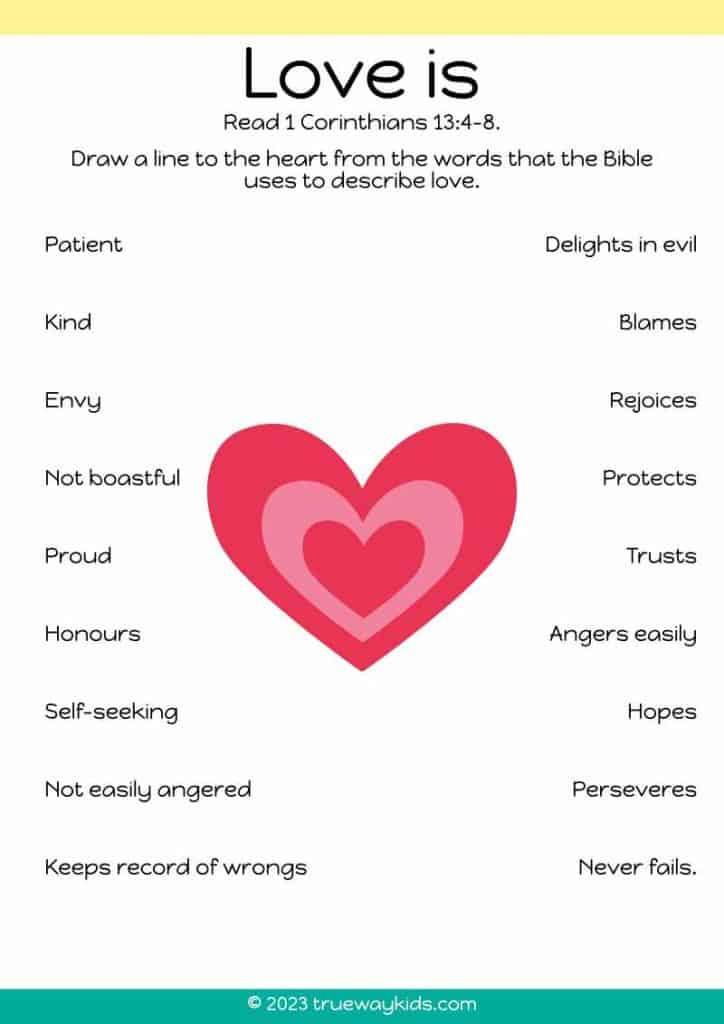 Free Bible Coloring Pages – Love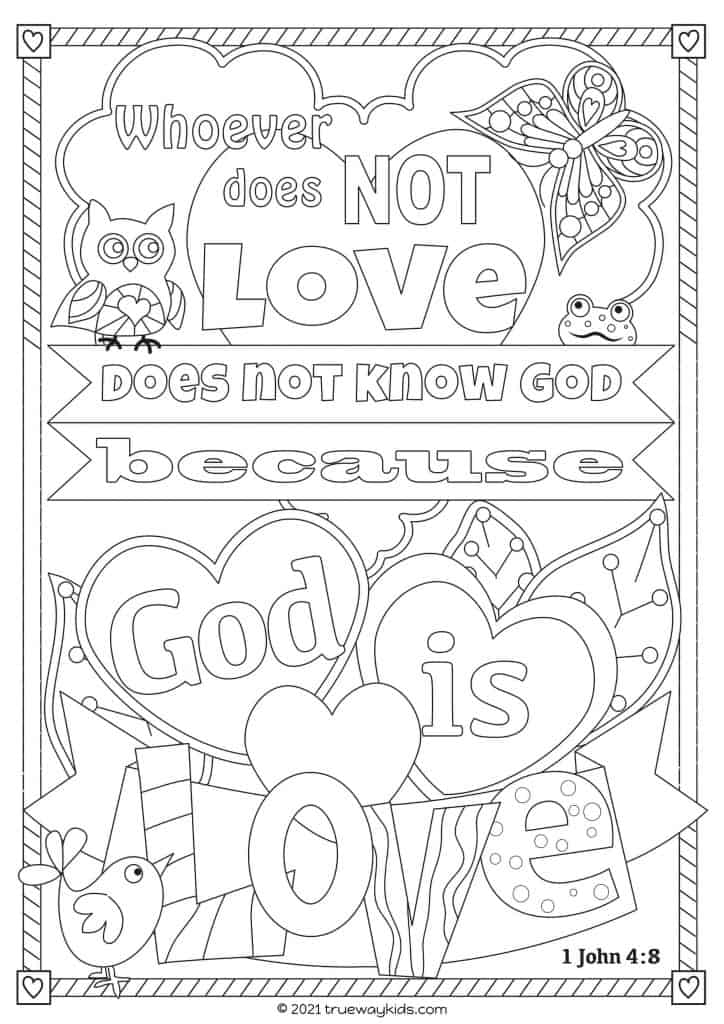 Craft – God loves the World – John 3:16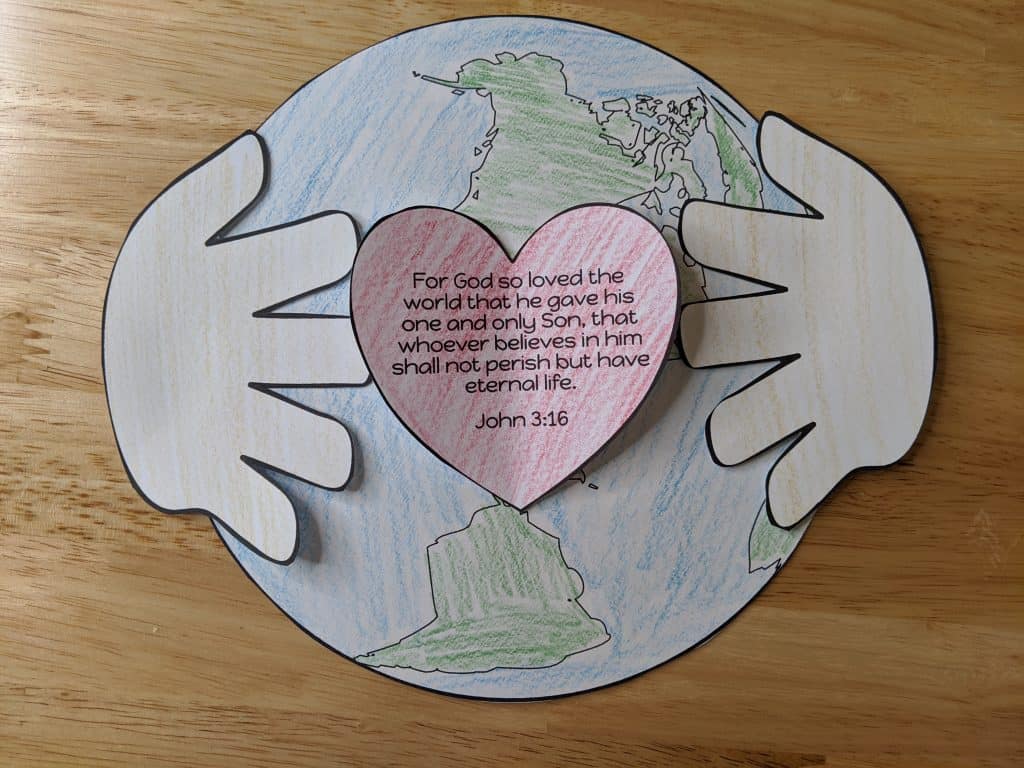 What you need:
Template pages (print one map page only. Include your country).
Colouring pencils
Scissors
Glue
What to do:
Colour in the template pages.
Cut out the world, hands and heart.
Glue hands onto side of world. Fold heart and glue down centre. Glue into centre.
Download the lesson for FREE

Translations
Portuguese and Spanish versions available. Use link on top of page.