Ruth is one of the most beloved characters in the Bible. She was a Moabite, brought into the family of God. Through the story of her remarkable journey, we learn about loyalty, kindness, and God's overarching plans.
BIBLE READING: Ruth
MEMORY VERSE: "But Ruth replied: "Do not urge me to leave you or to turn from following you. For wherever you go, I will go, and wherever you live, I will live; your people will be my people, and your God will be my God." (Ruth 1:16).
DOWNLOAD THE FREE PRINTABLE LESSON
BIBLE STUDY NOTES FOR TEENS
OVERVIEW OF RUTH
Tragic Loss (Ruth 1:1-5): In Moab, Ruth's husband, father-in-law and brother-in-law die.
Unwavering Loyalty (Ruth 1:6-18): Despite Naomi's urging, Ruth refuses to return to her people and gods. While her sister-in-law, Orpah, decides to stay in Moab and remarry, Ruth commits to staying with Naomi, declaring, "Your people will be my people and your God my God."
Journey to Bethlehem (Ruth 1:19-22): Naomi returns to her home in Bethlehem with Ruth.
Gleaning in the Fields (Ruth 2): In Bethlehem, Ruth works in the fields of a man named Boaz, gleaning leftover grain to provide for herself and Naomi.
Boaz's Kindness (Ruth 2:8-23): Boaz shows kindness to Ruth, ensuring her safety in his fields and offering her food. He praises her for her devotion to Naomi and acknowledges her faith in the God of Israel.
Ruth's Proposal (Ruth 3): Following Naomi's advice, Ruth approaches Boaz at night and asks him to act as her kinsman-redeemer.
Marriage and Descendants (Ruth 4): Boaz marries Ruth, and they have a son named Obed, who becomes the grandfather of King David. Thus, Ruth, a Moabite woman, is included in the lineage of Jesus Christ (Matthew 1:5).
KEY POINTS
1. FAITH AND LOYALTY – RUTH 1:6-18
2. THE PROVIDENCE OF GOD – RUTH 2:3
3. SHOW KINDNESS TO OTHERS – RUTH 2:8-23
4. THE PROVISION OF A REDEEMER – RUTH 4
Read full notes in the pdf lesson
YOUTH GAMES AND ACTIVITIES – Ruth
REDEEMER RELAY RACE
Materials needed: None
Instructions:
Each team will select one player to be the 'Redeemer.' All other players start on the opposite side of the room.
On "GO," the Redeemer of each team must run across the room and tag a teammate, then both must run back to the starting side. The Redeemer will now run across the room again to tag the next player.
Repeat this process until all team members have been 'redeemed'.
The first team to have all their players 'redeemed' wins.
Discuss the role of the Redeemer in the game and relate this to Boaz's role as Ruth's kinsman-redeemer, and how this points to Jesus as our ultimate Redeemer.
GLEANING GRAIN HUNT
Materials needed: Pictures of grain, timer.
Instructions:
Before the game, hide pictures of grain all around the room or building.
Split participants into teams. Explain that they must glean as much grain as possible in the given time.
Once the time is up, teams return to the starting point and count how many grains they have gleaned.
The team with the most grains at the end of the game wins.
After the game, discuss the significance of gleaning in the story of Ruth and how God provided for Ruth and Naomi through Boaz's kindness. This can lead into a conversation about how God provides for us in our times of need.
I WILL NOT LEAVE YOU – OBSTACLE COURSE
Materials needed: Obstacle course materials (cones, ropes, mats, chairs etc.), thin sheets of paper.
Instructions:
Set up an obstacle course that includes various challenges.
Split participants into pairs. Each pair is given a thin piece of paper that they must hold between them. Explain that this paper represents their commitment to each other, just as Ruth made a commitment to stay with Naomi.
The pairs must navigate through the obstacle course together without letting go of the paper or ripping it. If a pair drops or rips their paper, they must stop.
The first pair to complete the obstacle course without dropping or ripping their paper wins.
After the game, discuss the significance of Ruth's loyalty to Naomi in the face of adversity and how this loyalty is reflected in the obstacles they just navigated.
Example Worksheets in the lesson pack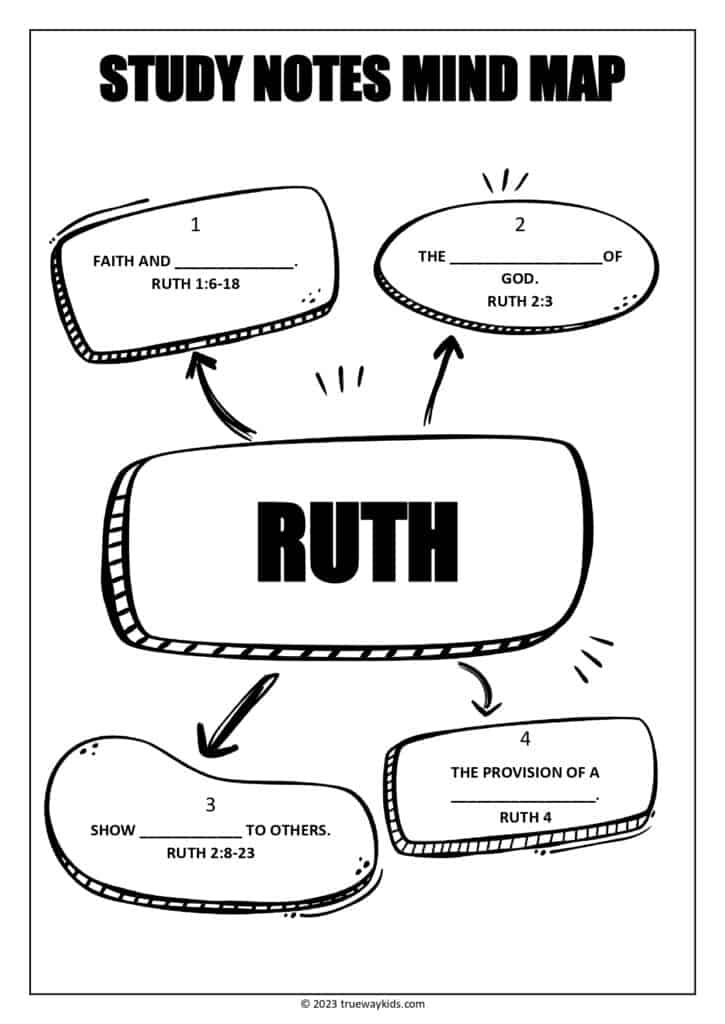 DOWNLOAD THE FREE PRINTABLE LESSON
View lesson for other age groups
Translations