In this lesson, we will learn about the healing of a woman who suffered from an issue of blood from Mark 5:21-34. This lesson relates to pre-teens and teens and by the end of this lesson, they should have learnt about the following:
Jesus can do what is impossible for men.
The Power of God can only be accessed by faith.
Taking steps of faith.
BIBLE PASSAGE: Mark 5:21-34
MEMORY VERSE: "He said to her, "Daughter, your faith has healed you. Go in peace and be freed from your suffering.". Mark 5:34
DOWNLOAD THE FREE PRINTABLE LESSON
BIBLE STUDY NOTES FOR TEENS
On the evening of the previous day, Jesus had travelled with His disciples across the sea of Galilee, where He had performed two notable miracles. Firstly, demonstrating His power and authority over the forces of nature by calming a turbulent storm. Then over evil spirits by casting out a large number of demon spirits out of a possessed man.
He eventually returned to Galilee, and while teaching beside the sea, a Jewish ruler named Jairus came to Him, desiring that He would come to heal his dying daughter.
Jesus agreed, and on the way to Jairus' house, a woman who suffered from a continuous discharge of blood from her body quietly came behind in the crowd and managed to touch the edge of His garment.
The woman with the issue of blood: The Bible does not tell us her name, but we know that she was an Israelite, most likely a rich woman. We know she suffered from a rare disease condition that made her bleed for 12 years. From our Bible reading, we saw that she had exhausted all her resources paying medical bills and buying cures, but nothing had worked.
According to the law of Moses, people with such health conditions, being 'unclean', could not participate in public activities, whether social gatherings or corporate worship, until declared ceremonially clean by a religious authority, especially a priest. Thus, this woman has been kept isolated and segregated from being in direct contact with others, even her loved ones, for twelve years straight.
She must have heard of Jesus' miraculous deeds and, with faith stirred up in her heart, sort Him to obtain her healing.
KEY POINTS FROM THE PASSAGE
1. THERE IS NO LIMIT TO THE POWER OF GOD (MARK 5:21-29)
The woman had spent a long time in her state of sickness, and all medical efforts to heal her had failed. The best of doctors had tried helping, but she had not improved. It had been a case of one disappointment after the other as she watched her resources diminish while her problem remained. All human effort had failed. She must have felt hopeless.
However, as the Bible remind us "With men, it is impossible, but not with God, for all things are possible with God." (Mark 10:27). What is impossible for men is not impossible for God! He is the God of all flesh, and there's nothing too difficult for Him to do. (See also Jeremiah 32:27).
Is there any situation that has troubled you for a long time? Does all hope looked bleak? This passage reminds us that the power of God is able where human efforts fail.
2. COME WITH EXPECTATIONS (MARK 5:25-28)
The woman said, "If I just touch His clothes, I will be made well" (Mark 5:28). What expectation! What faith! This is very commendable because there had been no record of this type of miracle done in the ministry of Jesus, she had no one to reference, yet she dared to believe, had faith, and it resulted in her healing.
On another occasion, Jesus asked two blind men, "When he had come into the house, the blind men came to him. Jesus said to them, "Do you believe that I am able to do this?" (See Matthew 9:28). Let's not limit the ability of God in our hearts.
Our expectations are the beliefs that come from our thought process after we examine the evidence. We learn to expect. For example, we see a dark cloud in the sky and expect it to rain. We drop something on our foot, and we expect it to hurt.
The woman had heard of Jesus's miracles and so expected to be healed. Our faith should increase as we reflect on Jesus' power and authority and meditate on His faithfulness.
3. JESUS WELCOME US IN OUR UNCLEAN STATE (MARK 5:32-34)
The woman was forbidden by the law to make contact with anybody or items of public use. Anyone or anything she touched, so would have been guilty of making it unclean. The reaction of anyone she touches, even though it may be accidental, would be an angry outburst and a similar response.
The touched person would become unclean themselves. Not only was there the worry of catching an illness, but there would have been a long process of ceremonially cleansing that they would then have to perform to become clean again. In the best scenario, it would be a major inconvenience.
But not to Jesus! He demonstrated loving compassion for her after she confessed all that had occurred. He neither rebuked nor criticized her for her actions. Instead, He spoke words of healing to her.
Sometimes we may think we need to "clean up our lives" before we can come to God. But that's not what we see in the Bible. In John 4, Jesus spoke to the woman at the well while she lived in sin. Jesus addressed her sin and then offered her salvation. In John 8, people brought a woman caught in the act of adultery before Jesus. He told her, "Go, and sin no more."
Jesus doesn't ignore our unclean and sinful state, "But God commends His own love toward us, in that while we were yet sinners, Christ died for us." (Romans 5:8). 1 John 1:7-9 explains it further, "the blood of Jesus Christ, cleanses us from all sin. Confess our sins, He is faithful and righteous to forgive us the sins, and to cleanse us from all unrighteousness."
Jesus welcomes us as we are and offers us cleansing.
4. SEEK JESUS WITH ALL YOUR HEART (MARK 5:30-33)
Our Bible reading tells us that Jesus sensed that healing power had gone out of Him and asked, "Who touched me?" The response of His disciples though logical, is quite sad. "His disciples said to him, "You see the crowd pressing against you, and you say, 'Who touched me?'". (Mark 5:31).
Many people were close to Jesus, such that they were pressing and touching Jesus, but none of them experienced His power or received any miracle. Why? While they waited for Jesus to touch them, the woman reached out and touched Him in faith.
Many people attend church services each week but are comfortable in the usual order of the program. Sadly, some are happy to be around Jesus but never actively seek Him. Let us not be like that. Instead, let us be sensitive whenever we are in the presence of God.
God says in Jeremiah 29:13, "You shall seek Me, and find Me, when you search for Me with all your heart." We must never be happy in the crowd. This woman set an example for us to push through the crowd and seek Jesus with all our heart, strength, power and might.
Jesus promises, "whoever comes to me I will never drive away." (John 6:37).
CONCLUSION
The woman with the issue of blood had faith in Jesus. She was healed and made whole. She did not just have the hope that Jesus could heal her; she expected healing. She sought Jesus with all her strength, and Jesus healed her and made her clean. How do you come to Jesus?
YOUTH GAMES AND ACTIVITIES FOR THE WOMAN WHO TOUCHED JESUS
WHO TOUCHED ME?
Have a child or adult sit with their back to the others in the room. One child is selected to touch the player on the back and sit back down.
The player must guess who it was that touched them.
TOUCH / TAG
This is a classic playground game. One is chosen as 'it'. They must try and touch another player. When they do so that player become 'it'. Game lasts as long there is interest.
Speak about how the woman went to touch Jesus to be healed.
WHAT HAPPENED NEXT …
The woman came to Jesus and had faith that if she touched Jesus's cloak, she would be healed.
Sit everyone in a circle.
Choose someone to start. They should say one sentence of a story. The next person continues the story with another sentence. This continues around the group, with each person adding one more sentence. Think about how we each have a different expectation even though we hear the same thing.
Free printable Teen Worksheets in the lesson pack.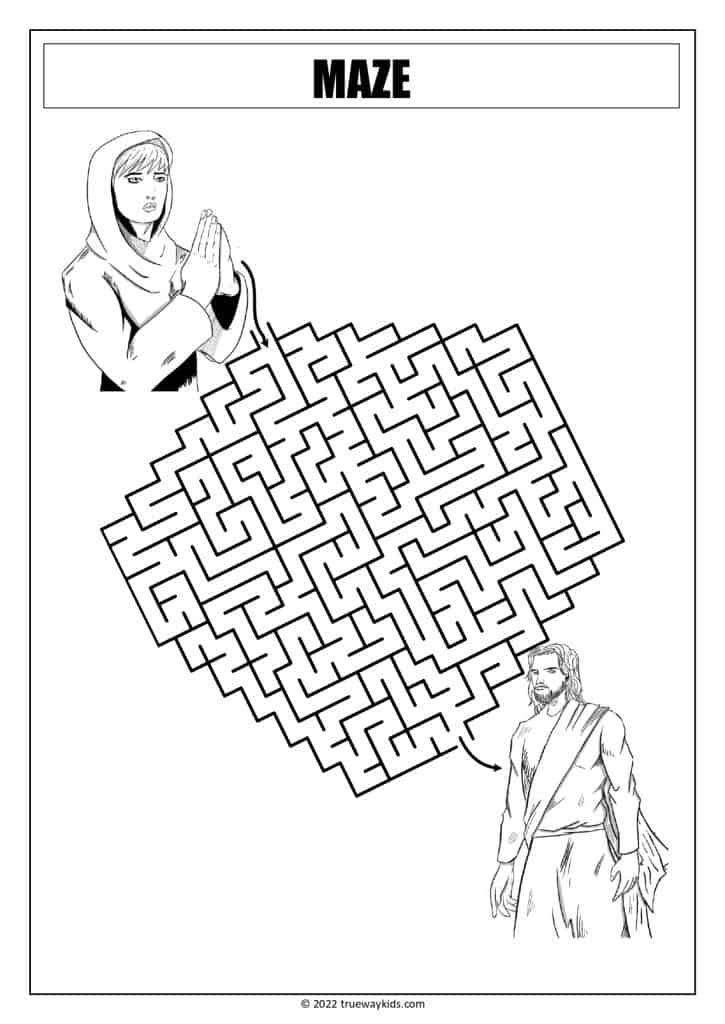 DOWNLOAD THE FREE PRINTABLE LESSON
View lesson for other age groups
Translations