Elijah is one of the most famous prophets of the Bible. His life is one of remarkable miracles and powerful demonstrations of God's provision and presence. Elijah's life spans from 1 Kings 17 to 2 Kings 2. Throughout these passages, there are key moments where God's power and provision are seen in spectacular ways.
BIBLE READING: 1 Kings 17 to 2 Kings 2
KEY VERSE: "There Elijah entered a cave and spent the night. And the word of the LORD came to him, saying, "What are you doing here, Elijah?"" – 1 Kings 19:9
DOWNLOAD THE FREE PRINTABLE LESSON
BIBLE STUDY NOTES FOR TEENS
OVERVIEW OF ELIJAH'S MINISTRY:
Elijah's prophetic declaration of drought (1 Kings 17:1)
God provides for Elijah through ravens and a brook (1 Kings 17:2-6)
Elijah and the widow of Zarephath – God provides food and raises her son from death (1 Kings 17:7-24)
Elijah's confrontation with the prophets of Baal on Mount Carmel (1 Kings 18)
God sends rain upon Israel after the drought (1 Kings 18:41-46)
Elijah flees to Horeb, and God speaks in a still, small voice at the cave (1 Kings 19)
Elijah's encounter with King Ahab and Queen Jezebel leads to the prophecy of their downfall (1 Kings 21)
Elijah's ascension to heaven (2 Kings 2)
KEY POINTS:
1. GOD'S UNCONVENTIONAL PROVISION – 1 KINGS 17:2-6
2. FAITH BEYOND CIRCUMSTANCES – 1 KINGS 17:7-24 
3. COURAGE AGAINST THE ODDS – 1 KINGS 18:16-40
4. THE STILL, SMALL VOICE OF GOD – 1 KINGS 19:11-13 
Read full notes in the pdf lesson
YOUTH GAMES AND ACTIVITIES – Elijah
RAVEN'S DELIVERY
Materials needed: Small packages, blindfolds.
Instructions:
Divide participants into pairs. One person is the 'Raven' and the other is 'Elijah'.
Blindfold 'Elijah' and scatter the small packages/envelopes around the room.
'Ravens' must guide their 'Elijah' using only their voice, trying to lead them to the packages.
Discuss God's unconventional methods of provision, just like using ravens to feed Elijah.
WHISPER CHALLENGE
Materials needed: Noise-cancelling headphones, pre-written Bible verses.
Instructions:
One participant puts on noise-cancelling headphones with music playing.
Another participant tries to relay a Bible verse to them by whispering or mouthing the words.
The listener tries to guess the message.
Discuss the still, small voice of God amidst life's noise, referencing Elijah's encounter in the cave.
LIFE OF ELIJAH GAME
Materials needed: Images representing different events from Elijah's life numbered 1-6 (see "what happened and when" worksheet), dice.
Instructions:
Divide participants into teams. Teams take turns rolling a dice.
The number rolled corresponds to an image (event) they can collect if they don't already have it.
If they already have that image, they move on to the next team's turn.
When a team collects an image, a player from that team must explain what happened in that event of Elijah's life.
The first team to collect and arrange all six images in the correct order wins the game.
Example Worksheets in the lesson pack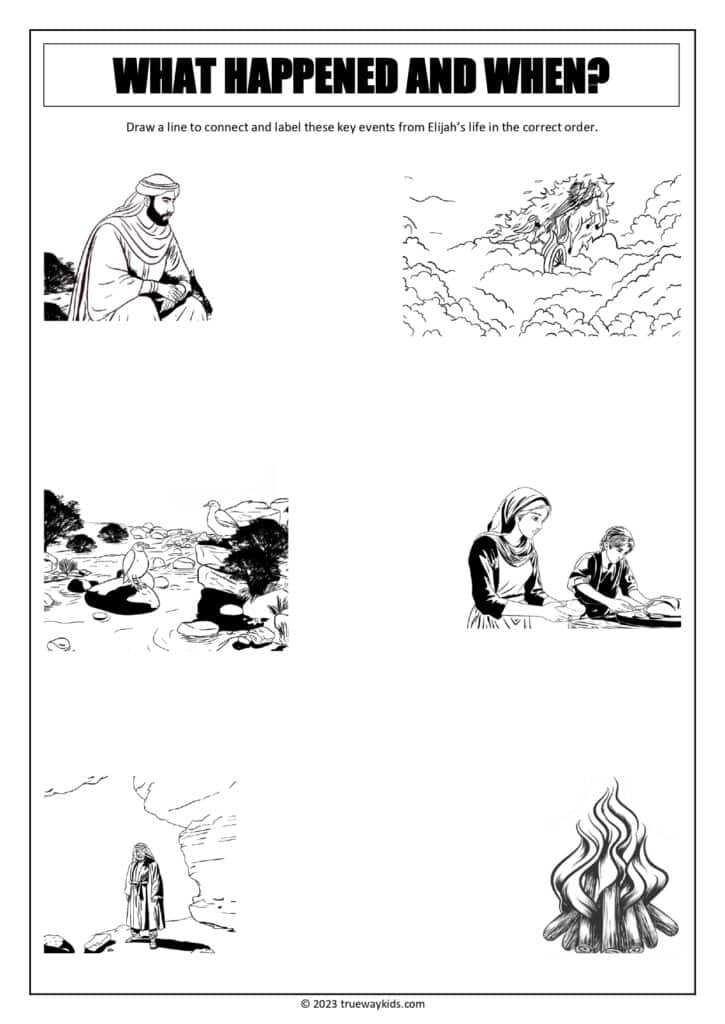 DOWNLOAD THE FREE PRINTABLE LESSON
View lesson for other age groups
Translations