In this lesson, we will learn about the Great Commission given by Jesus in Matthew 28:18-20 and Acts 1. This lesson relates to pre-teens and teens and by the end of this lesson, they should have learnt about the following:
All power and authority are given to Jesus
All believers are to make disciples from all nations
Jesus will never leave us.
BIBLE PASSAGE:  Matthew 28:18-20
MEMORY VERSE: "Go therefore and make disciples of all the nations, baptizing them in the name of the Father and of the Son and the Holy Spirit," Matthew 28:19.
DOWNLOAD THE FREE PRINTABLE LESSON
BIBLE STUDY NOTES FOR TEENS
Following Jesus' resurrection, He met with many of His followers. In Matthew 28:7 He arranges to meet with His disciples in Galilee. This was towards the end of the ministry of Jesus on earth.
In Matthew 28:16-20, Jesus gives His disciples the Great Commission, charging them to go and make disciples of all nations. This commission is not just for the original disciples, but for all who follow Christ. As Christians, we are called to share the gospel with others, so that they may also come to know Christ.
The Great Commission are Jesus final instructions (or commandments) before returning to Heaven. He instructed, commanded, and called His disciples to proclaim the gospel and make disciples. It was these instructions that turned the disciples into messengers (apostles) and ambassadors of the Gospel.
KEY POINTS FROM THE PASSAGE
1. ALL POWER AND AUTHORITY ARE GIVEN TO JESUS (MATTHEW 28:18)
In the Great Commission, the first statement of Jesus was a declaration of His authority. The Bible says, "And Jesus came and spoke to them, saying, "All authority has been given to Me in heaven and on earth" (Matthew 28:18 NKJV).
Jesus tells us that He has all authority. He is not subject to anyone or anything. What does it mean that Jesus has all authority? It means that He is in control. He is the ultimate authority. He is the one who determines what is right and what is wrong. He is the one who sets the standard.
He has the authority to forgive sins, to heal the sick, and to set us free from bondage. He has the authority to change our lives and to give us hope for the future. When we submit to His authority, we can experience the abundant life that He came to give us. We can trust Him without any doubt, because He has all power and authority.
Jesus has all authority because He is God. He is the creator and sustainer of the universe. He has all power and all knowledge.
We can have confidence in the authority of Jesus and that when He sends us out under His authority through His Word and His name, He will also equip us.
2. MAKE DISCIPLES FROM ALL NATIONS (MATTHEW 28:19)
When Jesus ascended into heaven, He left us and the early church with a clear mission: to take the gospel to all nations. This is not a task we can take lightly. It requires prayer, planning, and a willingness to go wherever God leads us. It may be difficult at times, but it is always worth it. After all, we are sharing the good news of eternal life with those who need it most. There are still many in the world today who have never heard the gospel.
The commandment of Jesus is that the disciples should go and make disciples from all nations. We must be careful not to segregate or have a racial, ethnic, or regional bias or sentiment. The gospel is for all nations of the world to be saved, and to come under the Lordship of Christ and His Sovereignty.
Only disciples can make disciples. Nations as used in the Great Commission refer to people of all ethnic groups, languages, and origins. It calls for all to be reached and discipled. Jesus said clearly, "But you shall receive power when the Holy Spirit has come upon you; and you shall be witnesses to Me in Jerusalem, and in all Judea and Samaria, and to the end of the earth" (Acts 1:8).
We are all called to take the gospel to all nations. God calls some people to become missionaries and move oversees to preach the gospel, either on a short-term or long-term mission. We should pray and support those who God calls to overseas work.
But even if God doesn't call you abroad, He does call you to make disciples of all nations. We don't have to travel far to make disciples. We have our neighbours, colleagues at work, and even family members who are yet to receive the gospel and become followers of Christ. It is our mandate to ensure we share the gospel with all. The gospel is powerful to save.
3. TEACH NEW DISCIPLES (MATTHEW 28:18-20)
As Christians, we are called to obey all of God's commands. This can seem like an impossible task, but we must strive to live a life of obedience. We should set an example for those around us. As we teach new disciples to obey all the commands, we are helping them to understand what it means to truly follow Christ.
Paul wrote to Timothy, 'Let no one despise you for your youth, but set the believers an example in speech, in conduct, in love, in faith, in purity." (1 Timothy 4:12)
One of the most important things we can do as Christians is to teach new disciples to obey all the commands of Jesus. This is not always easy, but it is essential. Here are some tips on how to go about it: 1. Pray for guidance. Ask God to give you wisdom in teaching new disciples. 2. Be patient. It takes time for people to learn and understand. 3. Be clear. When you are teaching, be clear about what Jesus commands us to do. 4. Be loving. Remember that we are called to love one another as Christ loves us. 5. Be persistent. Don't give up on people, even if they seem resistant at first. If we follow these tips, we can be confident that we are doing our best to obey God's command to teach new disciples.
4. JESUS IS ALWAYS WITH US (Matthew 28:20)
As Christians, we are never alone. Jesus promised to be with us always, even to the end of the age (Matthew 28:20). Jesus sends us out as disciples to make disciples and promises to be with us.
No matter what life throws our way, we can always find comfort in knowing that Jesus is with us. He is our constant companion and friend, always there to offer guidance and support. In our darkest hour or our happiest moments, Jesus is always there for us.
He is our ever-present Help in time of need (Hebrews 4:15-16). When we feel alone or forsaken, we need only to look to Him and He will comfort and strengthen us (Psalm 23:4). Even when we feel weak and lost, we can rest assured that Jesus is right there with us, holding us close.
The Great Commission is not an easy task, but it is one that is incredibly important. Thankfully we are not alone in it. Jesus is with us always, even to the end of the age. So let us go forth with confidence, knowing that Jesus will never leave us or forsake us, but will be there empowering us.
CONCLUSION
The Great Commission is God's plan for every follower of Jesus to surrender their lives to Jesus' authority and then go in His authority and make disciples. The Great Commission calls us to make a difference in our world by serving others.
The Great Commission was not just an instruction or commandment given to the original disciples of Jesus, but to all followers of Jesus. The beautiful thing about the Great Commission is that we are not doing it alone. Jesus is with us always (Matthew 28:20).
YOUTH GAMES AND ACTIVITIES FOR THE GREAT COMMISSION
GO AND FIND
This activity will remind children that Jesus calls them to go and make disciples.
Name an object that is somewhere in the area. For example, "Go and get a toothbrush"
The child(ren) should then rush off and bring you the item back as quickly as possible.
In a group setting, make it a competition to be the first player back with the object.
INTERNATIONAL DAY
This activity will help teens learn about different cultures and traditions from around the world.
Choose a nation or have children choose a nation of their own.
Children could dress up in national clothing. Prepare food from that nation and listen to typical music. Learn a few words of the local language and so on.
Spend some time to pray for that nation and learn about the church there.
LEARN FROM A MISSIONARY
Talk to your leaders at church to arrange for a missionary to come and share about their ministry.
This could be live or via a video chat online.
Alternatively, read a prayer letter of a missionary your church or family support. Take time to pray for them and learn about the place they are serving. Write them a letter or email to encourage them and remind them of your prayers.
Free printable Teen Worksheets in the lesson pack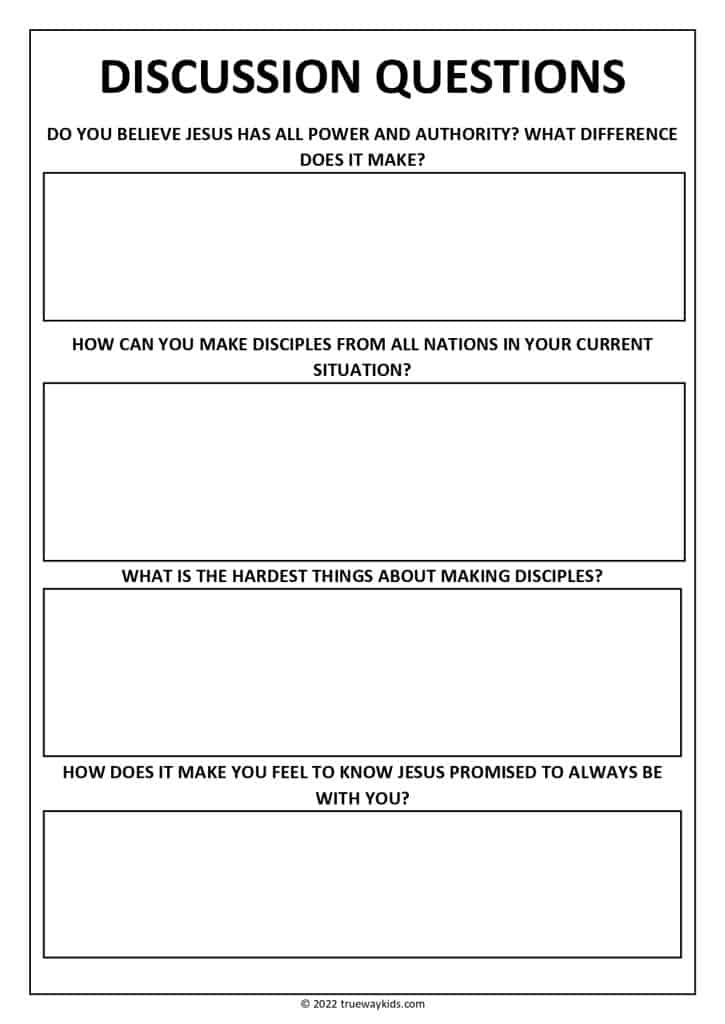 DOWNLOAD THE FREE PRINTABLE LESSON
View lesson for other age groups
Translations